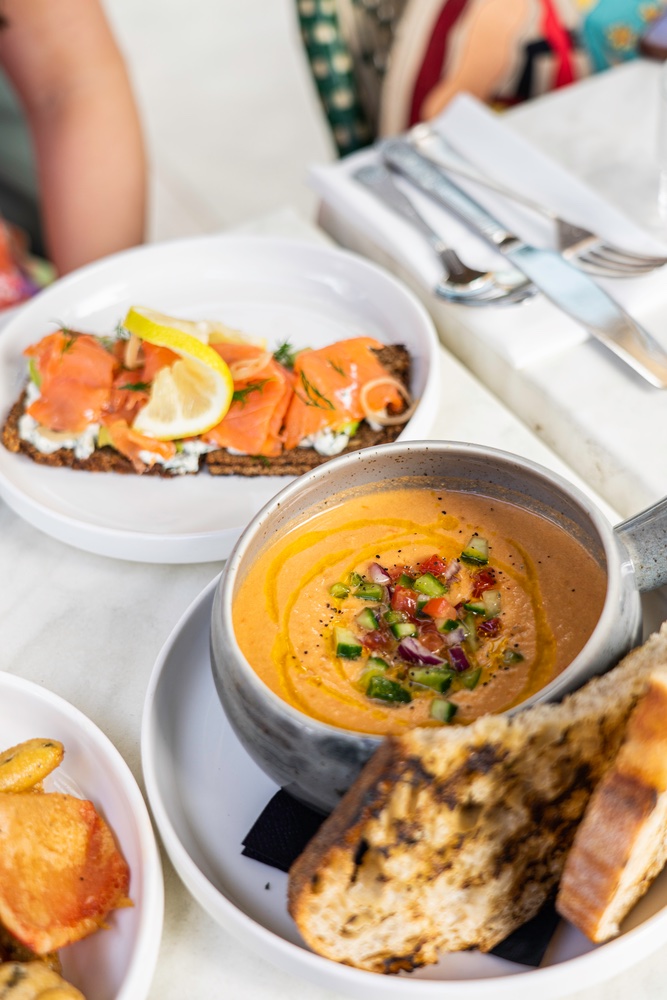 Minnow is good at any time of the year, but we really do love it in the summer. Sitting out and eating al fresco in one of the most picturesque parts Clapham with a glass of something refreshing whilst watching the world go by is unbeatable when the weather is good. Minnow has marked the start of the hot weather with a new menu that packs in all the flavours you could want for the season. You'll quickly spot a lot of influences from the Middle East (humous/ harissa) and the Mediterranean (garlic, chilli, lemon)- it's healthy, fresh and colourful. As we said, you can't get much better than that.
The starters we went for were about as summery as you can get. The vegetable tempura with humous and harissa was lovely and light. The tempura was shatteringly crisp and had nicely juicy vegetables inside, perfect with some equally light (almost whipped) humous and some zingy harissa. A smoked salmon smørrebrød with rye, dill-spiked cream cheese, avocado and pickled onion. This was really fresh, and if you're stuck between a light brunch or a snack then this is the dish for you. It was beautifully presented and tasted even better. But it was the king prawns with chilli, garlic and lemon that was our favourite out of the starters. Nothing says summer like sizzling garlic prawns with a hit of spice. We only wish there were piles and piles more of them.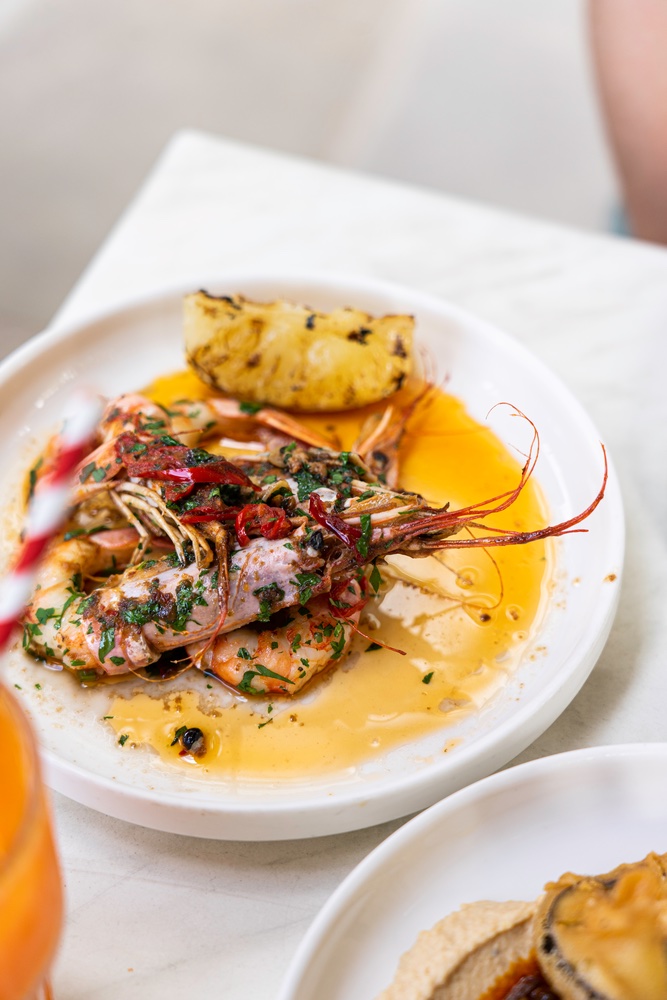 Minnow spoilt us for choice with the mains. There's an impressive selection of fish, meat and veggie options. Just like the starters they all resembled little pieces of art on a plate. We tried the Greek stuffed aubergine which came gracefully sat in the centre of the plate. The aubergine itself was cooked to melt-in-the-mouth consistency and came with saucy tomatoes, some punchy parsley, and a dollop of yoghurt. This was certainly one of our favourites and a big recommendation if you're into aubergine. The pan fried cod with samphire, pea purée and Parma ham could have belonged in the Tate Modern with its presentation. The sweetness of the pea purée was a fantastic compliment to the salty samphire and crispy Parma ham. It felt like a grown up version of fish and chips.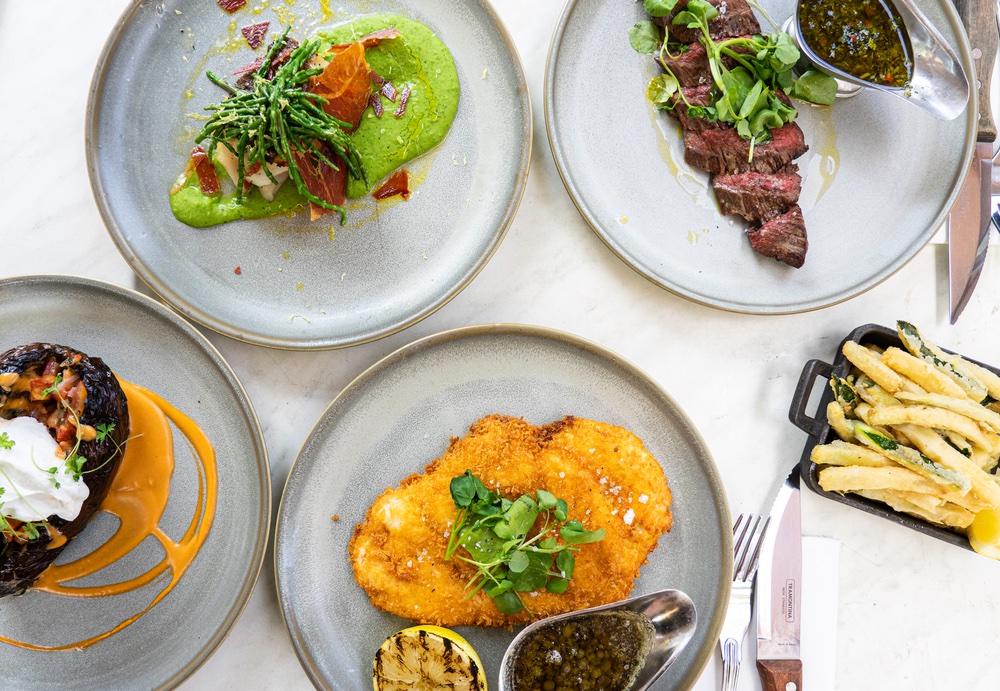 There's a reason that the Bavette steak has been a mainstay on the menu for a while. It's always a popular one and always cooked skilfully, but it's had a seasonal refresh with a new chimichurri sauce which was just as zingy as it should be. Our favourite of the mains surprised us; it was the incredibly tender chicken schnitzel with garlic caper butter and lemon. Crunchy breadcrumbs with a luxuriously creamy caper butter to top and a citrus burst from the lemon? It will quickly become your favourite too.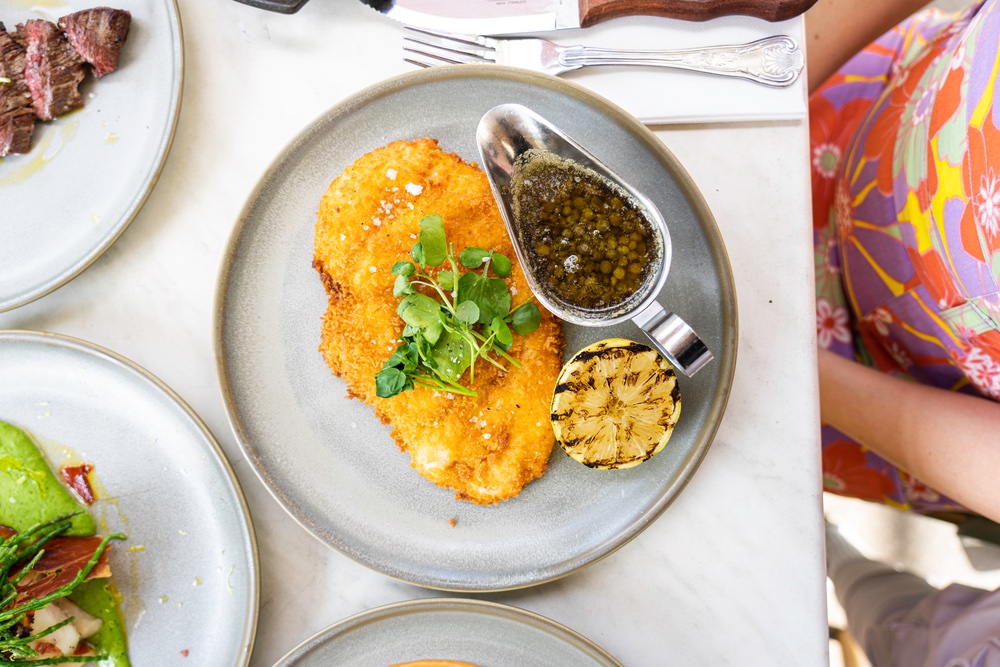 Of course, we couldn't leave without a peak at the desert menu. Eton mess was a pillowy dream- crunchy meringue, fluffy cream and tart berries to cut through all that dairy and sugar… it's an ode to summer. The chocolate ice cream was especially lovely on a hot day and the lemon tart was a freshly made, golden number. A crumbly base, a tangy lemon centre and- surprise, surprise- plated like someone cared.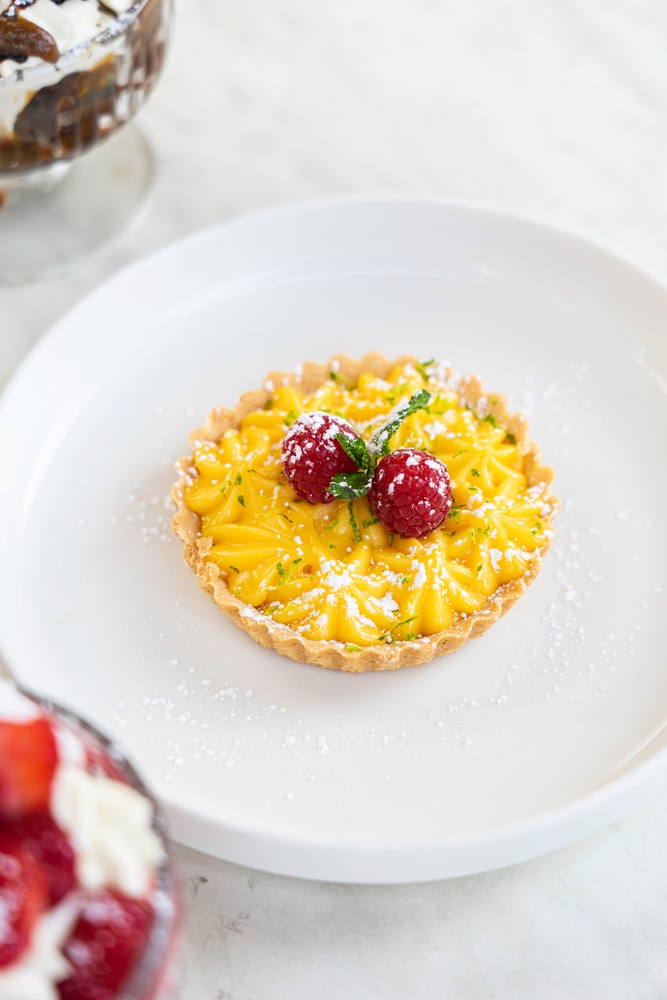 A mouthful of food from the menu at Minnow, overlooking the Common with the sun shining down on you? That's what it's all about. Summer has arrived.
---