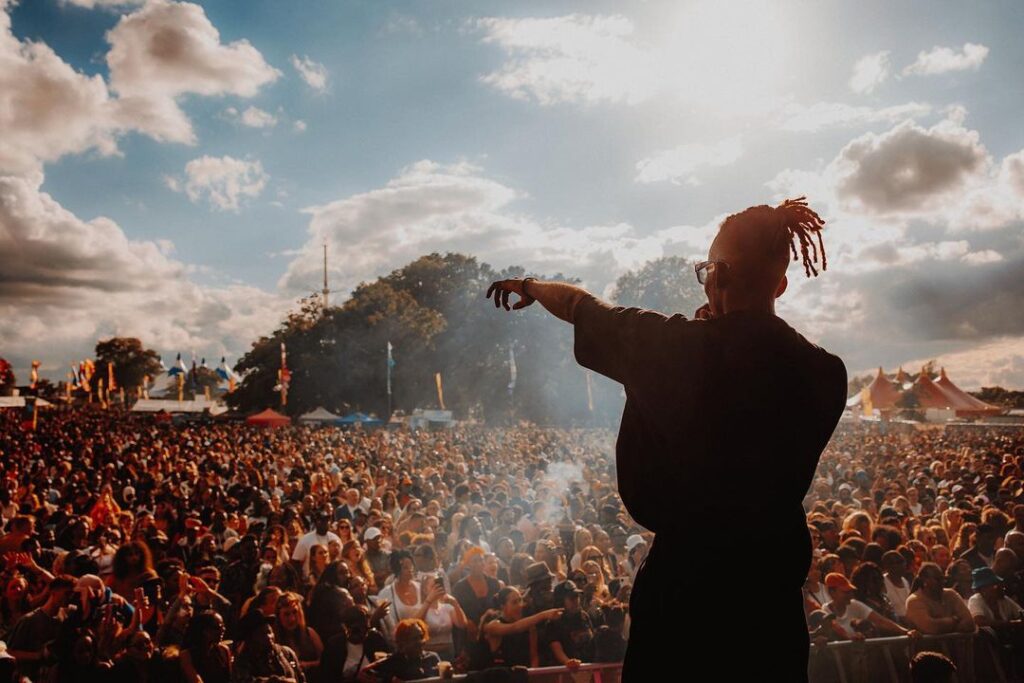 If you're looking for a way to spend those balmy summer days that are winking at us on the horizon then let us introduce you to Project 6. A brand new music festival that, according to the organisers, is all about "…community, supporting venues, artists, labels, collectives and bringing people together celebrating the music we love". It's a little different to the usual London-based day festival because the party doesn't stop after the day festival is over. Project 6 is keen to highlight and support those legendary club venues that are key to the fabric of the music scene, so are hosting 10 (yes, 10!) club nights that will keep the party going into the early hours.
The day time festival takes place in Brockwell Park on the 26th May. Set across 7 stages, the day festival will have everything you could possibly want: over 100 live acts, DJs and MCs, stalls, workshops, talks, rides and over 40 different food and drink traders.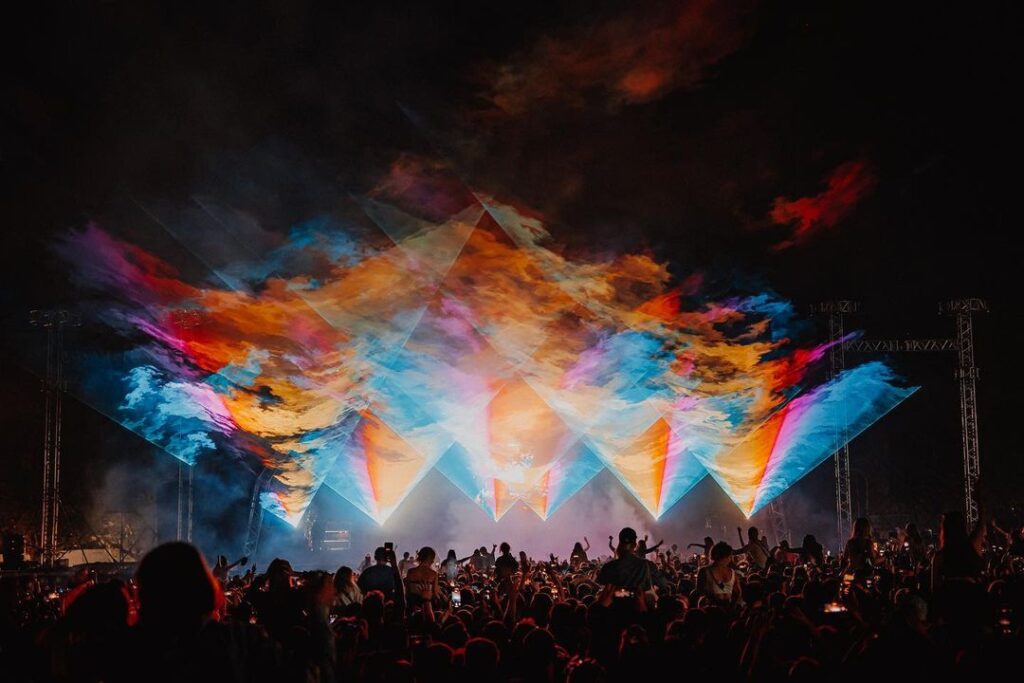 The line up (check out the full list below) will cater to every music taste bud out. Drum and bass, techno, hip hop, grime and everything in between. The main focus is on up and coming artists and game-changing labels. This is your festival to find some cutting edge people in the industry.
After the day party, head out of Brockwell Park to one of the 10 'heavyweight' club nights to continue the festival. Fabric, Electric Brixton, Village Underground, Phonox, Venue MOT, the Steel Yard, XOYO, Colour Factory, Tola and Hootananny are the venues of the night, each hosting special acts and DJs which you can pick and choose between depending on who you want to hear.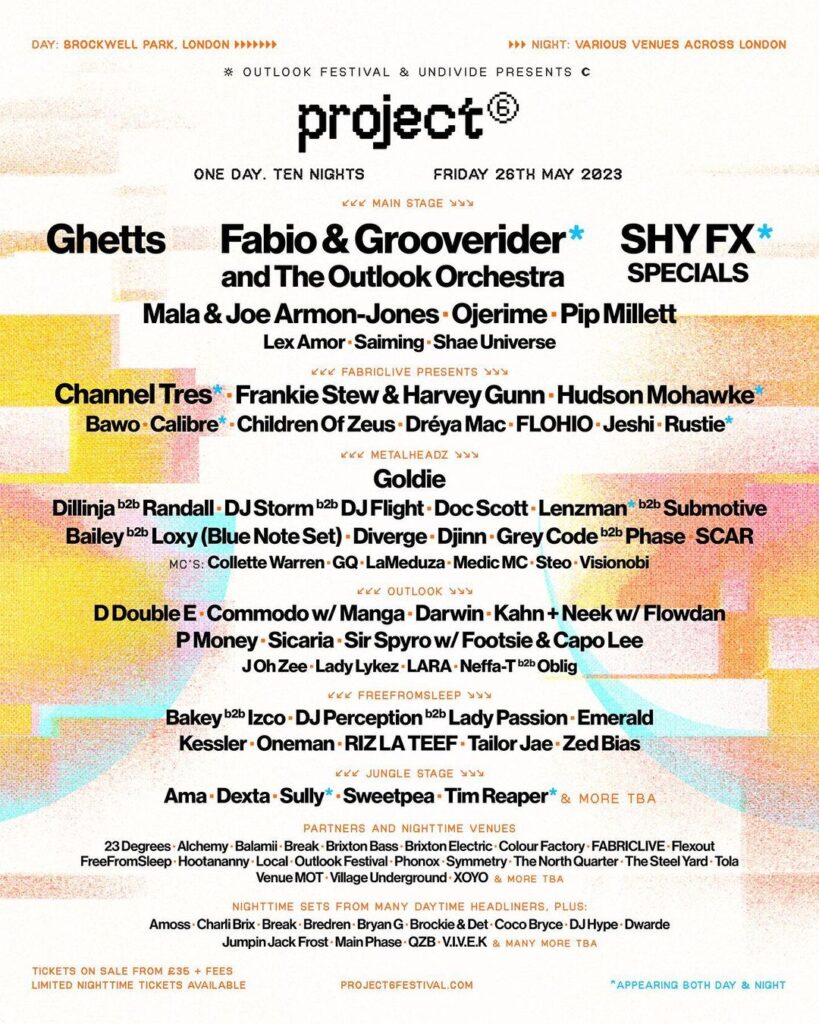 There's nothing worse than being kicked out of a field at closing time just when you are getting in the spirit of things, so we love that Project 6 is changing the game with this concept- as well as supporting our cherished late night music venues too.
Full Lineup: Ama, Amoss, Bailey, Bakey, Bawo, Break, Bredren, Brockie & Det, Bryan Gee, Calibre, Capo Lee, Channel Tres, Charli Brix, Children Of Zeus, Coco Bryce, Collette Warren, Commodo, D Double E, Darwin, Dexta, Dillinja, Diverge, DJ Flight, DJ Hype, DJ Perception, DJ Storm, Djinn, Doc Scott, Dréya Mac, Dwarde, Emerald, Fabio & Grooverider And The Outlook Orchestra, FLOHIO, Flowdan, Footsie, Frankie Stew & Harvey Gunn, Ghetts, Goldie, GQ, Grey Code, Izco, J Oh Zee, Jeshi, Jumping Jack Frost. Kahn + Neek, Kessler, Lady Lykez, Lady Passion, LaMeduza, LARA, Lenzman, Lex Amor, Loxy, Main Phase, Mala & Joe Armon-Jones, Manga, Medic MC, Neffa-T, Oblig, Ojerime, Oneman, P Money, Phase, Pip Millett, QZB, Randall, RIZ LA TEEF, Rustie, Saiming, SCAR, Shae Universe, SHY FX: SPECIALS, Sicaria, Sir Spyro, Steo, Submotive, Sully, Sweetpea, Tailor Jae, Tim Reaper, V.I.V.E.K, Visionobi, Zed Bias. 
---