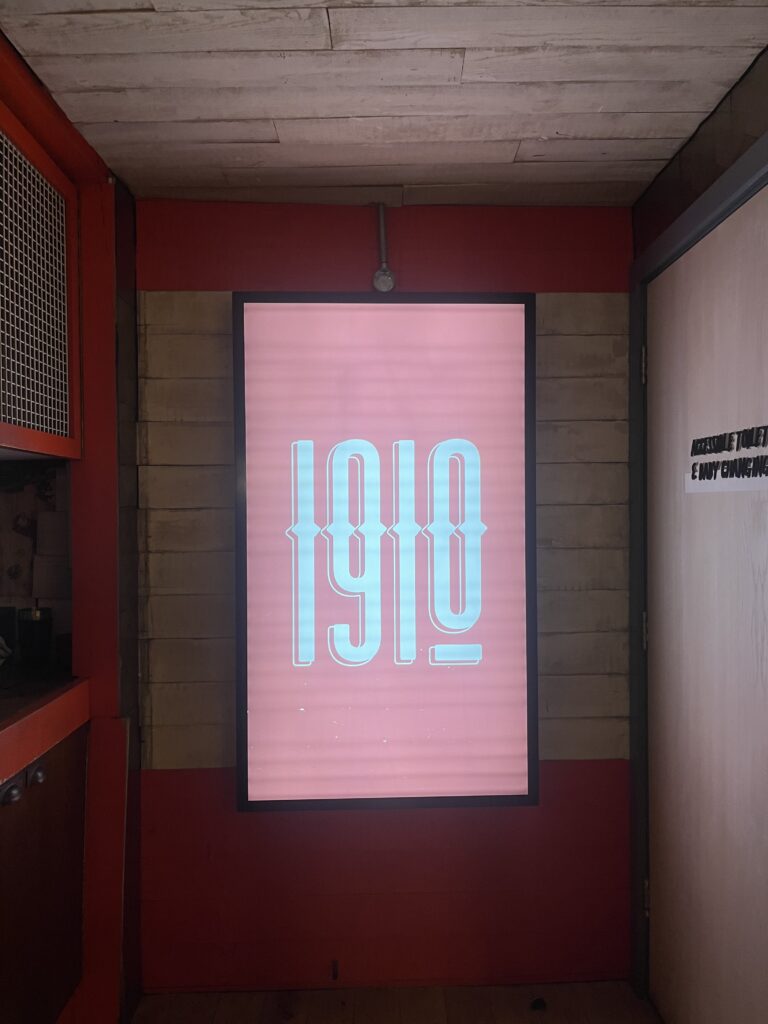 Right in the heart of Balham is a little slither of Mexico. 1910 is an authentic, Mexican-owned restaurant on Ramsden Road that serves some of the most interesting, authentic Mexican food we've had. Using influences from family recipes, 1910 is owned by Jose and Mauricio; a duo who met in London over 20 years ago when they began their friendship and their journey into hospitality. Jose is the tequila expert and Mauricio, when asked, said that 'he could make the best tacos in the whole of London'. That fearlessness launched the pair into starting their restaurant, and thank goodness they did. The success of their Balham location has since meant that they've been able to open another location in Fulham this April.
They have a really delicious menu; tacos, quesadillas, sides and an impressive array of freshly homemade sauces and condiments. When we headed down to try out the food we were really excited; we love to sniff out spots before going and the Google reviews of this place were stellar; lots of people raving about the quality of the food and atmosphere. The atmosphere gets you straight away. On walking in you can sense that it is a place for a good time. Not in a rowdy, tacky way, but in a way that makes you excited for your first drinks to come out of the bar. The 'over 16's only' policy they implement post 5pm goes to show that they are there for a good time, but also shows how they rate themselves pretty highly as a bar as well as a restaurant; the drinks are just as important.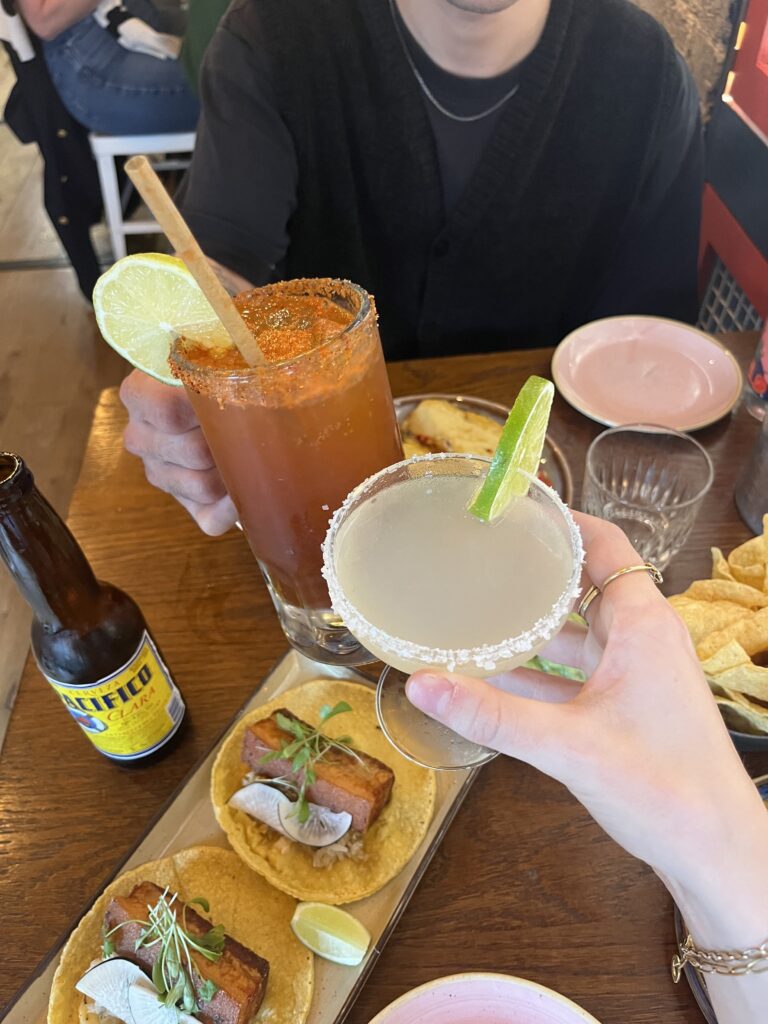 We went as traditional with the drinks as we did with the food. We got a margarita and a Michelada. The margarita was one of the best we'd had; so fresh and the perfect accompaniment to the savoury flavours of the food. The Michelada wasn't anything we'd tried before; sort of like a Bloody Mary with with the addition of beer instead of vodka. It resulted in an easy drinking cocktail that wasn't as heavy as a regular Bloody Mary. Really good if you want something a little zestier than a beer.
Then the food! We started off the only way any meal should be started; chips and dips. The totopos (super crisp tortilla chips) and guacamole were fabulous, and the guac was not in the least bit bland; super creamy and full of flavour.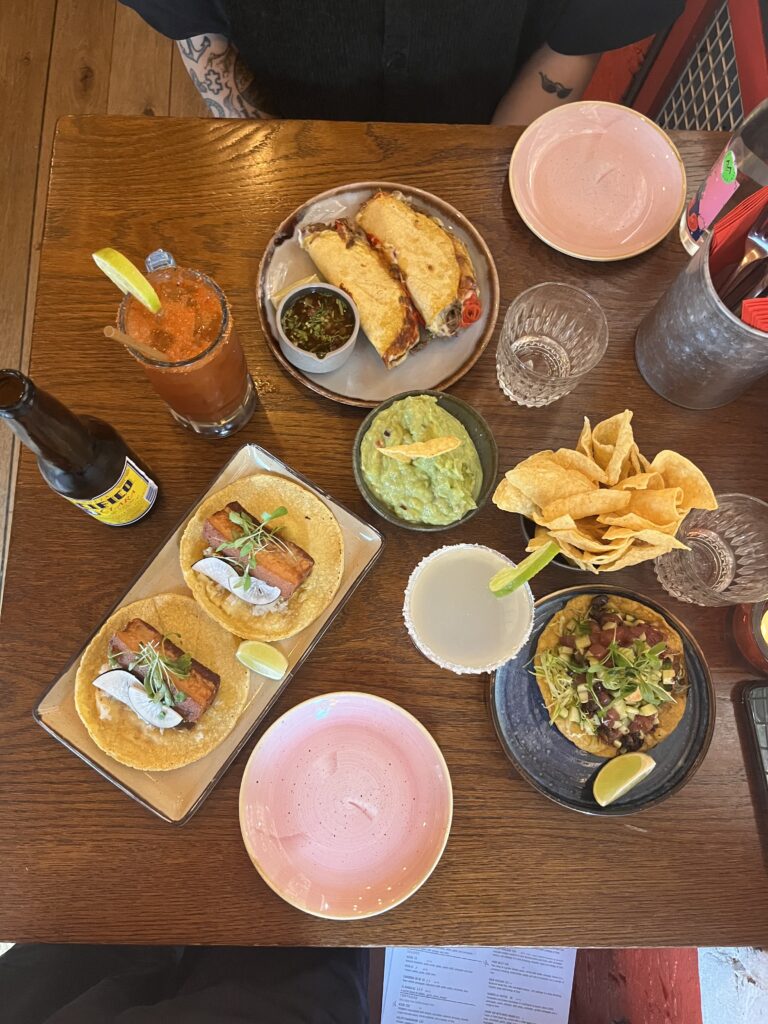 After we crunched our way through a bowl of that we got the atun tostadas; a yellow fin tuna tartare with lettuce, cucumber, tamarin dressing, chipotle mayo, avocado sauce and coriander. This dish was really thoughtfully put together. The balance of textures and flavours were perfection; nothing was too overpowering that it covered up the delicate taste of the fish, but rather enhanced it instead. Up next were the punchy birria tijuana style quesadillas. These were amazing. Definitely a favourite, packed full of spice and meaty goodness, and dripping with a deep gravy, it is an absolute a must try for anyone visiting. Finishing up on the savoury section we had the pork belly tacos. They don't scrimp on the meat and we had a big, big chunky piece of belly in a lovely soft taco shell.
And to really finish strong we had to try out the homemade churros. Pure indulgence, really soft and hot and even more elevated when dipped into that warm chocolate sauce. Another gorgeous dish worth saving room for.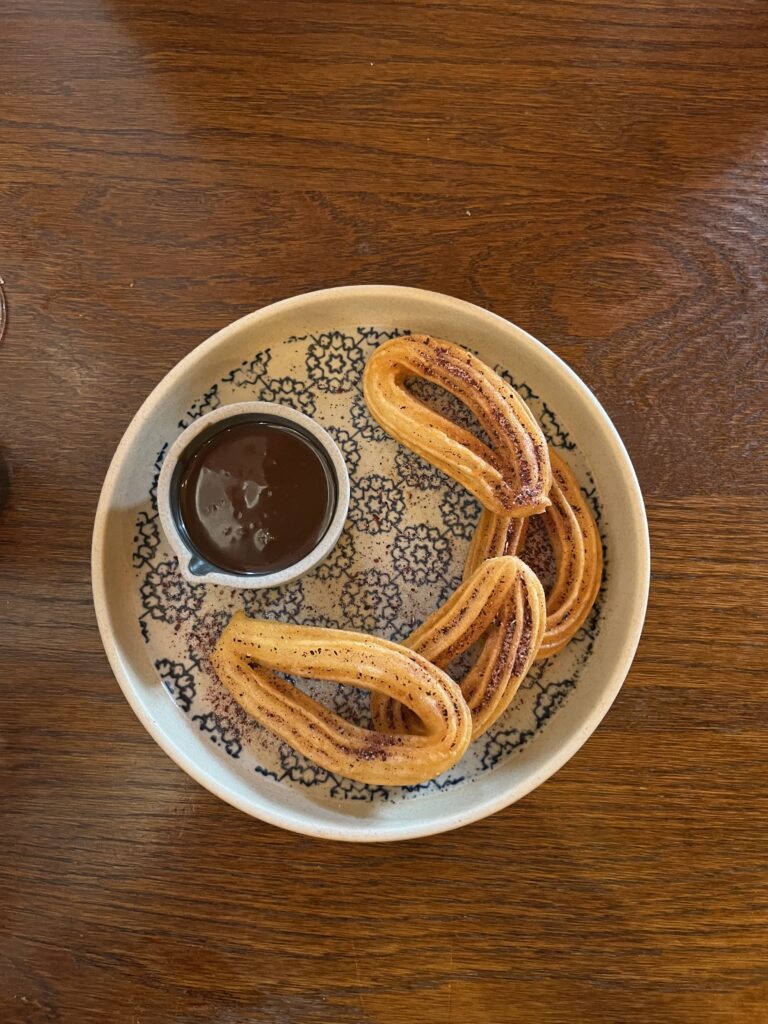 The main reason to go an visit this place was that it was so incredibly authentic. Jose and Mauricio didn't fall short with their menu in any part; they were brave with flavours and added some really authentic items that we've never seen at a Mexican restaurant before. They use their knowledge and experience cleverly and it's why the place has become so popular. You can even take a bit of 1910 to take home… They also now offer take aways of their bottled margaritas! 
---