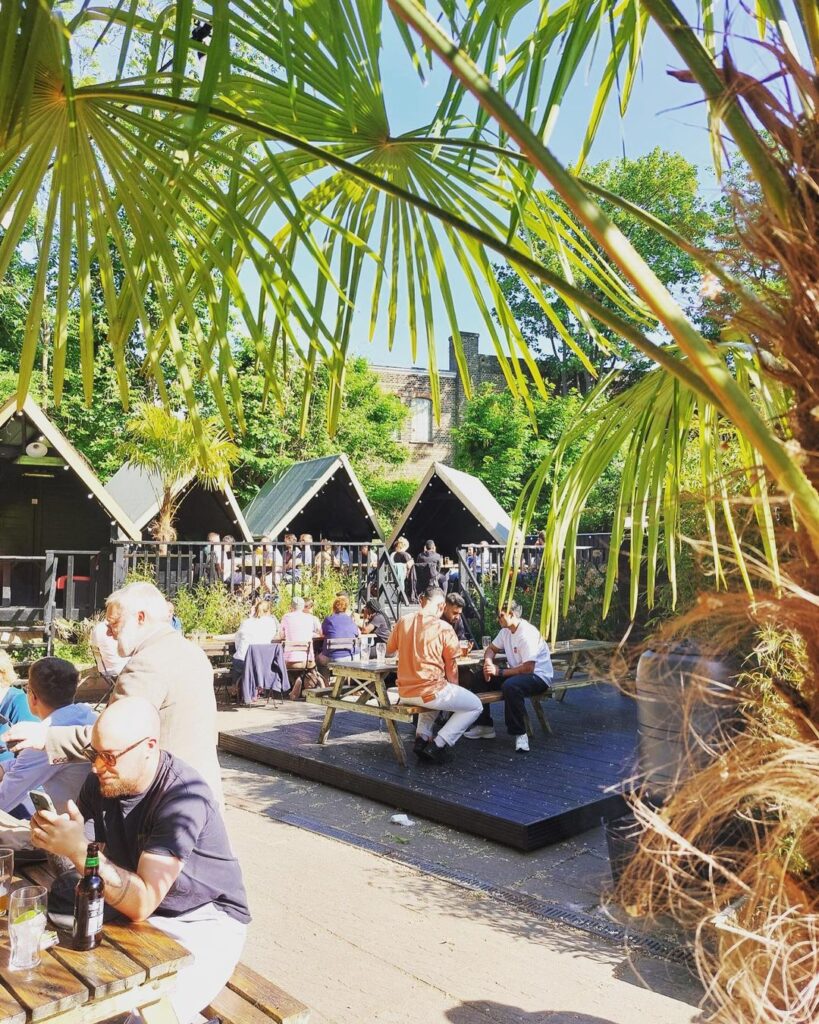 In August The Railway Tavern announced that they were making the three month kitchen residency pop up by En Root permanent and what a good decision it was. If you're yet to feast on their delights, En Root is a daring choice because they make food that's a far cry from the classic pub grub. They use Indian-inspired flavours and dishes to create healthful plates that don't take themselves too seriously. They've got twists from all over the globe- pizzas, tacos and salads all appear on the menu with their signature En Root take. We went down to see how this kind of food translated in a pub setting and had a very, very jolly time. Now don't mistake us, because we love a scotch egg and scampi fries as much as the next person. But they're available at any old local, so this menu was a welcome change for our vinegar and salt doused tastebuds- Indian flavours and hearty food that will do good for you (and we don't just mean by lining your stomach as the pints go down, though it'll do that too). The food is completely vegan and completely wholesome meaning you'll feel pretty darn great after a meal there. It's also really, really tasty and makes visiting the pub for a meal on a random Tuesday night a tempting option…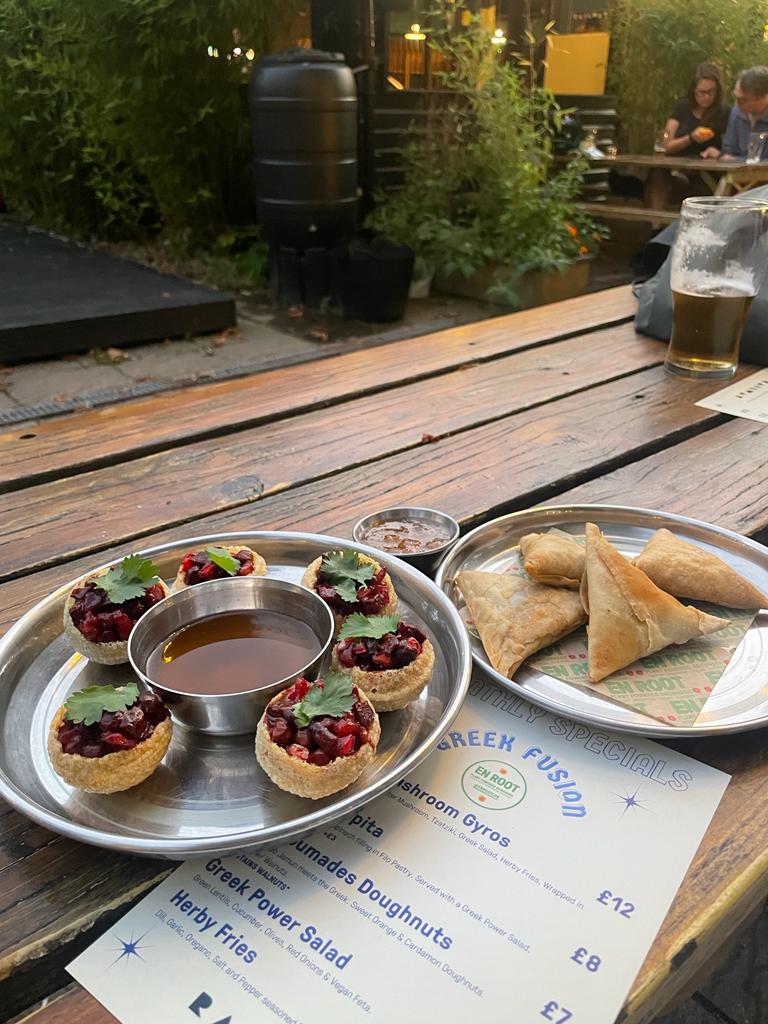 …Which is exactly when we visited. Many pubs have a tough go of it at the beginning of the week, often turning into ghostly shadows of their vibey weekend alter-egos, so we were a little apprehensive of our trip. But apparently the people of Tulse Hill were ahead of the Tuesday pub trip trend, because the place was packed. Luckily that's no issue for The Railway Tavern which has a whopping amount of space. There's a cosy classic pub interior, a sheltered semi-outdoor seating area and one of the biggest pub gardens we've seen, complete with huts, benches and pingpong tables.
After hunkering down at a bench outside and with a glass of wine and pint on their way, we turned our attention to the food menu. Small plates, large plates, nibble-y sides and some salads, the menu felt packed with options that would get anyone salivating; including the carnivores. We kicked off with the more classic plates on their menu- pani puri and samosas. The pani puri were a joy to eat. They look pretty and low key, but the sour/sweet flavours and crunchy/chewy textures were perfection. You get 6 on a plate and they would be a welcome addition to the table with any group. The samosas came piping hot and held a satisfying amount of spiced packed into the filling. When dunked into a gooey mango chutney they were incredibly moorish and were gone in a flash.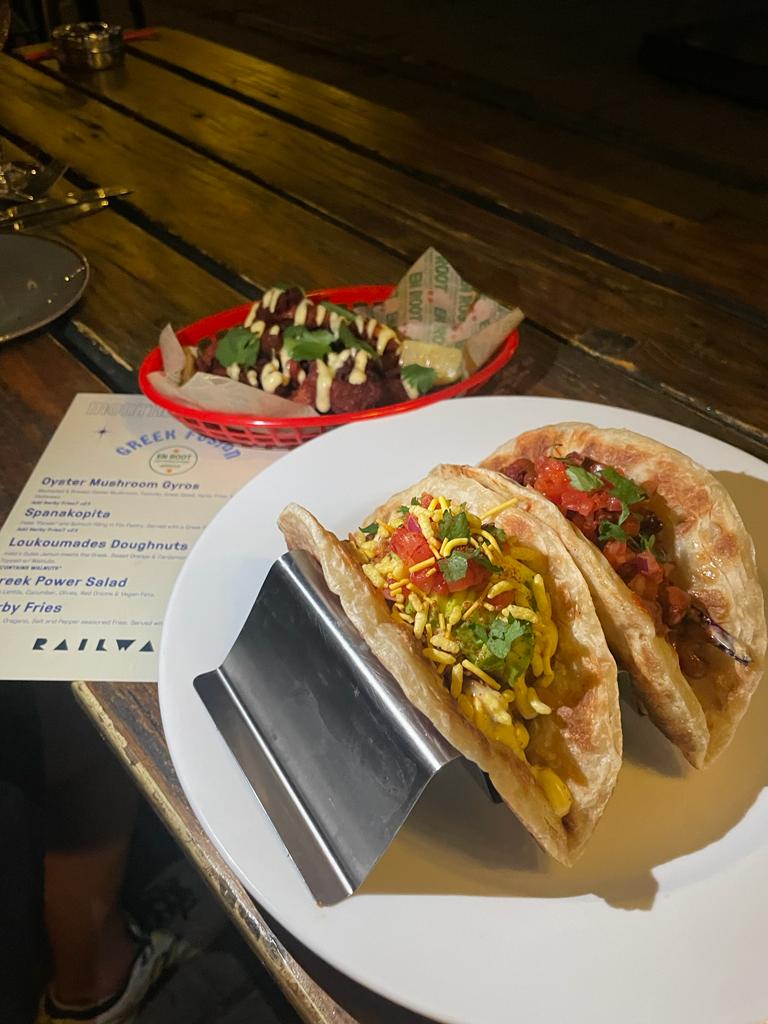 The mains came accompanied by another round of drinks. A duo of the 'ParaTaco' were the ultimate fun food- and really summarised what En Root is about for us. They were a mix of cultures wrapped up in a crunchy roti shaped like a taco. The dhal flavour was luxurious with avocado and 'Rajannaise' (the signature En Root hot sauce mixed with mayo), and the tangy BBQ sauce in the tandoori wing filling was perfectly offset by some creamy slaw. They're also 2 for 1 on Tuesdays which means two generous portions only come in at £7. An absolute steal, especially when the quality is that good. The tandoori wings were really speaking to us, so we got an extra portion of those and they were a real highlight. The 'wings' are, of course, not of the chicken variety but instead are made from oyster mushrooms in a spiced chickpea batter. Clever. The end result is an obscenely delicious mouthful.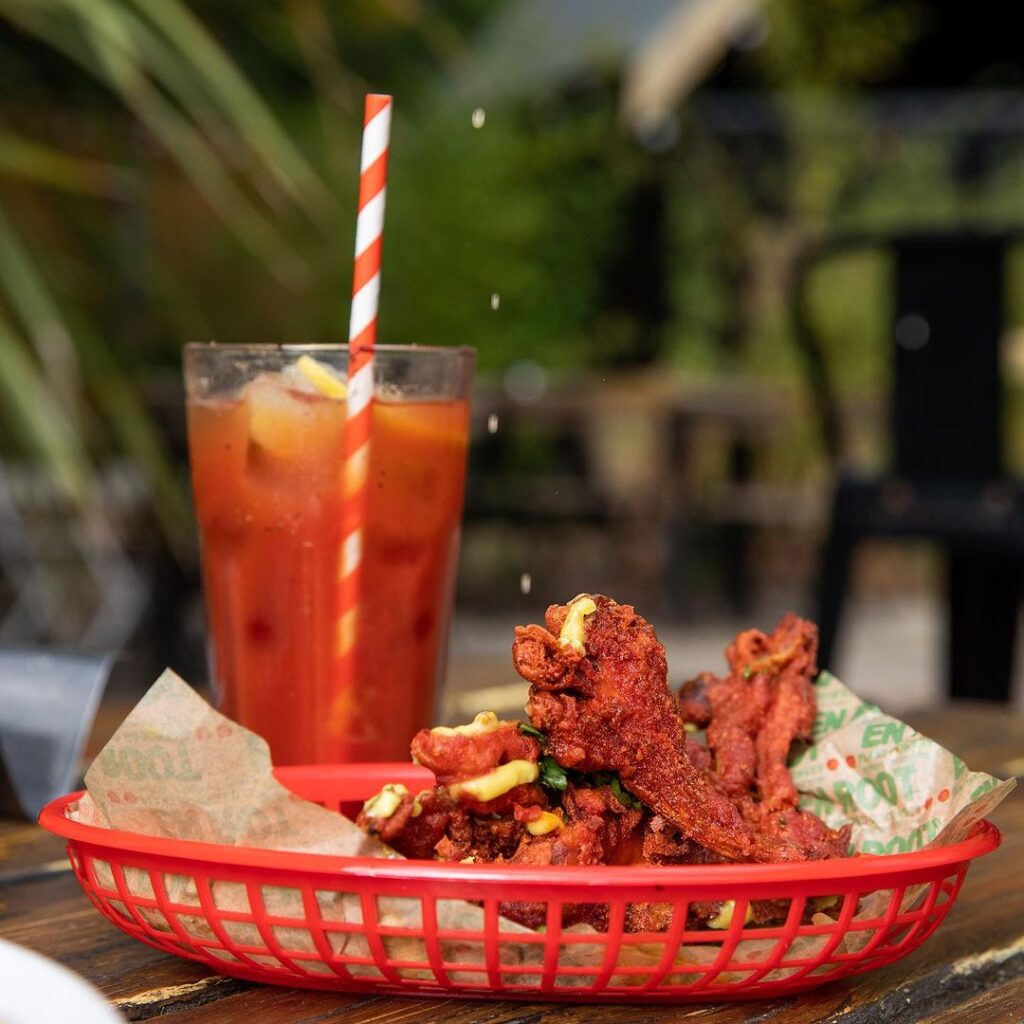 We finished the meal full and satisfied. The food was some of the best we'd had at a pub in a while and the fact that there wasn't a dairy product or piece of meat in sight just highlights the skills of the chefs here- they are making vegan food taste good to the masses and we take our hats off to them for that. The service here is as exceptional as the food and we were looked after from start to finish by a friendly, professional team, who were exactly that- a team. Well oiled and extremely personable, it was an absolute pleasure to visit The Railway Tavern, and we think you should do the same.
---