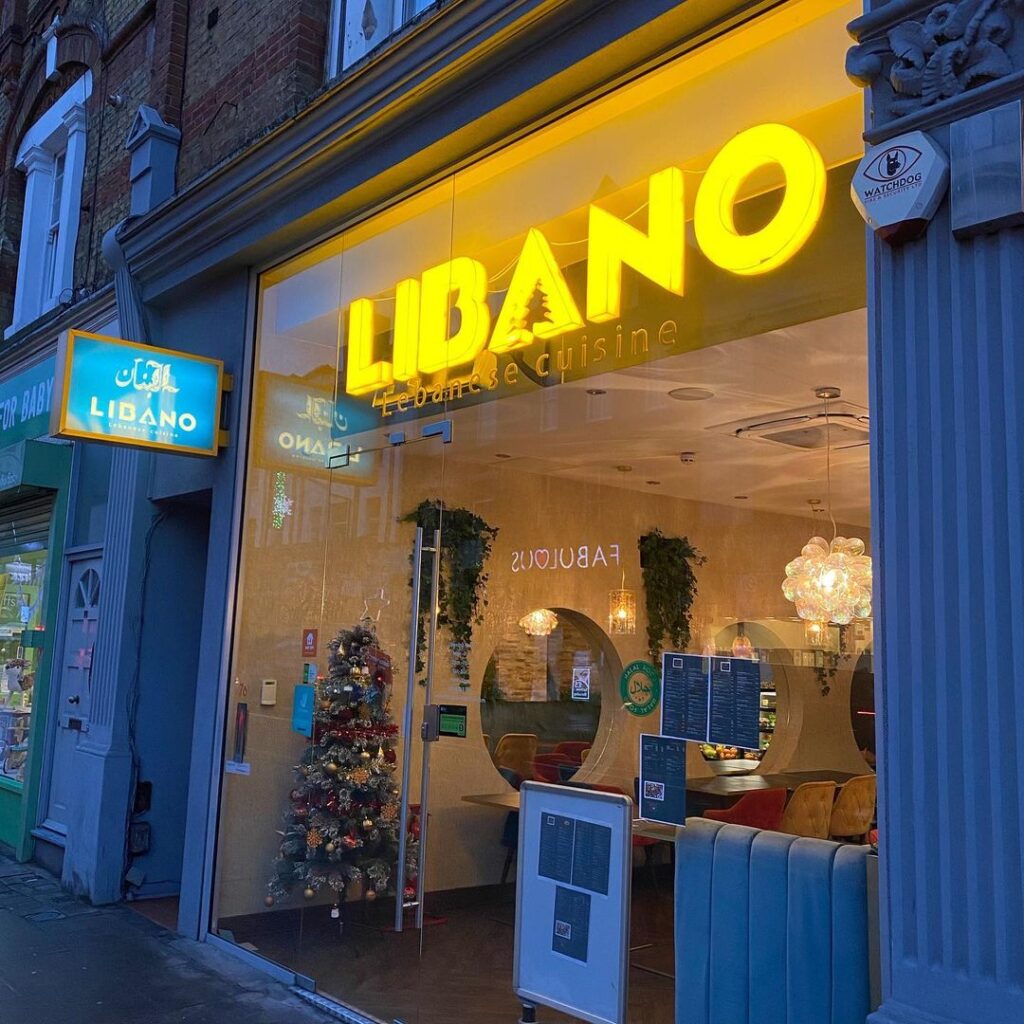 Born from the days of the pandemic, Libano is a family run business that opened in 2020. Started by husband and wife, Hiba and Samer, the duo started serving authentic, fresh and homemade Lebanese food to the people of South London… whilst raising two children. Like all good family run establishments, you can really feel the love that has gone into making Libano a success. As soon as you walk through the doors you are enveloped in a sense of community. Everyone there felt like they really wanted to be there (which can be a rare thing in hospitality) and the waitstaff were happy to give us time; showing us to our seat, talking us through the menu… nothing was too much bother.
So it made sense that, as soon as we were seated, we were offered a 'Freez Mix' to drink. We weren't sure what one of these were, but trusted the server who'd suggested it and thought that the peach and mango flavour was absolutely delicious. It was no wonder we'd never heard of it eiher- these are drinks are hard to find in the UK as come directly from Lebanon, making it the perfect start to our meal. They had loads of other fun flavours like a pina colada and a kiwi & lime. Great if you're staying soft for the evening which, by the way, you will be- they don't serve alcohol here! Don't worry- they have a vast drink list; from milkshakes to freshly squeezed juices to all the classic fizzy drinks between, who needs a beer!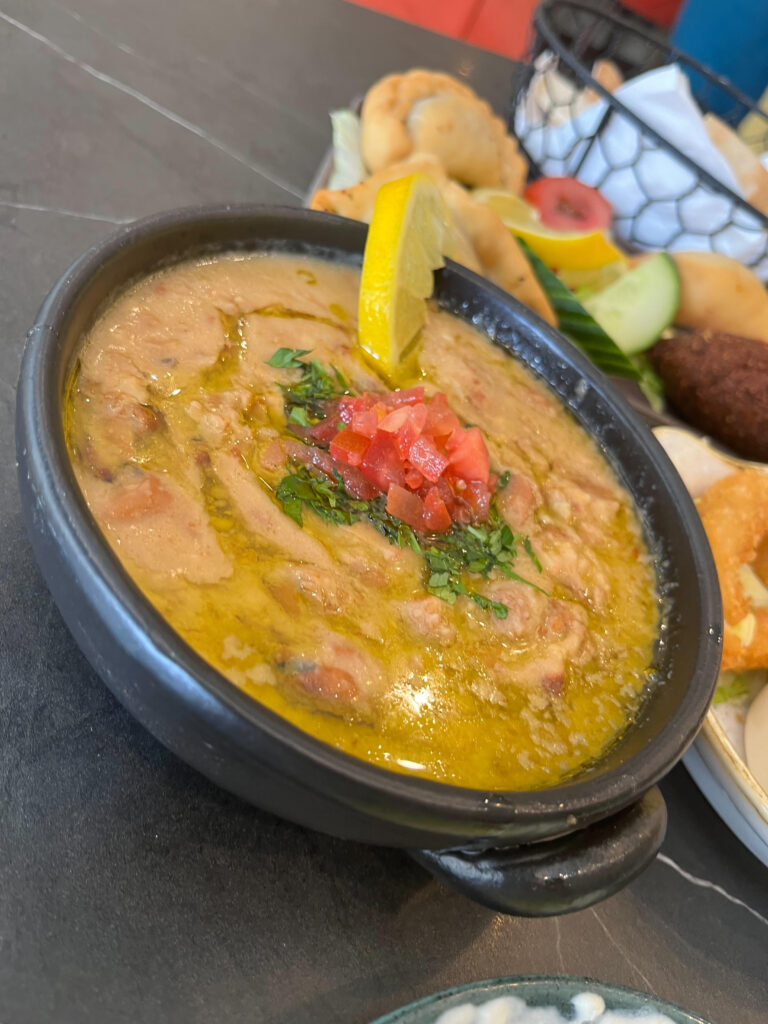 Oh, but the food! Let us start with a spoiler: we loved all of it. As Lebanese fans, we had a suspicion we might, but this was really top quality stuff. There was so much to choose from, so we were glad to be recommended some dishes to get us going. We were told the calamari was good, and it was; coming out crispy and hot. The plate of mixed pastries was a merry ensemble of fatayer spinach, kibbeh, lamb sambusek and cheese sambusek. These were so good and really fun to have a taste of all of them; a great option if you are with a group and want to try a few different flavours.
We then had the foul moudamas; a traditional Lebanese dish of stewed fava beans and chickpeas with loads of flavour- garlic, cumin, lemon juice and olive oil. Though we could imagine this dish being overlooked, but it was probably a favourite from the night. So fresh and so flavourful, it is an absolute must-try. And on the side we had the labneh; a thick, strained yogurt topped with mint- we loved dipping our bread into this one… and then some pastries.. and actually some of the fish too. No rules!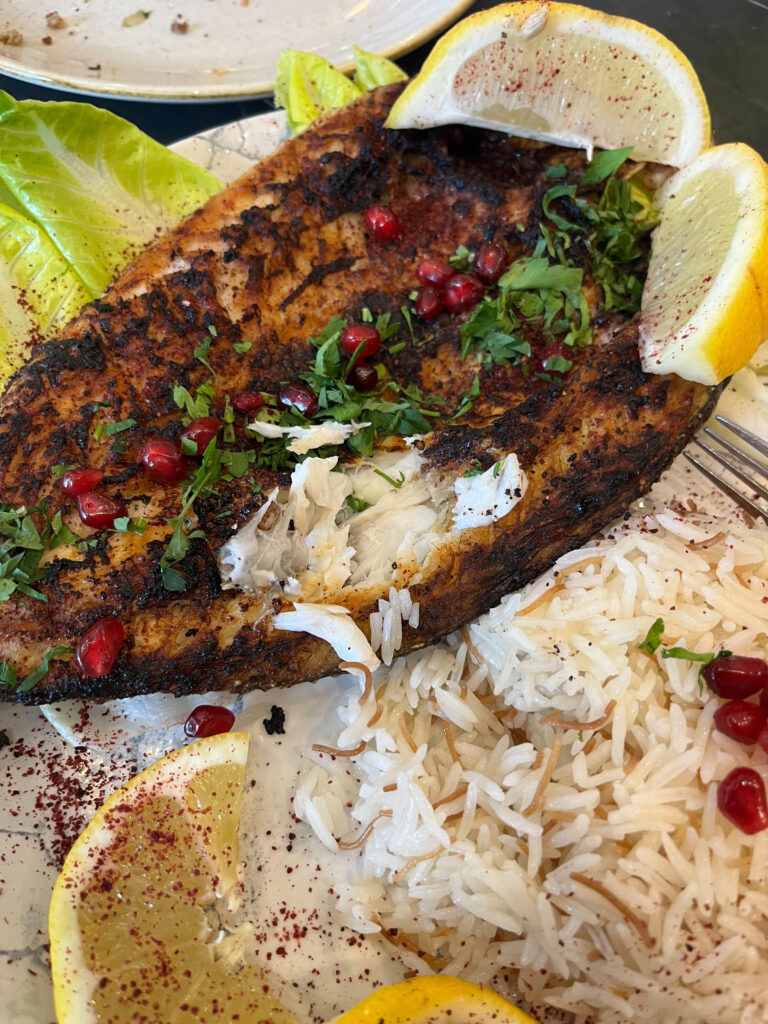 And on the fish- for the main event we had the sea bass. It was chargrilled and came with their 'signature sauce'. Now, we're not 100% what this signature sauce was, but we are 100% that it was packed full of flavour and, served with rice, salad and bread it was a great portion size too. A moment in the meal where it felt that the chef really showed us what they could do. At this point we'd got through our Freez Mix, so gave their homemade lemonade a try. Unsurprisingly, it was fantastic. Zingy, sweet (but not overly) and a lovely way to refresh the palate after such vibrant flavours.
It survived lockdowns, tiers, the eat-out-to-help-out scheme and is thriving, and it's no wonder; Libano is a place where they are passionate about the food they make. It's a really comforting, happy place and the kind that serves food that you just want to eat again and again.
---