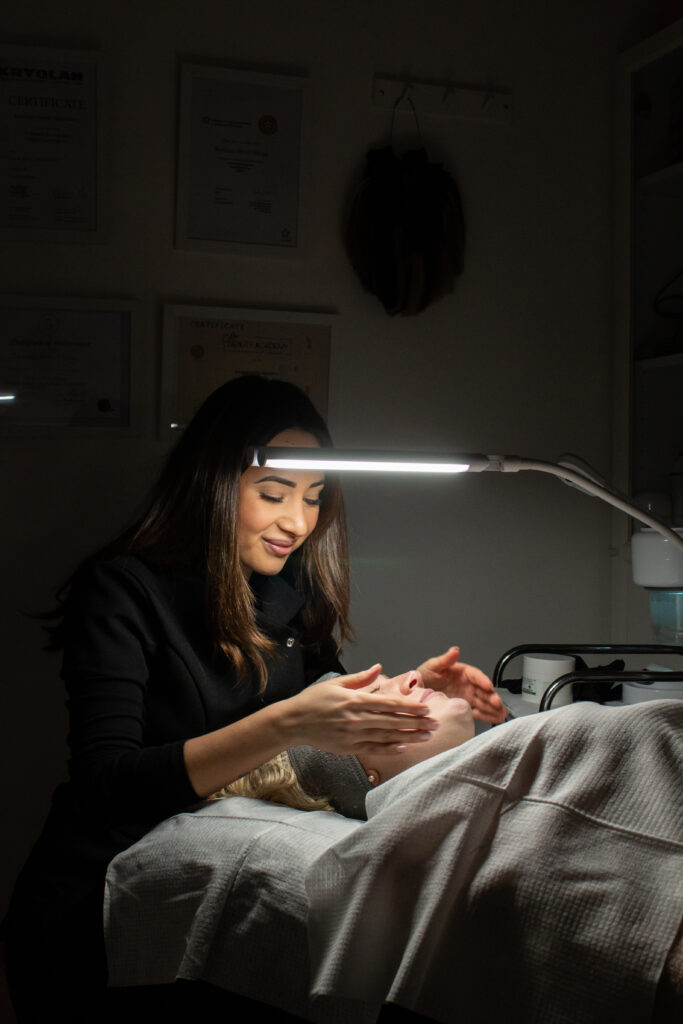 Winter can cause certified havoc with our skin. Luckily, we have talented people on our doorstep who are here to save the day when it comes to us looking and feeling our best. We headed over to The Beauty Lounge for some skin TLC. The Beauty Lounge is located really centrally in Brixton, just beyond Phonox, so it's easy to get to and then tumble back home in a relaxed daze after you've had your treatment. Though they've had that spot for 2 years, the team has over 5 years worth of experience in the hair and beauty industry, so you're sure to be getting a well qualified bunch.
The Beauty Lounge is all about making their clients feel comfortable, relaxed and happy- something we felt immediately when we paid them a visit. The whole thing was lovely from the off. We were greeted by Marielena, owner of The Beauty Lounge, who was a calming, serene presence. Exactly what you want when you're about to get pampered and preened. Though there is a huge menu of treatments that The Beauty Lounge offer (facials, lash and brow services, as well as hair colouring and treatments), we went for the deep cleanse facial with LED light therapy.
We weren't completely sure on what that was either, so let us explain. It consists of a deep extraction with a steam and a double cleanse to get the skin squeaky clean. A thorough exfoliation is next, which cleans the pores of any sneaky blackheads. Then a cool and calming mask is applied, followed with a toner. After all of this is done, the LED is introduced. The great thing about this is that, depending on the concern of the skin, the colour wave is adjusted to target exactly the issue you want to address. The treatment is finished off with a hydrating SPF cream and a serum to leave you glowing as well as a relaxing face lifting massage for maximum relaxation.
Maximum relaxation was achieved, as was a significant change in the look and feel of our skin. Smoother and 'glow-ier' straight away and we are sure to be feeling the effects of that deep cleanse for weeks more.
We especially loved the personalised feel to The Beauty Salon. Consultations (that can be done virtually too) mean that the services you'll receive are completely bespoke to you and your needs. It's all about really knowing the client and working out together the goal of the appointment so you'll walk away really satisfied.
Want to check them out? Of course you do! To really pursuade you they've got a few great deals running at the moment: the face lifting facial is only £30 at the moment! This is a limited spaces only deal, so act quick. For the lash lover they are introducing a brand new service, the LVL Lash lift. Their launch price is just £45 (originally £65). Book via the link below and get ready to get glowing, Brixton.  
---