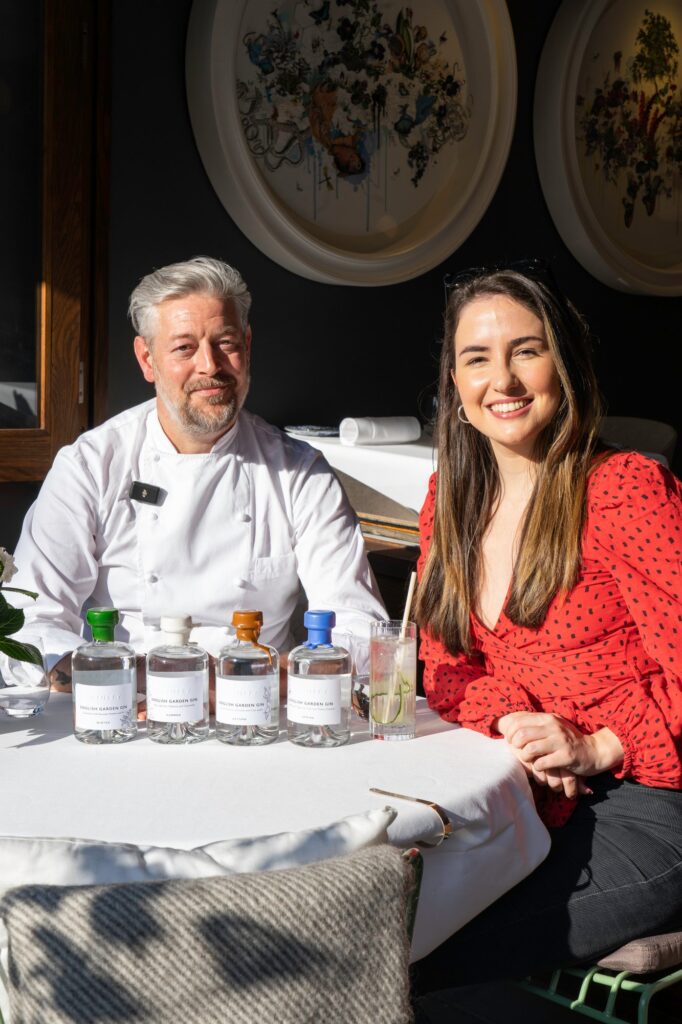 Happy World Gin Day! Before we get into these wonderful local gins you've made, could you start off by introducing yourself?
Of course, I'm Adam Byatt and I'm the chef owner of Trinity restaurant, Upstairs, Outside and Bistro Union. I've been in Clapham 17 years cooking away, doing my thing.
You've made four of your own gins: autumn, winter, summer and the newest is spring. Where did the idea come from?
I have indeed. And you know, gin is obviously not a new thing, right? I really wanted to do something in the gin market that was different, was original, and to take a 'chef' approach to gin. Seasonality is a huge part of my business, the way we cook, the way we view food and the way we work with the seasons. So we wanted to create gins for spring, summer, autumn and winter and have them all reflect that season in the ingredients we use and through the feeling you got from that gin. I really think we've captured that. When I was looking at the gin market, there's this huge amount of gin, but they're all made in quite a similar, linear way. I wanted to make them with fresh ingredients. I wanted to use the 'English garden' as inspiration. And I wanted to stay true to the season. This is why the gin for spring is only just hot off the press- it took so long because we had such a poor spring that the flowers actually took a long time to grow. This has got elderflower, tulip and cherry blossom in it, and those flowers just took a really long time. I'm so happy with them as products. They are fresh, made with proper ingredients and we partnered with the best distillery I could find (Green Room). We did a 'white label' partnership with them, they distilled the gin with me present and making them with them. We concocted and twisted and turned all the different botanicals to get it right. I absolutely love the product. It's something that I've never made before and I'm super proud of it. We've won two awards for autumn and the summer. Our beautiful little summer scooped silver in the International Wine and Spirit Competition. I'm super proud as it's the first time I've ever done it.
Congratulations on the awards! How did you match the season to the flavours and what was the most challenging season to make?
We took the season as inspiration. What's around at that time and 'if it grows together, it goes together'. That's the principle I work with in food and I work with exactly the same with the gins. The most difficult was spring. I thought it would be the easiest one to make harmonious. But it was difficult because spring doesn't bring tonnes of flavour and floral essences, it brings colour and vibrancy but there's actually not a lot of flavour going on. That was tricky. But we got there and actually, I think it might be the number one.
Summer is fast approaching. How would you recommend we drink your summer gin?
Yes, it is indeed. But this summer gin for me absolutely perfect just as a gin and tonic. Three parts tonic to one part of the gin, a few rose petals put in the end. Equally, my wife likes this as a as a gin Martini. Just a really clean gin Martini. It's so beautiful. It's floral, fragrant, clean, easy to drink and I love it.
Are you stocked locally? Where can we pick up a bottle?
Yes we are! We've just finished the production of the spring, so we're going to sell them exclusively. We will sell the gins in our restaurants or for restaurants, and they'll be available as bottles in Drop On The Common and other local wine shops. We are also going to package the gins into a four bottle package, as well a 300ml bottles too. And we're going to offer those boxes from the end of June onwards (they'll available on our website).
---