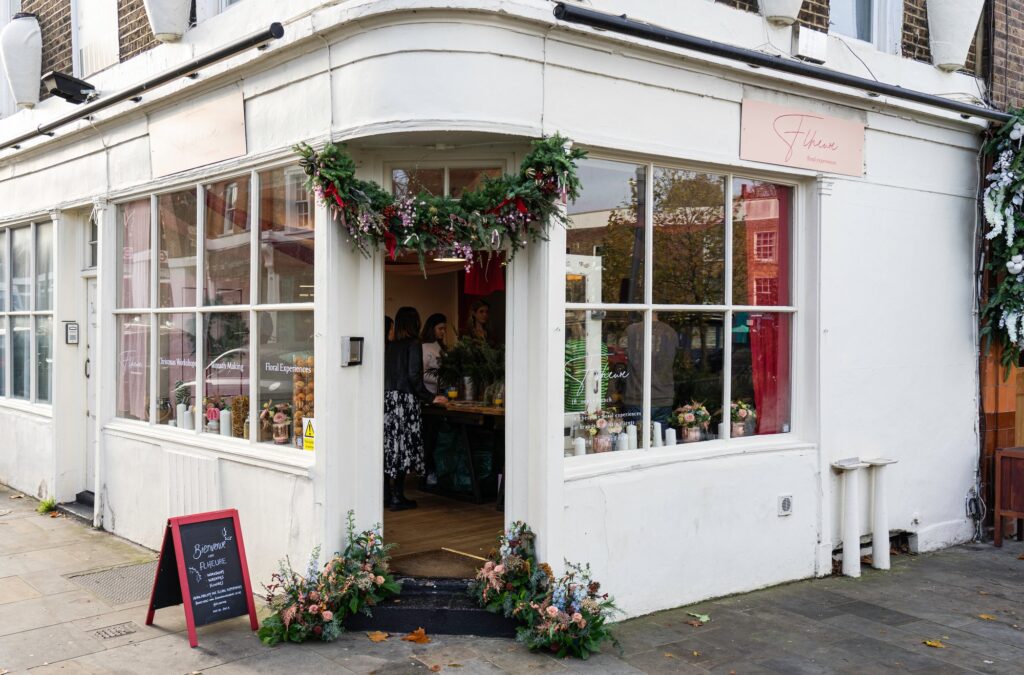 Flheure is the Polygon's latest pop up. Arriving on the 26th November, it opened its doors with a waft of pine needles and rosey scents. Run by Gemma, Flheure has been around for 3 years as an independent floral company, though it isn't until now that it has had its own bricks and mortar site. Inside it is has been redecorated to resemble an 'exploding present', with swaths of fabrics draped from the ceilings, wreaths covering the walls and Christmas tunes on repeat, it really is a winter wonderland.
We joined in on the first workshop of the series and had an absolute blast. We were making festive wreaths and, as complete novices, were a little nervous about how our floristry skills would do. Would we walk away with an embarrassing excuse for a wreath? Absolutely not!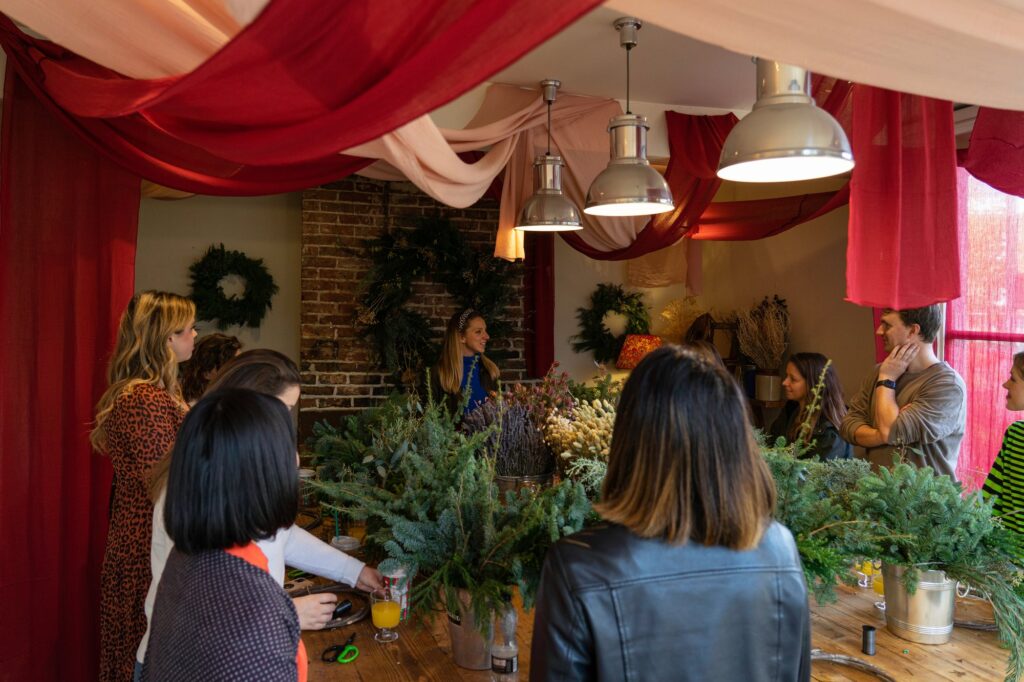 As soon as we got to the workshop our worries were put aside. Gemma is so welcoming and quickly thrust a bucks fizz into our hands (well, it is Christmas). After introductions she talked the whole group of 10 through the process of how to create our Christmassy decoration, starting with the greenery that acted as the base of our wreath. Each person had their own bucket of foliage, scissors and twine to get started with, which meant that we could really put our full creativity into our wreath without having to fight over the eucalyptus. With Gemma doing circuits of the table and offering tips on how to get the perfect shape, we quickly fell into the rhythm of it.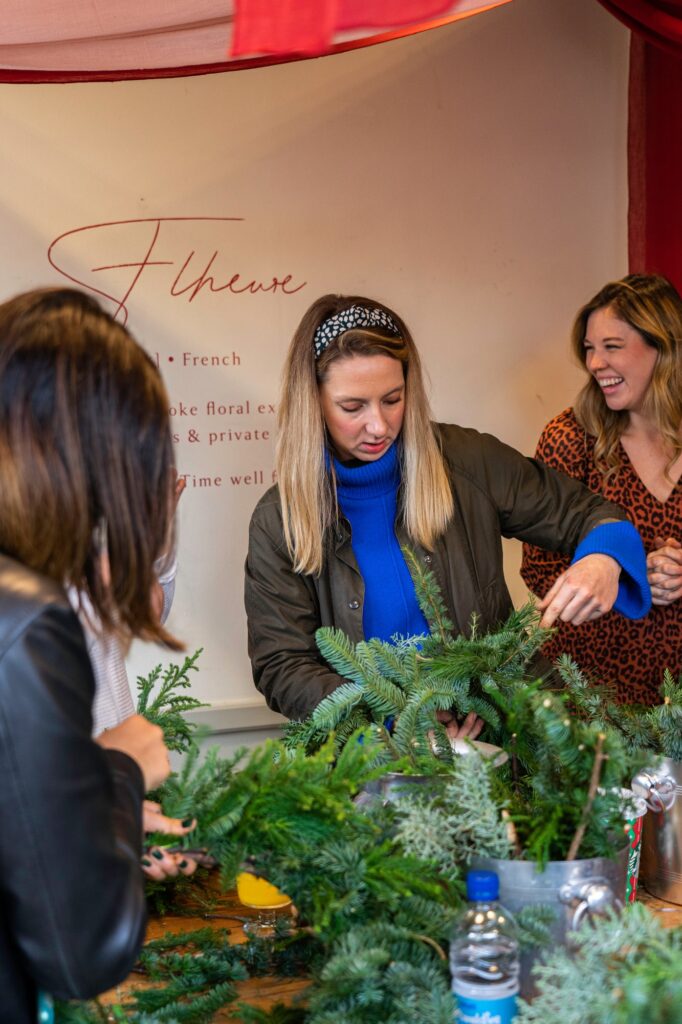 Things then got even more exciting when the decorations came out. Dried flowers, orange slices, ribbons and pine cones were all in the middle of the table ready to add on that extra special touch to our (currently very green) wreaths. Gemma went through how to attach them and gave us some artistic ideas to get the creative juices flowing. Of course being in a space which was littered with gorgeous wreaths on the walls was also a source of great inspiration. With Bublé serenading us, we got to work creating our own Christmas visions. It was so fun looking around and seeing everyone so absorbed, and there was enough freedom in the workshop for us all to come away with completely unique pieces too. Gemma is incredibly skilled at what she does so if, like us, you're a complete beginner then you really don't need to fret- you'll be guided through the whole process.
It really made a difference to our wreaths when they were pimped up with such gorgeous extras and the decorations are all of the very best quality. We loved to hear that the ribbons have come from the oldest ribbon creator in London (the proper old-school velvet ones!) and most of the dried flowers have been sourced from a farm that dries out the flowers they don't sell, a great move for the environment.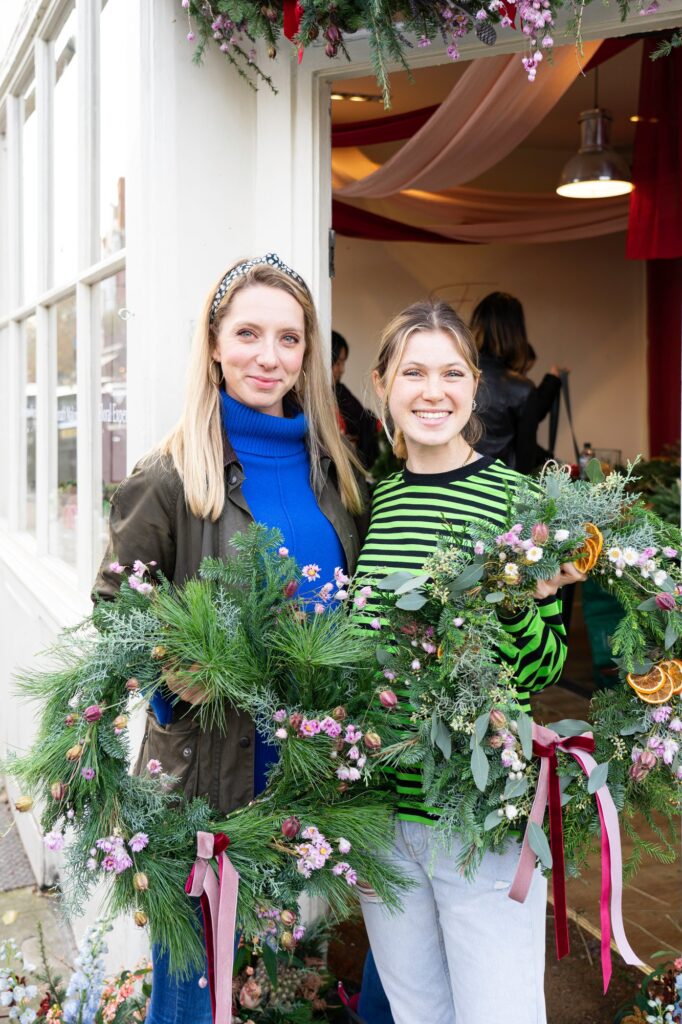 From now until the 11th December Gemma will be running 2-3 workshops every day where you can make your own wreaths or festive bouquets. They take around 2 hours and are child friendly too, so bring a little person for a fun, festive project to work on together! It was so great bouncing off the others in the group too- the atmosphere is relaxed enough that everyone feels welcomed to chip in with the conversations and it made for such a wonderful morning. Though of course it is fun to do something like this with a friend, this is not the kind of workshop where you'll feel uncomfortable going solo at all.
We can't wait to hang our wreath up on our door this year- do yourself a favour and book into a workshop at Flheure. Not only will you have an extremely merry time, but you'll come away with the most beautiful, homemade decoration you could wish for.
---
Copyright - Unless otherwise stated all contents of this website are © 2022 - Octo Media Ltd - All Rights Reserved - Full details for the use of materials on this site can be found in the Terms & Conditions