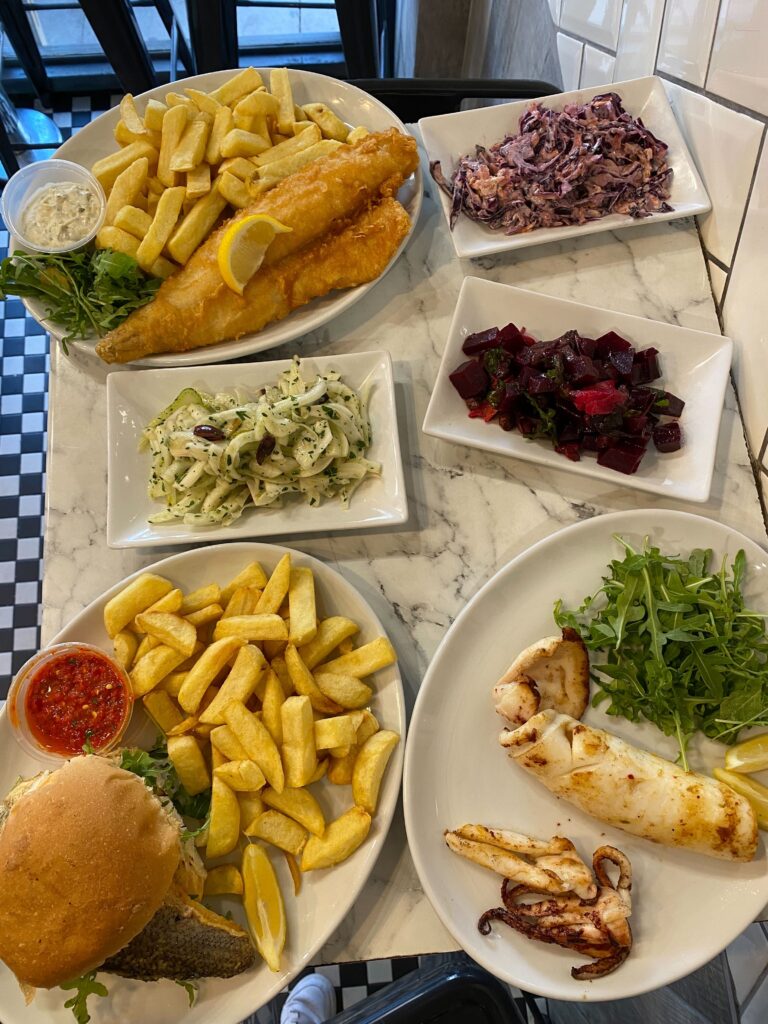 The headline of this article says it all, but let us tell you why. Moxies is a family run, sustainable fish and chip shop tucked away at the top of Balham Hill. It is changing the game when it comes to fish and chips. Forget what you know about greasy chips, flavourless fish and vats of gloopy mayo and check this out. 
Their menu is extensive- way, way more extensive than a regular fish and chip shop. Fresh fish is delivered daily from the Shetland Islands so you can expect everything from your classic battered cod and chips to grilled sea bass, mackerel, squid and tiger prawns. It's not just the variety of fish which is impressive, but also the way you can enjoy said fish: fish baps, whole grilled fish, freshly made salads, homemade sauces and of course, alongside those incredible chip shop chips.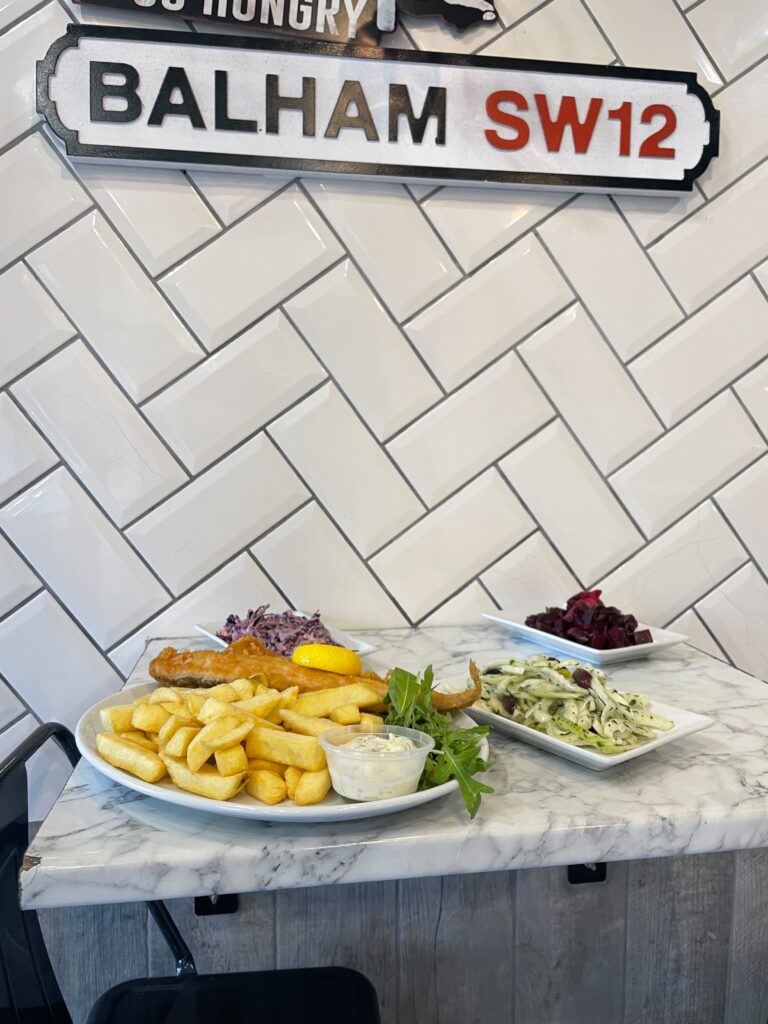 We popped by for a fishy Friday lunchtime and experienced a huge range of dishes. We will warn you- we ordered a lot. But everything looked so good we couldn't help it. Good luck on narrowing down your choice when you go, we hope you have better success than we did.
Keeping it classic, we ordered the battered haddock and chips. Even this caused us to pause- Moxies has 6 different types of fish to choose from! We also had the grilled sea bass fish bap, a variety of squid, 3 homemade salads and a few of their homemade sauces on the side too. Of course, they nailed the classic haddock- delightfully light and crisp batter surrounding flaky fish. Is there anything better? We loved that they keep the chips traditional too- there was no messing with the plump potatoey goodness we were served, the perfect ratio of soggy vs crispy crunchy bits, we were in heaven. We like ours drowned in vinegar and salt, but if you want to be a bit more swanky try out some of those delicious sauces. The tartar was a classic done right which we loved dunking our chips into.
We'd also like to take a moment for the fish bap range they offer here. Choose from sea bass, mackerel or cod and it comes with rocket in a warm, squidgy bap, lined with their zingy homemade chilli and garlic sauce. Simple and unfussy but really, really good. Try this and take a leaf from our book and add in a few vinegar-spiked chips whilst you're at it.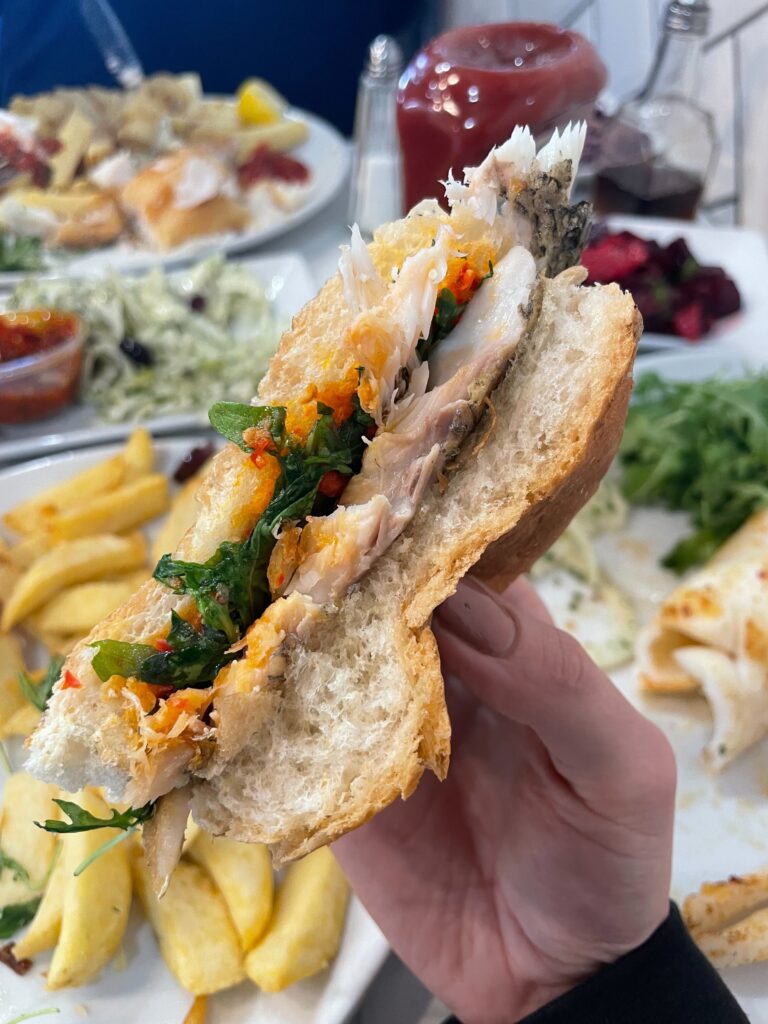 The salad and side range here is so great- for any where, let alone for a fish and chip shop. They offer a smoked salmon or smoked mackerel salad as a main meal and also have smaller portions of a fresh fennel salad, a bright beetroot salad and creamy coleslaw too. A lovely little addition to any meal and hey, it's a tasty way get some more of those veggies in too.  
What did we learn from Moxies? Fish and chips is not just for the seaside. And it doesn't always have to be unhealthy for the environment and you. Moxies really is changing the game. It's sustainable fish, cooked really well. With all those nostalgic tastes you are craving as well as more adventurous options too, this is absolutely our new 'chippy'. If you don't live close by you can order on deliveroo/uber eats, fish to your door and no speed walk back home with a bag of steaming chips in hand! But if you do live near by eat in and see Abed and Shahd, the husband and wife team who we have to thank for this treat of a spot!
---
Copyright - Unless otherwise stated all contents of this website are © 2022 - Octo Media Ltd - All Rights Reserved - Full details for the use of materials on this site can be found in the Terms & Conditions