If you're craving some pizza action but want to keep things festive then here are the slices that will calm a rumbling tummy. Perfect hangover food, perfect pre-Christmas drinks party, perfect when you burn the turkey.
---
Yard Sale Pizza, Balham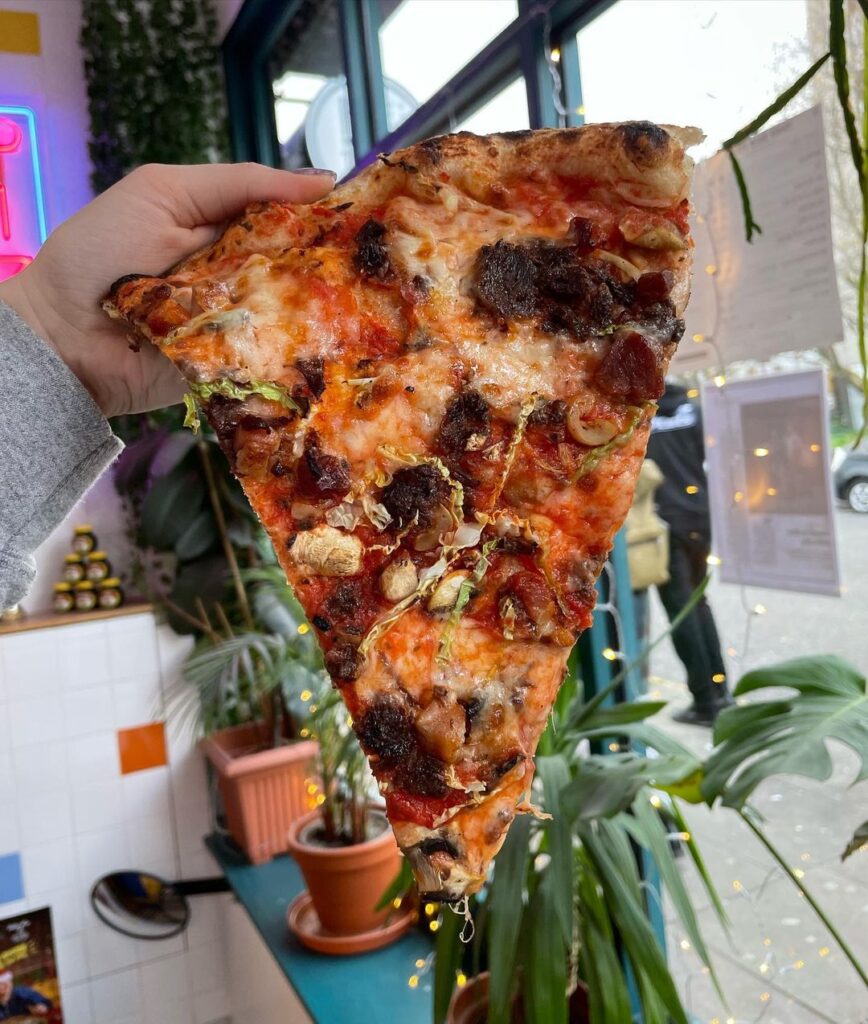 They've gone festive with their special: 'Ding Dong Merrily On Pie' (see what they did there). This one is in collaboration with Willy's Pies and there's a lot on top. Red-wine braised beef cheek, smoked bacon lardons, mushrooms and goose-fat savoy cabbage gives all the flavours of Christmas dinner without the bits you don't like. Even better is that £1 from every pizza goes to the Trussell Trust. Eat good, do good.
---
Franco Manca, multiple locations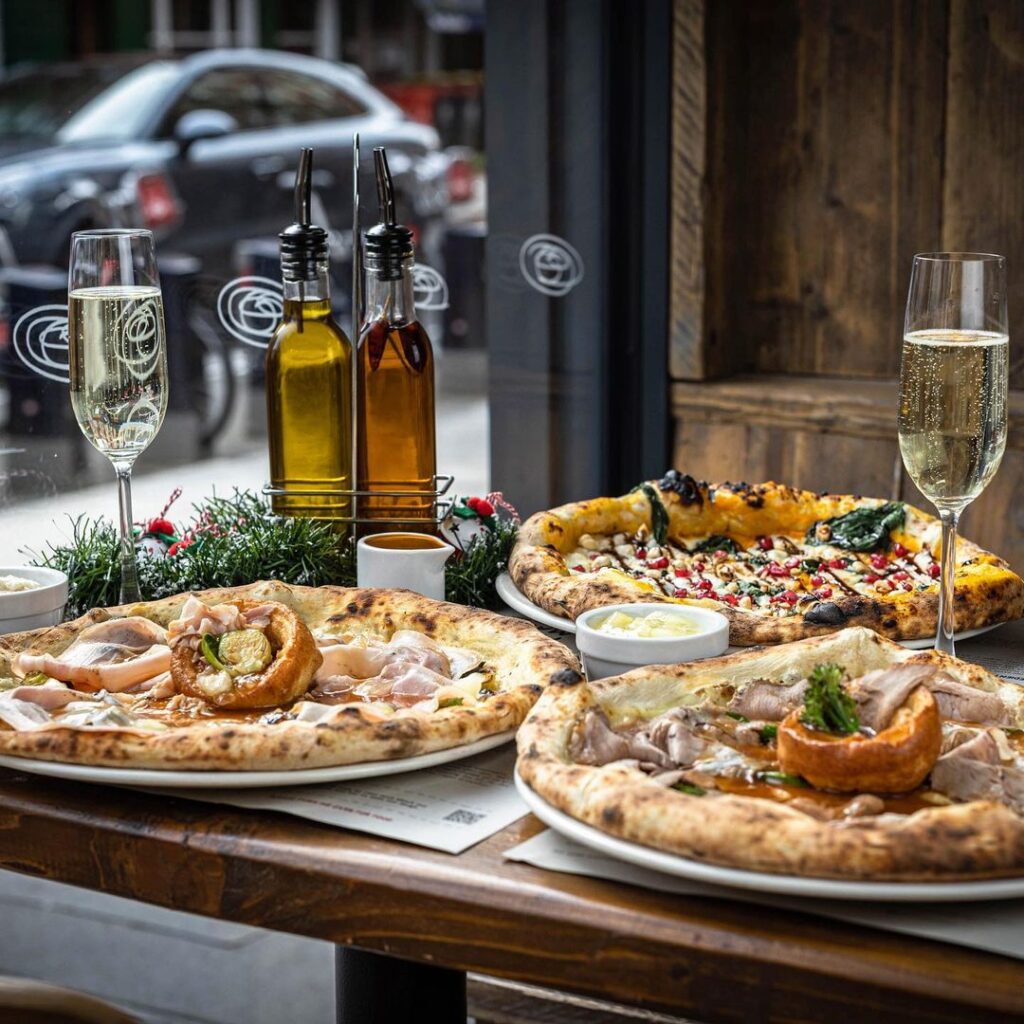 Not one, not two, but three festive pizzas are gracing the Christmas menu of Franco Manca this December. The first is a roasted beef number atop a creamy potato base, with tenderstem broccoli and cheese. The second is topped with porchetta, apple sauce, sprouts and stilton. Oh, and because no Christmas meal is complete without, both of those are topped with a Yorkshire pudding and gravy. For the vegetarians, the 3rd festive special is a spiced butternut squash base, spinach, halloumi, pomegranate and toasted hazelnuts. We also love that Franco Manca hasn't just stopped at the pizzas. Their dipping sauces have had a holiday makeover too; apple sauce, gravy or horseradish come to dip your crusts into. Now that's on our nice list.
---
Joe Public, Clapham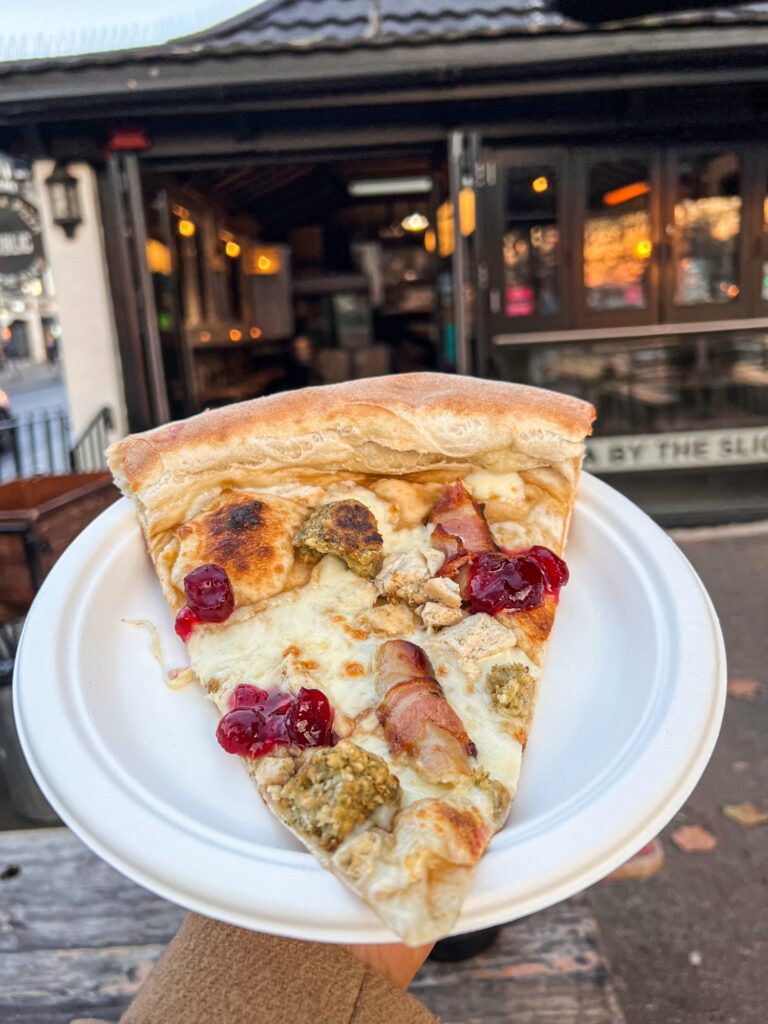 Get your Boxing Day sandwich early, because Joe Public have made it into one of their 20″ pizzas. A gravy base topped with mozzarella, stuffing, chicken, pigs in blankets and cranberry. Grab a slice, and then maybe a few more slices… Well, it is Christmas.
---
Four Hundred Rabbits, Brixton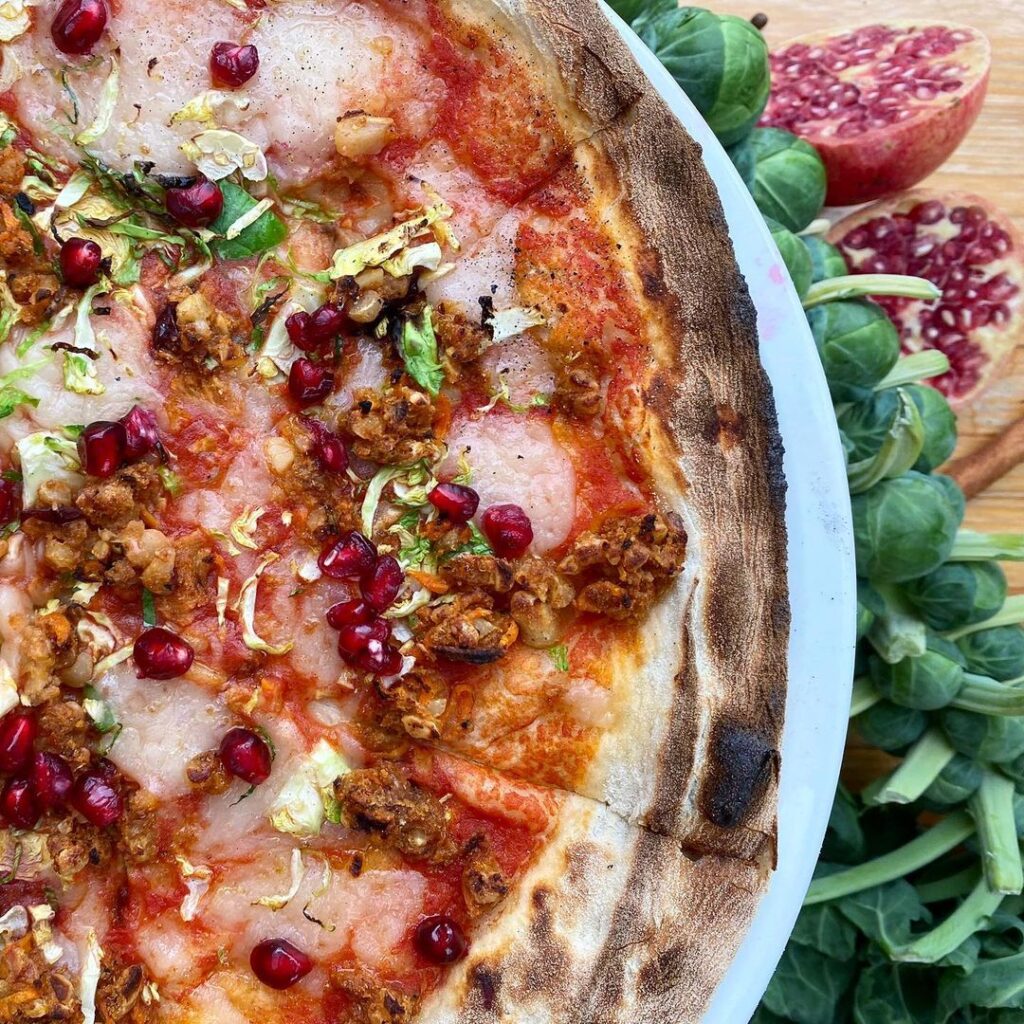 Another triple threat! This time from Four Hundred Rabbits. They've got a meaty one (confit duck), a veggie one (nut roast and camembert), and a vegan one (nut roast). All of them are topped with shredded sprouts, pomegranate seeds and mozzarella (the vegan kind for the vegan one) for a proper Christmassy kick. Wash down your flavour of choice with a winter negroni and you'll be ho-ho-ho-ing all the way home.
---
Breadstall, Battersea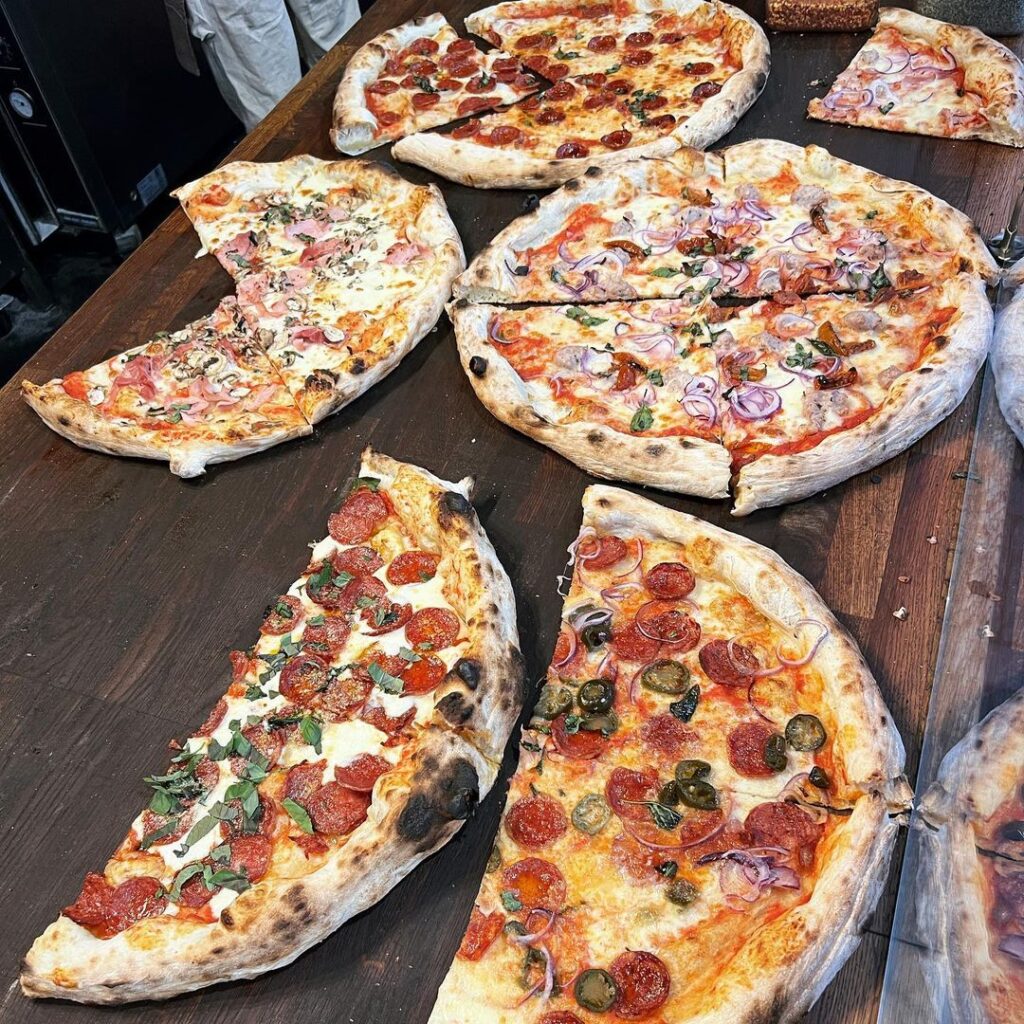 When you're doing some last minute shopping on the Northcote Road, pick up a festive slice from Breadstall. This little pop-up foodie stall is the kind of place you'll smell before you see- and it always smells good and has queues to prove it's worth. 'The Bandwagon' is their chrimbo special; turkey sausage, roasties, onions and cranberry.
---
ECO, Clapham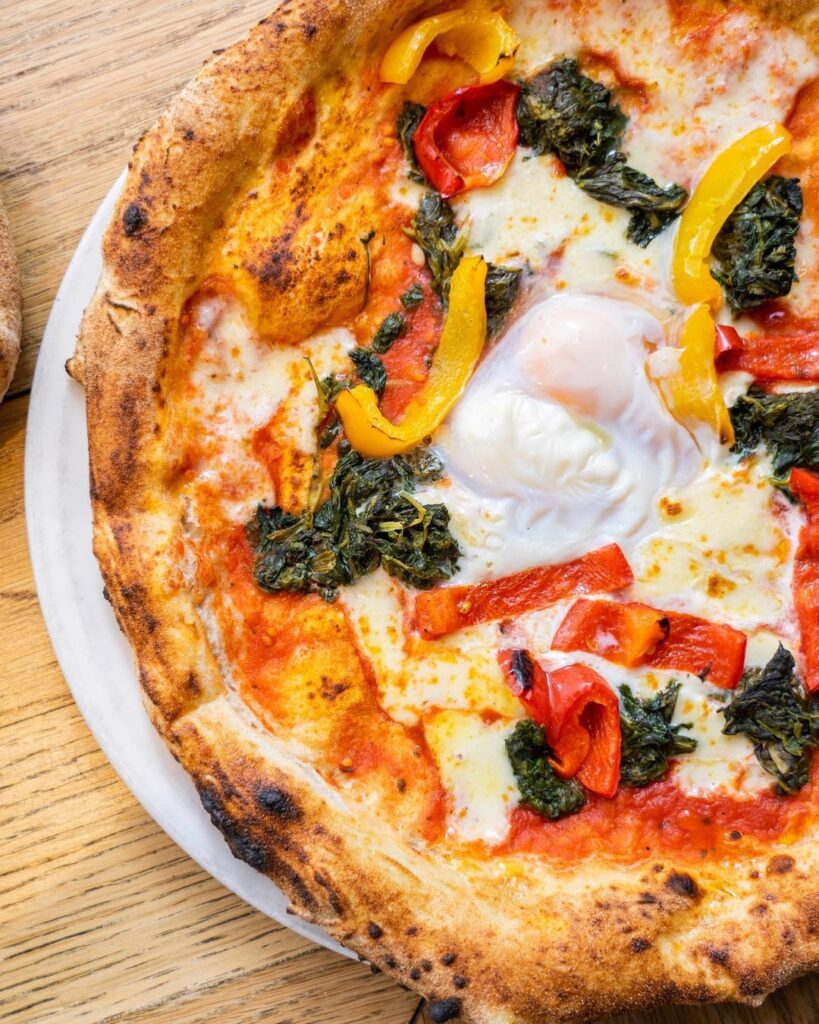 Asparagus, sage, butternut squash, cranberry and pine nuts just scream 'CHRISTMAS'! And so does turkey, stuffing and Yorkshire puddings… and at Eco you can get both of those combos slapped on a pizza. For every set menu they sell this Christmas, they'll donate £2 to The Ace of Clubs, a charity helping the homeless in Clapham this winter.
---