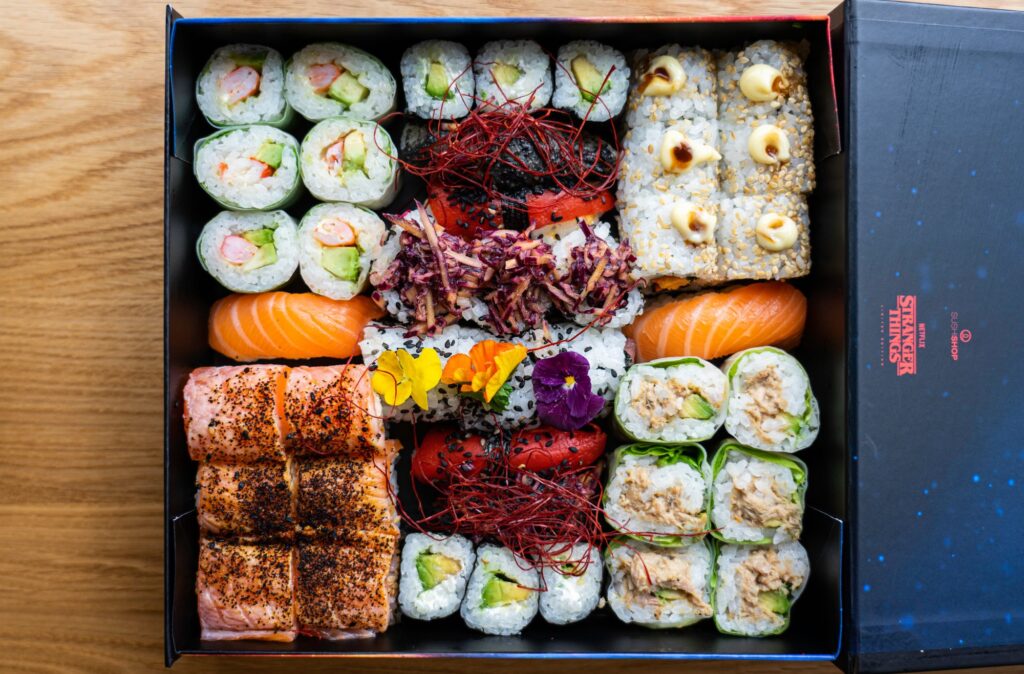 Sushi Shop is a French brand. Something that, when you think about it, makes sense. The sleek interiors, the faultless service and the presentation of the sushi is of such high standard that it can only be born from the continent. They're properly established over there too, having been functioning for 25 years they've now got over 150 across Europe. But now the Sushi Shop brand has swum over the Channel and made its way to the UK and aren't we all the more richer for it. They've been here for 8 years already, mainly operating in London, though they do also have a restaurant in Brighton, and now they've opened their 7th site right here in Battersea.
As you may have guessed by the name, Sushi Shop serves sushi. Their menu looks a bit like a high end magazine that you'd find on a coffee table whilst waiting to get your botox done on Harley Street. It's fancy. Thick paper, beautiful photography and extremely tempting lists of sushi- it's a very quick way to set the tone of Sushi Shop, this is no ordinary sushi. And though the menu is vast, everything has been curated to exacting standards. There's traditional sushi rolls, sashimi, chirashi, gyoza, katsu curries, yakisoba and miso soup. The sweet section offers coconut mochi ice cream and chocolate mousse… It all sounds delicious and almost impossible to choose between.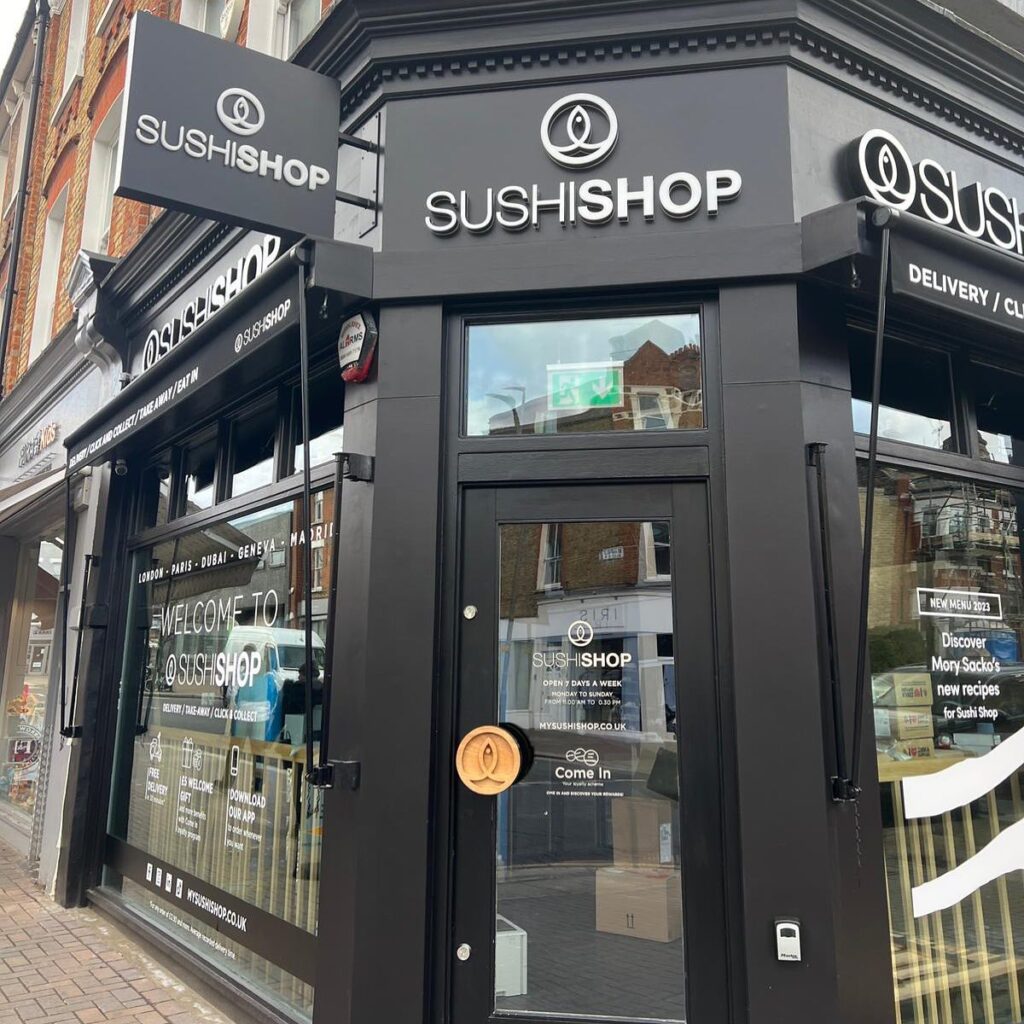 What really stood out for us at Sushi Shop was that, though they clearly take the quality, taste and presentation of their food seriously, it's not boring in any capacity. They are really playful with their flavours and collaborations and have some really interesting takes on the classics. There's a 'Wasabeef' roll (beef, wasabi), the 'French Touch' (a foie gras and fig jam roll) and some really fun spring rolls too (check out the fried chicken and avocado one)… but that's just skimming the surface. Because then you get into their collaboration boxes.
Sushi Shop do some wild collaborations. They've had collabs with some really impressive people; Kate Moss, Kenzo, Grégory Marchand, Paul Pairet… There are loads in their portfolio. Each one has a beautifully designed box to display the sushi, are cleverly designed to be the least bit gimmicky and are well worth a trip to try the latest one out. Some of the flavours that are created for these boxes are like nothing you'll have had before. At the moment, Sushi Shop have two really cool collaborations for you to get excited about. The first is with Mory Sacko. The Michelin-starred chef is known for his fusions of global flavours, especially African and Asian. This is translated into his sushi box where you can find innovative pieces like Azuki and Salmon Gunkan which is a salmon tartar on a rice ball mixed with adzuki, sweet red beans and pomegranate. The West Africa sushi roll comes with prawns, okra and a red palm oil mayonnaise, and we tried the veg-friendly Dengaku Roll and fell completely head over heels for the soft aubergine interior, spikes of wasabi and smokey charred aubergine topping. Unusual and completely delicious.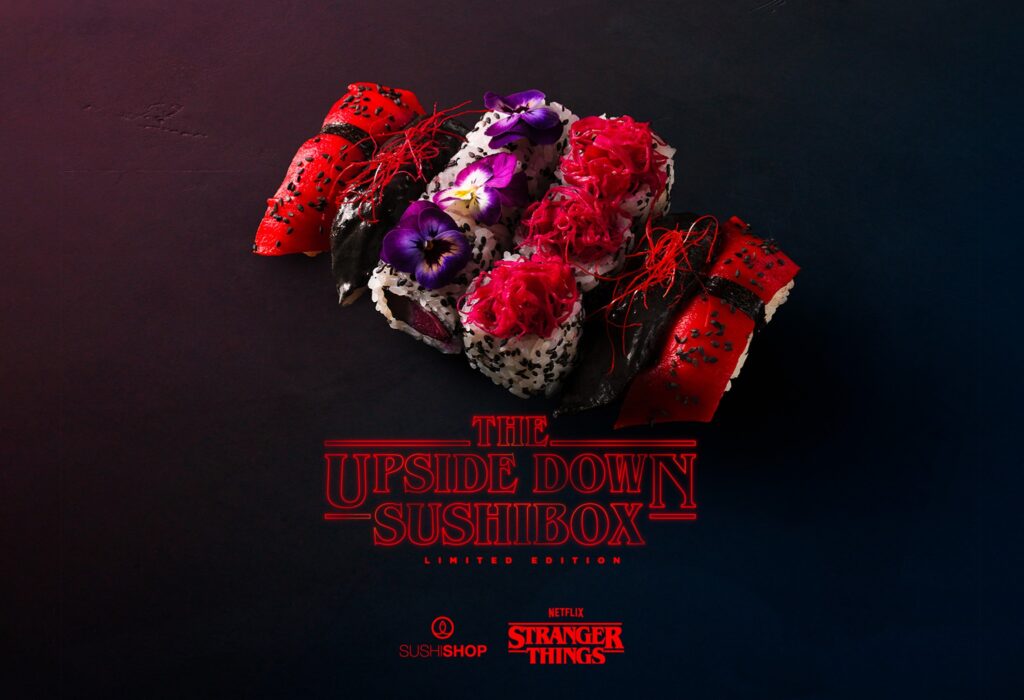 The second collaboration which you need to know about is Stranger Things. Somehow, Sushi Shop have turned this cult Netflix show into some mesmerising sushi. We tried the 'Upsidedown' box; a 42 piece feast. Opening up the sushi box was like being presented with a perfect box of patisserie (again, harking back to its French roots). Edible flowers, bold colours and the neatest placement of sushi we've seen made it almost look too good to eat. But we battled through our guilt of tearing apart this work of art and cracked on with the sushi. It lived up to its beautiful exterior; that was some really good sushi. The Vines sushi was a striking piece; yellowtail made black with sesame paste and topped with striking threads of bold red chilli. The Upside Down Roll was a flavour bomb of raw tuna and pickled red cabbage but the whole box, from the red veggie sushi to the avocado cheese maki rolls, was just amazing. Maybe even better than the series…
There's a lot to Sushi Shop. Eat in or takeaway, you're in for some really great food. And make sure you use their app to collect loyalty points… Sushi Shop is the kind of place you're going to want to be loyal to.
---