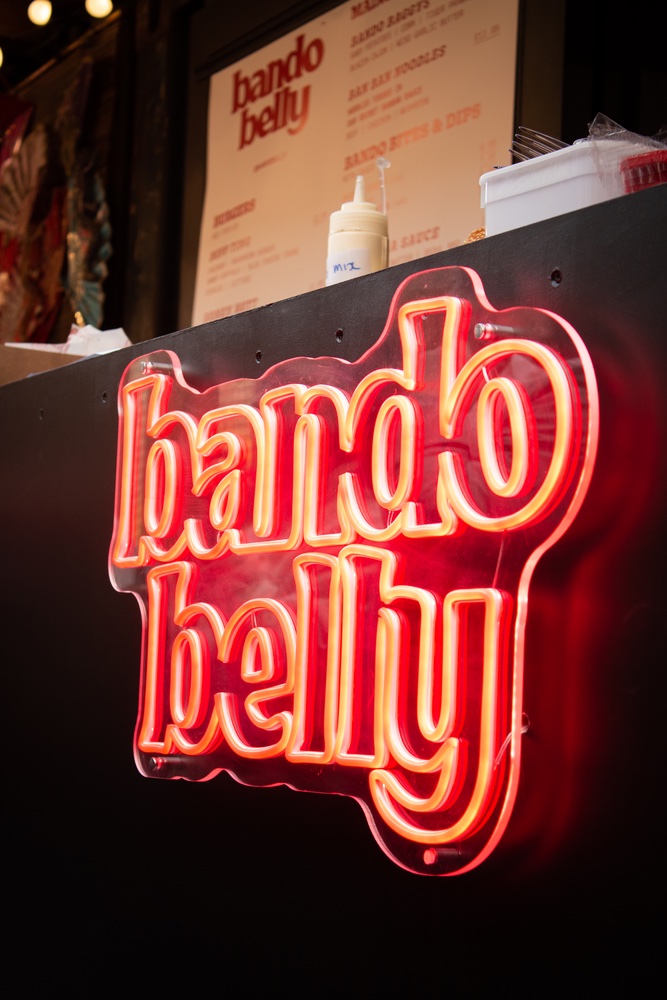 Bando Belly had its launch event for their brand new Pop Brixton site on Saturday 8th April, and we went down to see what the vibes of this new-to-Brixton street food vendor were. Born out of lockdown, Bando Belly was created by Naz Ramadan in January 2021, where it started life in Peckham serving food that celebrated the melting pot of cuisines in London. Naz has said that she wanted to make "a menu to highlight a diverse selection of flavours from all around the globe to reimagine London's soul food", which sounds absolutely delicious to us. The menu itself is based around burgers; there are 7 different flavours varying from the 'Sloppy Ban-Joe' to the 'Big Wave' soft shell crab number, but there are some other really fun items too- 'Ban Ban Noodles', lobster mac n cheese balls, chicken strips… it really does feel like the food selection reaches all corners of the globe.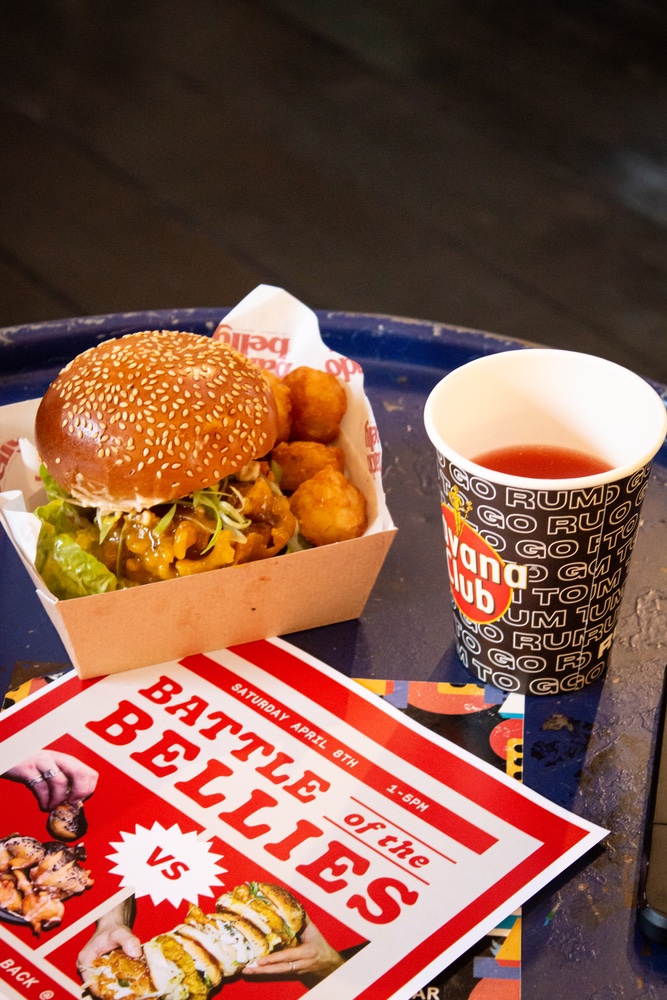 The launch day was a lot of fun. There was a DJ, we had a few rum punches and there were even a couple of eating challenges (watching someone try to eat 25 deep fried Oreos in 3 mins is a surprisingly entertaining activity). It felt like a party with a proper community core. And though this isn't going to be the 'every day' for the place, it really set the tone.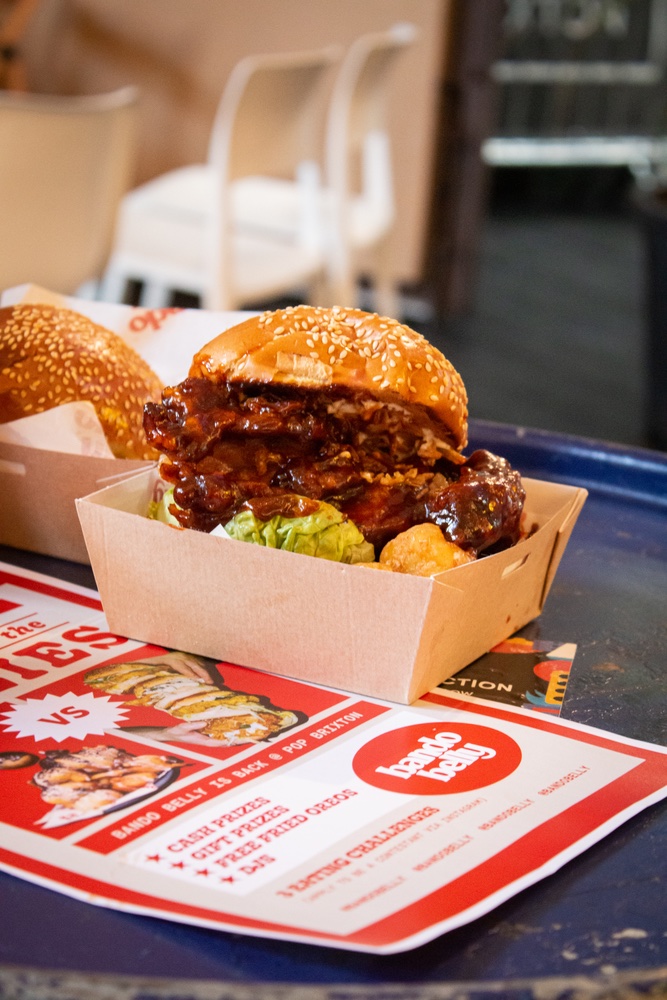 We tried the 'Honey Butt' chicken burger (honey butter, old bay mayo, spring onion, and some pickles and lettuce for even more crunch) and the 'Seoul BBQ' chicken burger too. We thought the food was incredible. It's easy to expect the same old from these kind of street food pop ups, but Bando Belly are doing their own thing. The chicken: crispy, delicious and cooked perfectly. The flavours: big, bold and beautiful. The toppings: incredibly well matched to compliment the main. We refuse to pick a favourite because both were absolutely fantastic. Bando Belly doesn't do fries, so for our carby hit we got the tater tots to go with our mains. Nuggets of deep fried potato are an easy win, especially when they come out like this; hot, crisp and salty.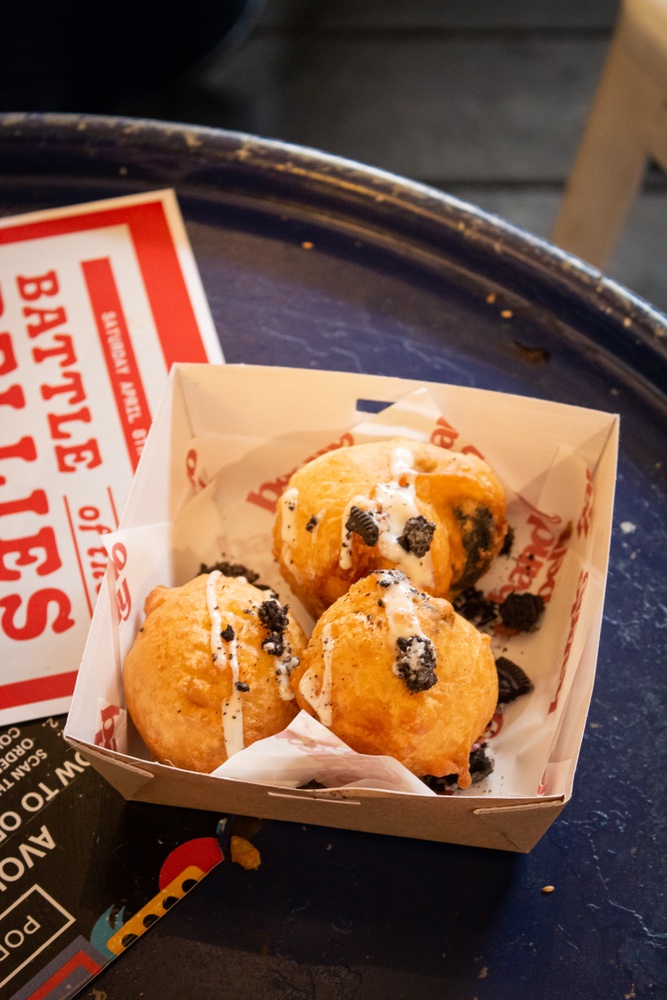 If we're honest, we were a bit tentative about the deep fried Oreos. Worried that they would be too gimmicky for our tastebuds and diminish the rest of the menu, but we shouldn't have doubted the chefs at Bando Belly. They were so tasty too. Drizzled with extra Oreo cream and crumbs, they were doughy and warm with excellent textures. The crunch of the biscuit and the cream that had melted inside made for a very, very good mouthful.
We are really rooting for this place. The staff so lovely and there was such a great energy behind it. But with the quality of the food, we will be surprised if they don't smash it in their new home in Pop Brixton. Bando Belly gets a *chefs kiss* from us.
---