Minnow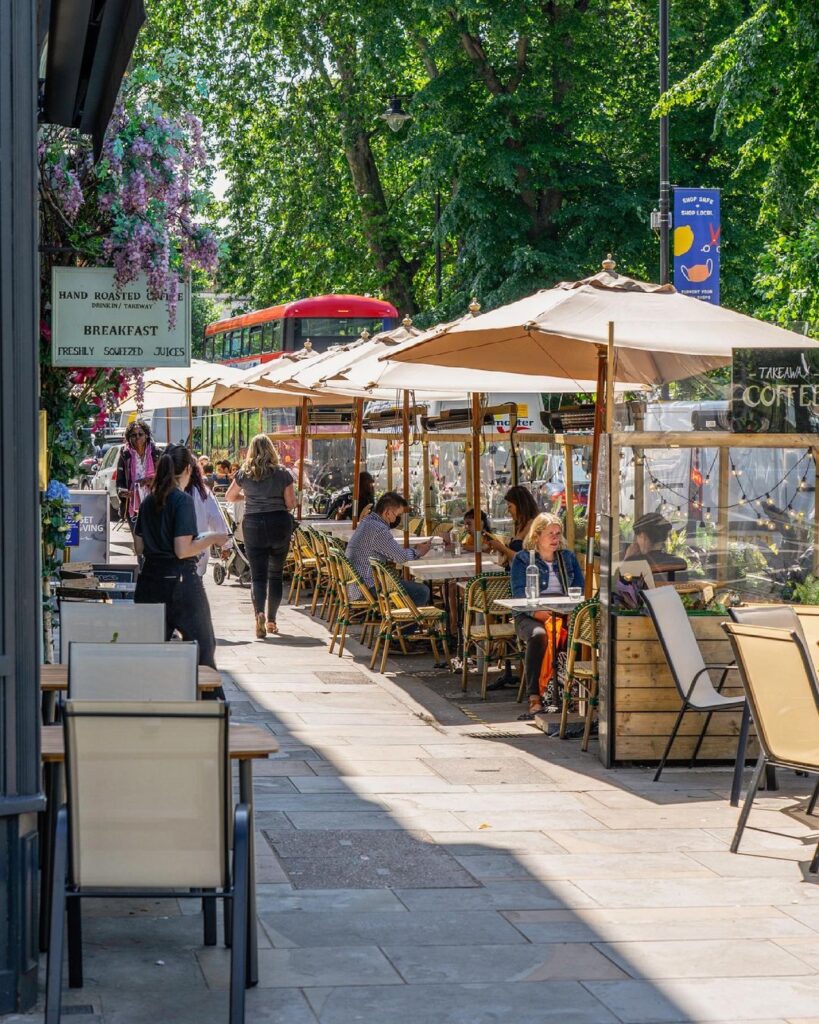 There is no better people watching spot than this on the Pavement. Minnow not only offers the perfect nose-ing oppertunity, but it also offers a pretty delicious brunch. Or lunch. Their dinner is worth checking out too, actually. What we are saying is that whatever the time is, if the sun is shining then you can't go wrong with Minnow.
---
Eco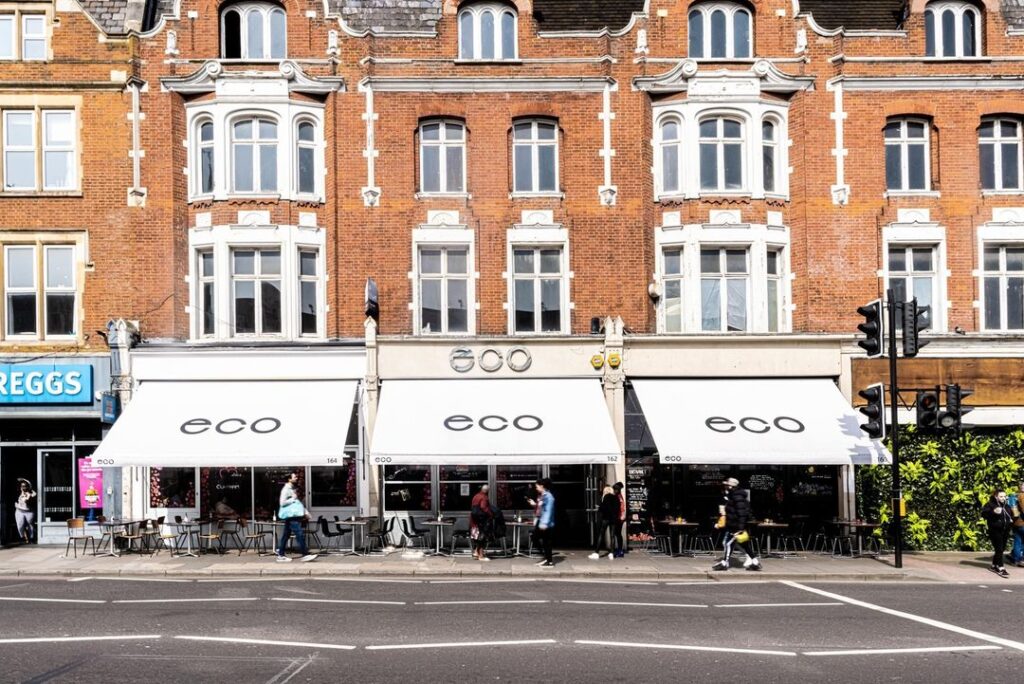 With it's iconic location on the High Street, Eco is a hub when it gets warm. Taking over the streets with their seating, taking over our hearts with their pizza.
---
Brickwood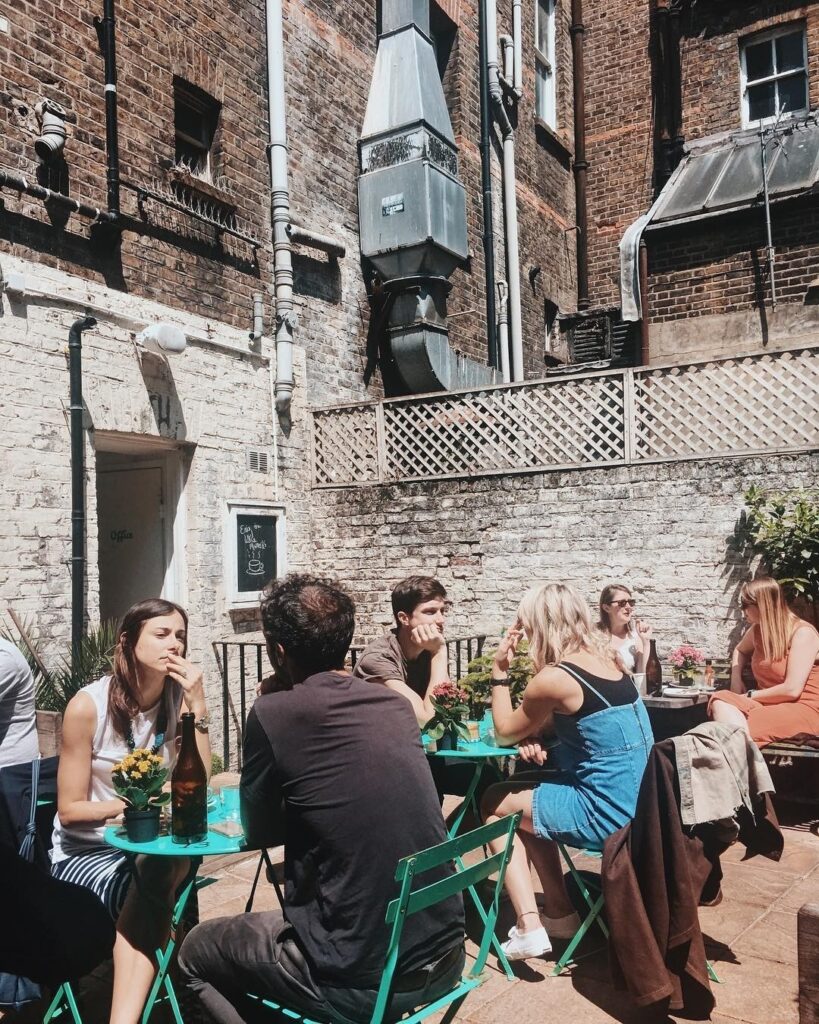 Choose to sit out front if you want to be apart of the buzz of a busy Clapham, or sit in their secret garden if you'd rather a more secluded sun trap. Either way, you can guarantee really great food, coffee, and vibes.
---
The Terrace by Megan's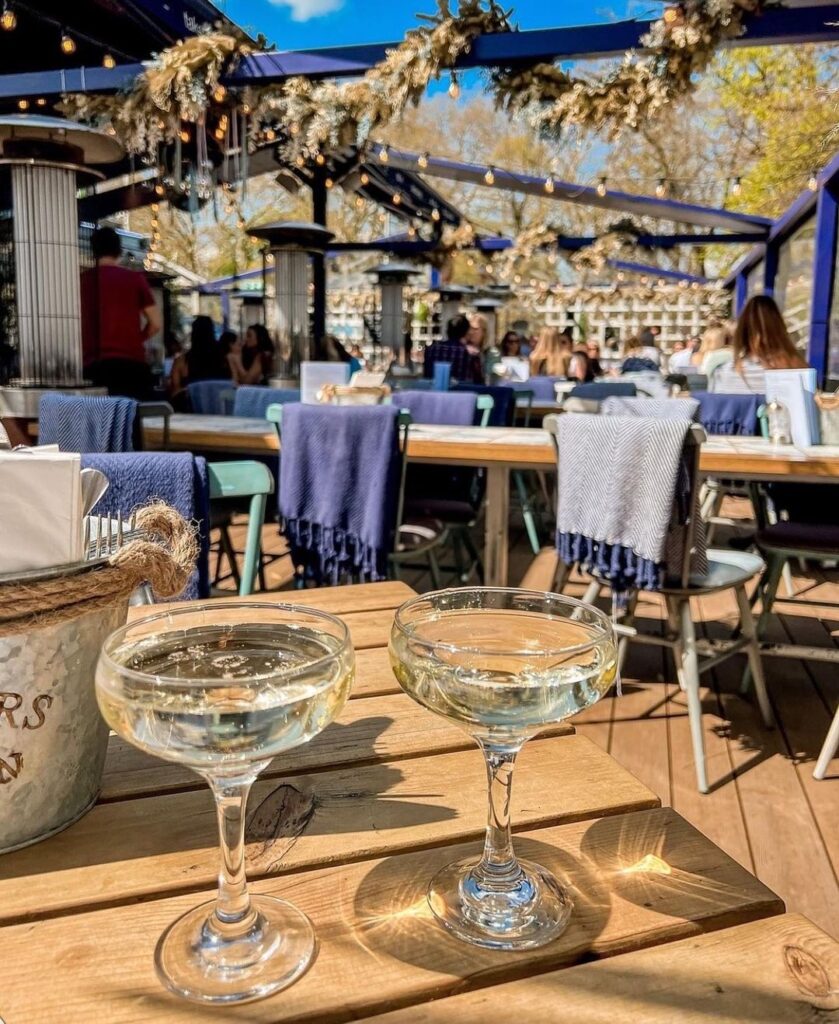 It's been in hibernation for the winter, but this place is coming back with the sun and it's literally made for outdoor dining. The terrace is the closest you can get to a picnic without actually having a picnic. You get all the benefits of being surrounded by a big green space without having to bring a scarf to sit on. Perfect.
---
The Windmill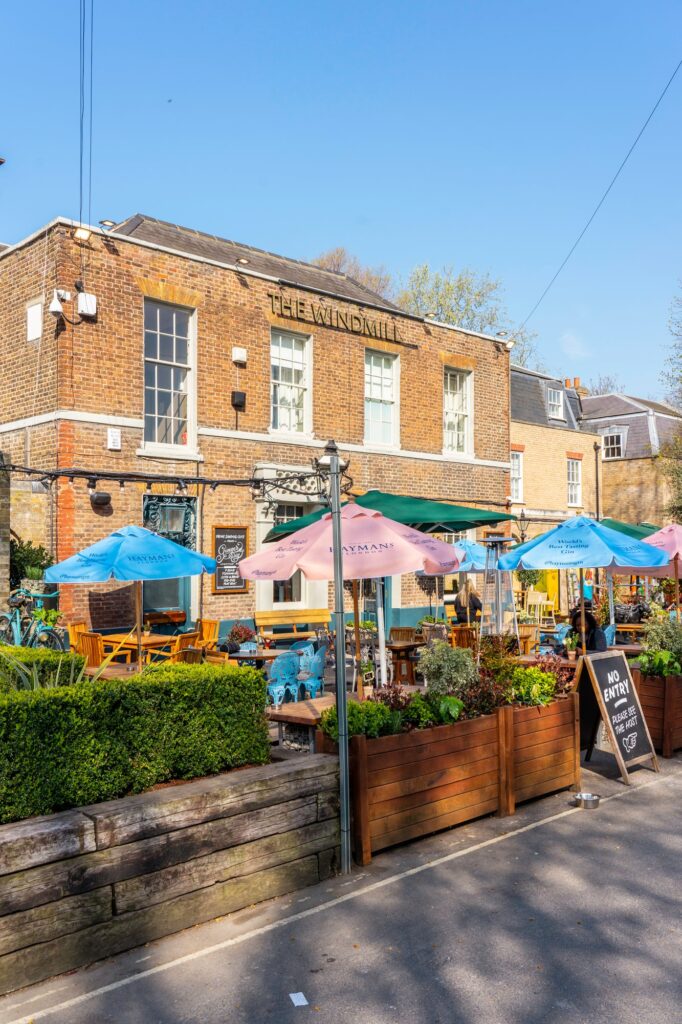 How good does an al fresco roast sound? A roast that comes with Yorkshire puddings as impressive as the ones that exclusively come from The Windmill's kitchen. Now imagine it surrounded by dogs. Say no more.
---
The Saxon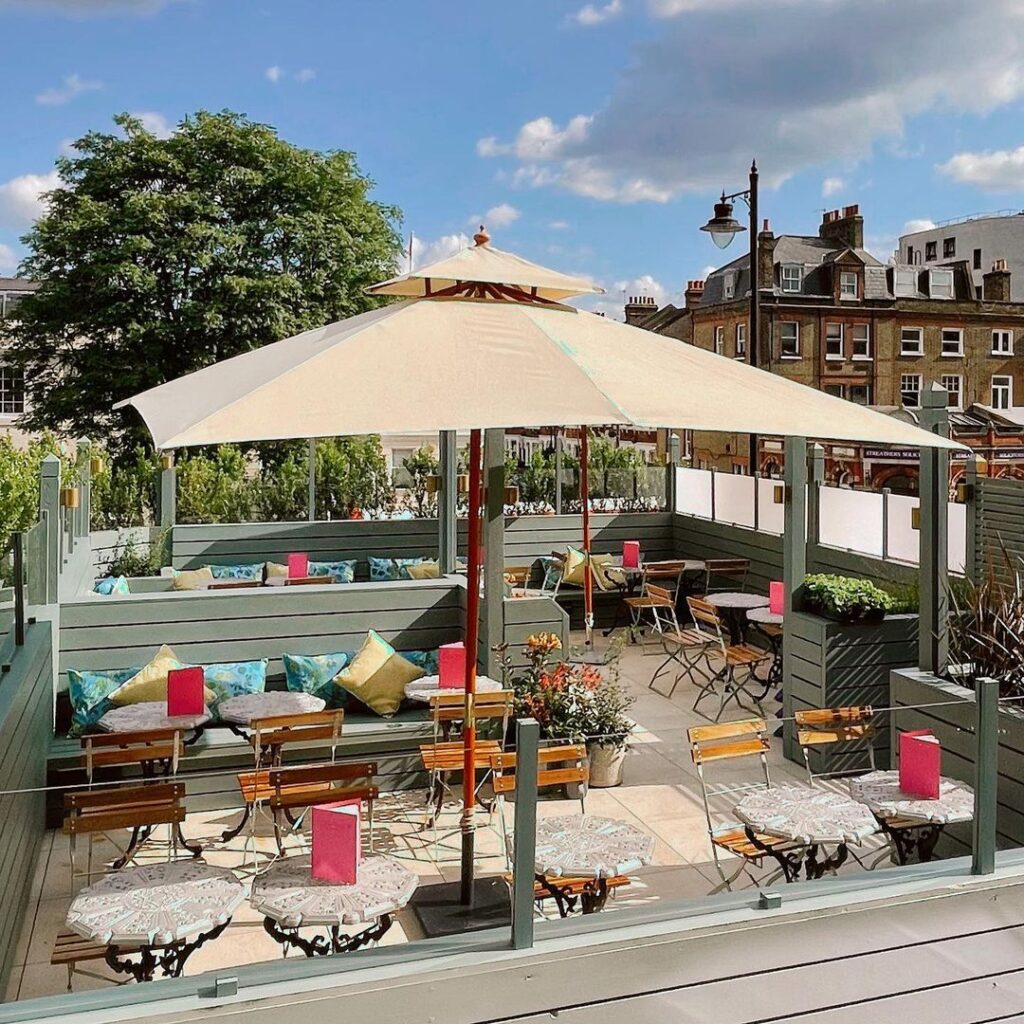 Want to be even closer to the sun now it's out and about? The Saxon's rooftop is where you want to be. Perfect for those balmy summer evenings and bottomless brunches. You might even get a tan too.
---
Common Clapham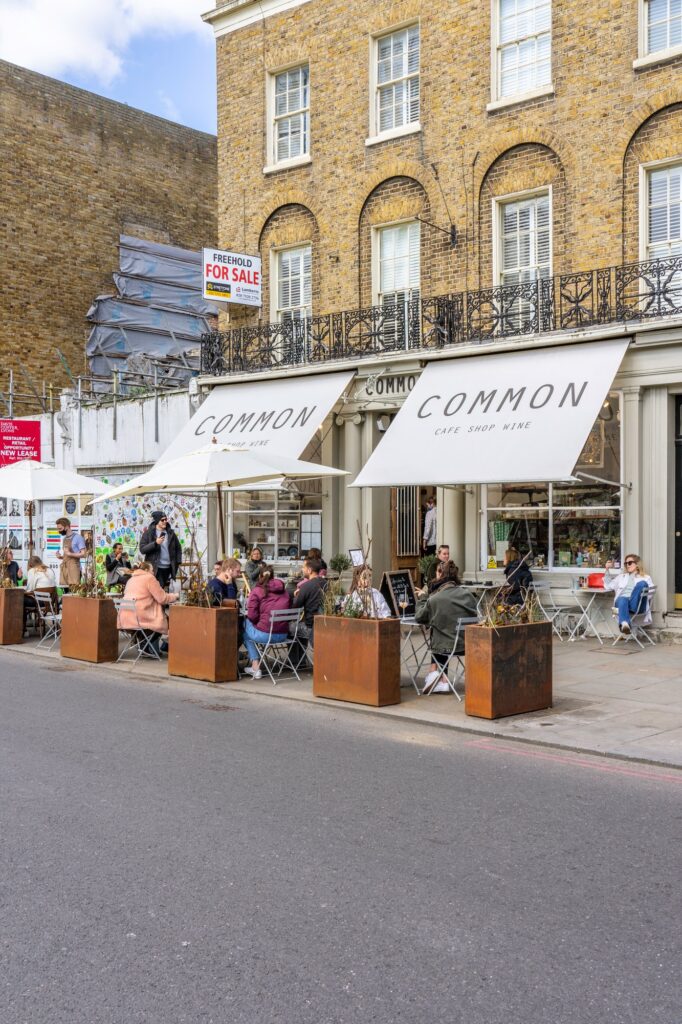 Here's a perfect one for that accidental sundowner. Great views over the common with excellent wine and cocktails to really rosé tint it all.
---
Joe Public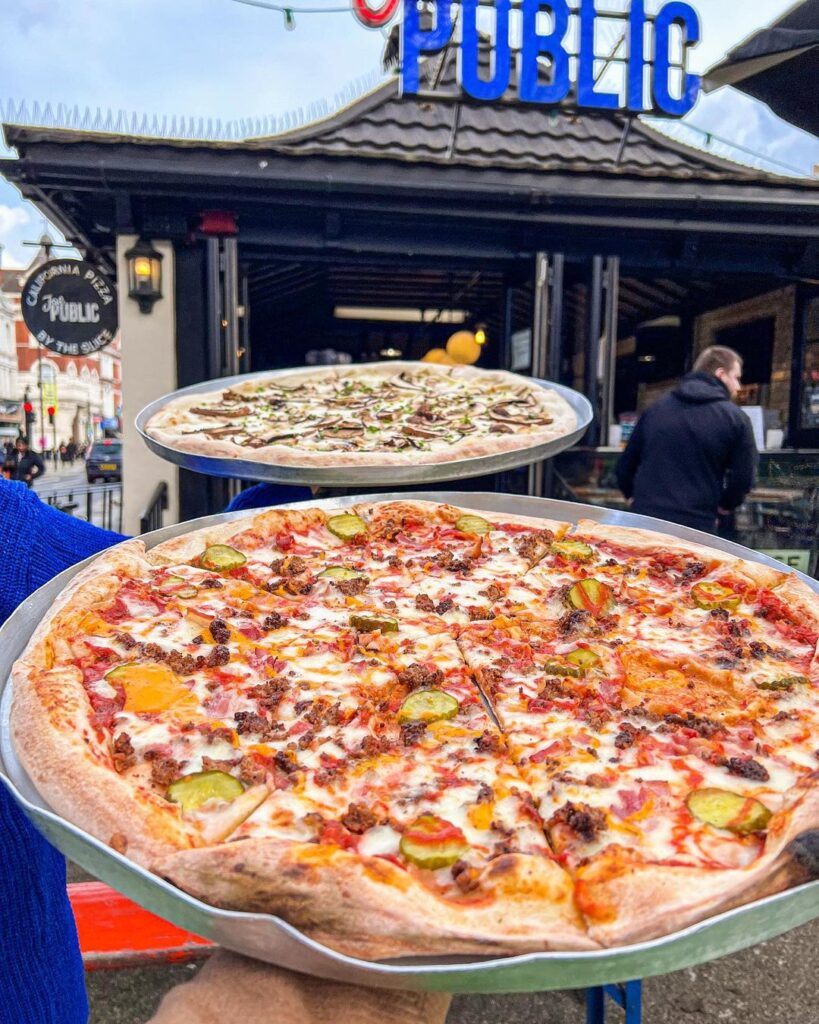 Looking for a quick bite in the thrumming heart of Clapham? Look no further than Joe's. Pick up a slice and a can of something fizzy and sit out on their benches for an easy al fresco.
---
Venn Street Records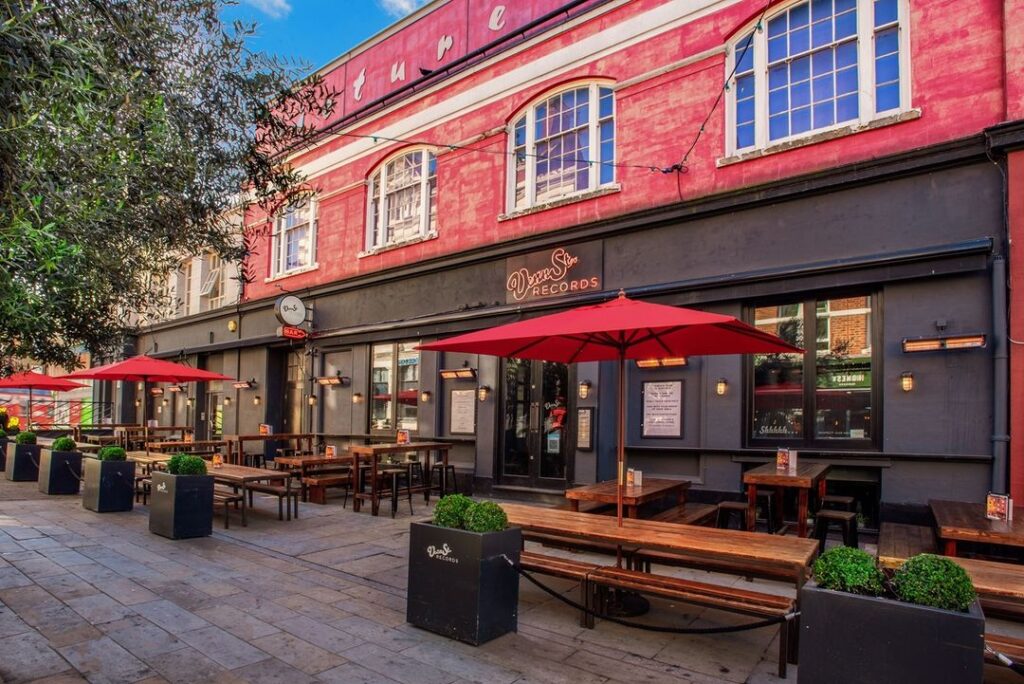 It is always extra fun here. Fun people watching, fun cocktails, fun music. Every. Single. Night. It's a great option when the sun makes a sneaky appearance on a Monday night and you've just got to soak it up somewhere.
---
Nue Ground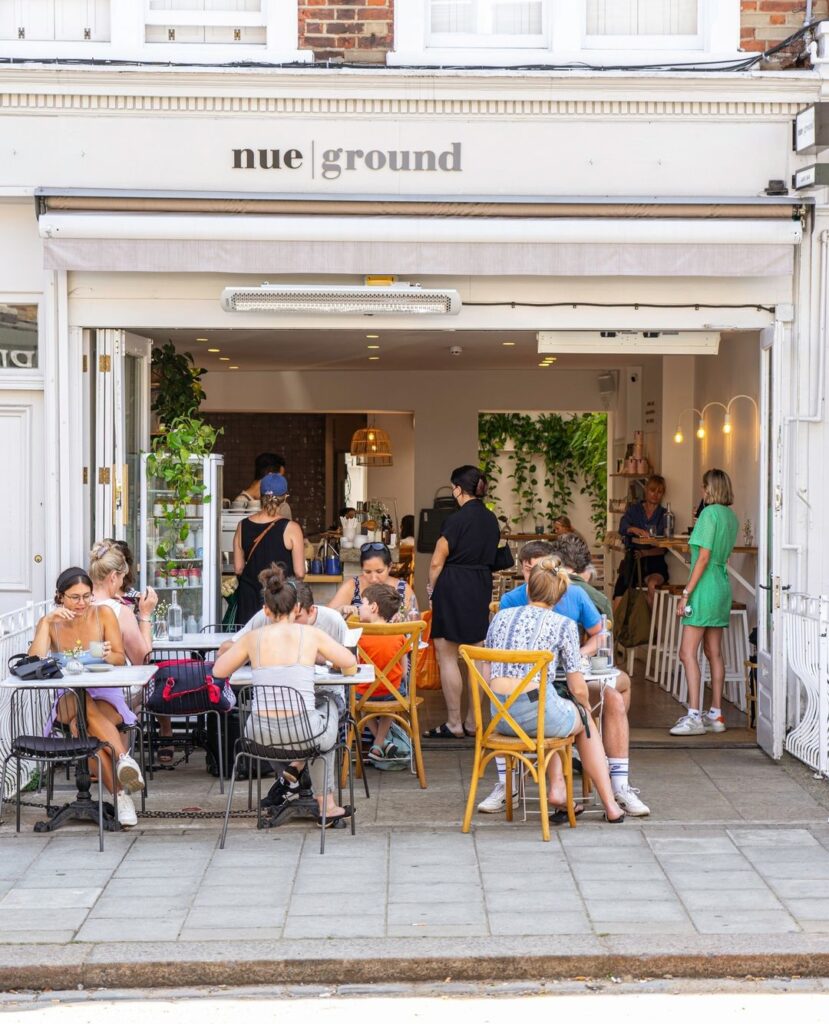 Nothings says 'easy like Sunday' like sitting out on Abbeville road with a nourishing brunch plate from Nue Ground. Wholesome, and we swear it tastes even better after a run around the Common.
---
The Common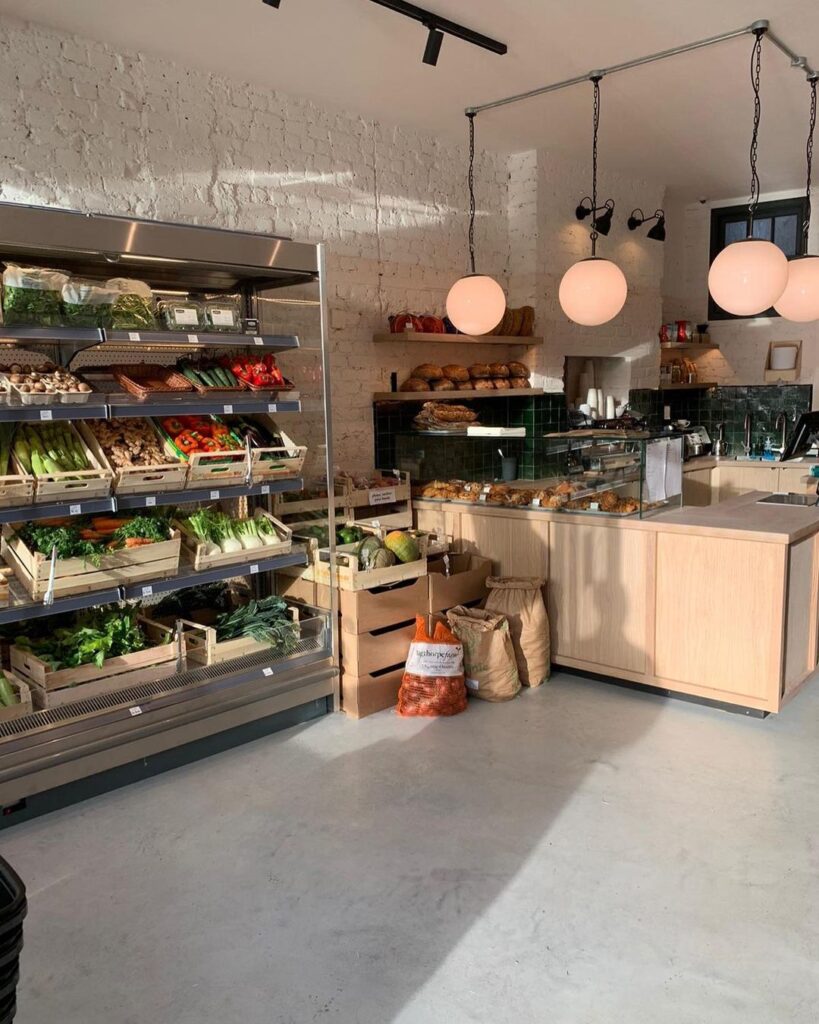 We don't need to tell you that sometimes the best dining you can do is sitting on the grass with your shoes off and the ants on your toes. Nature, right? In Clapham we are lucky enough to be treated to a big old Common, which means picnics are very much a possibility. We'd recommend grabbing some 'nibbly bits' from Trude's: basket and blanket optional.
---
The Rose & Crown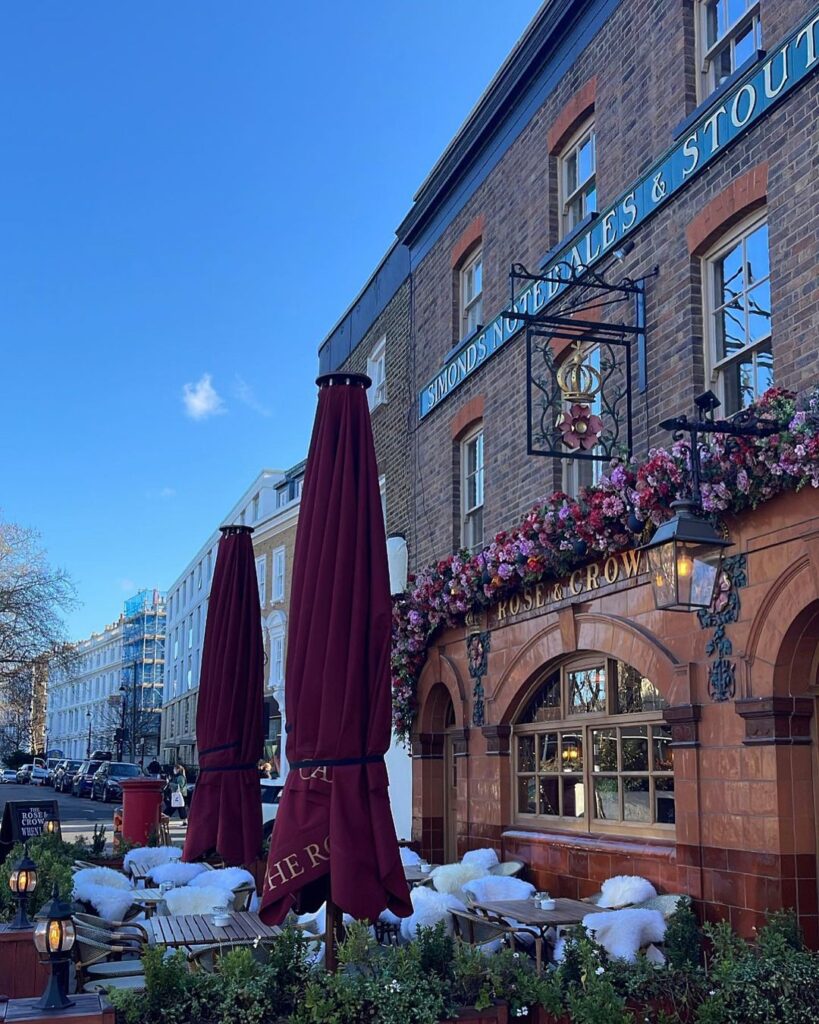 Sip on an ice cold pint whilst watching the world go by. Come for the beer, but stick around for the food when your stomach starts rumbling.
---
Perky Nel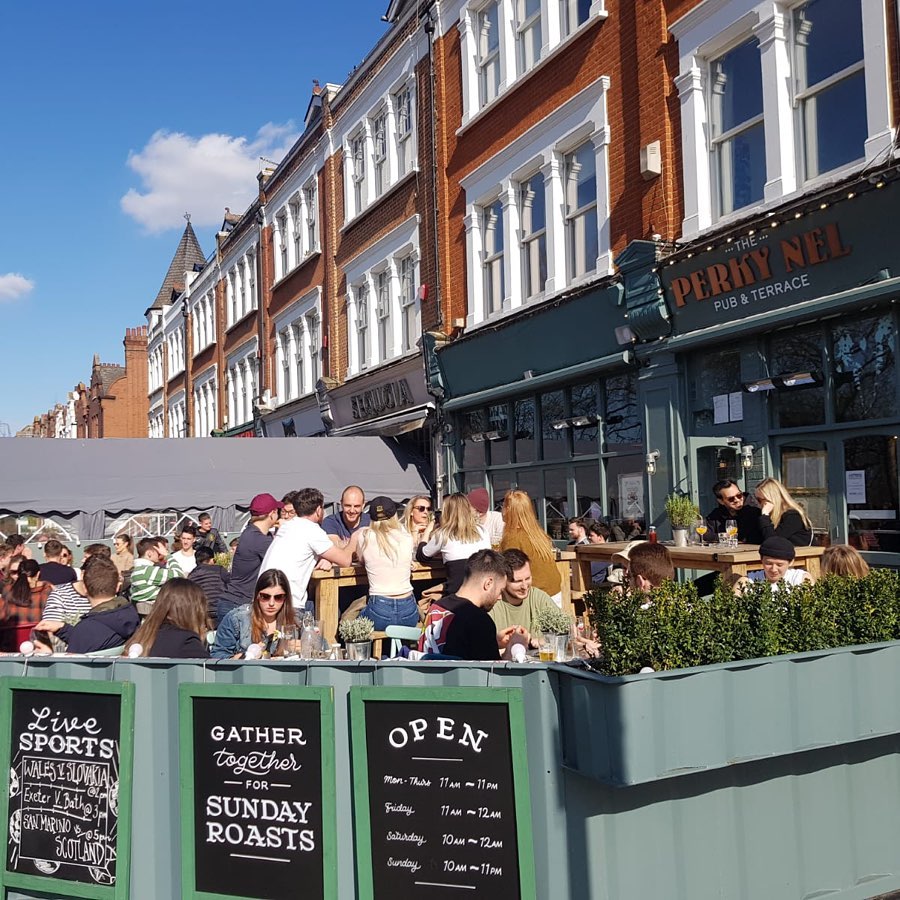 Another cheery, beery place. The perfect location to get warm and fuzzy in the sunshine- it's just a quick dash to the tube home when the heat goes.
---
No. 32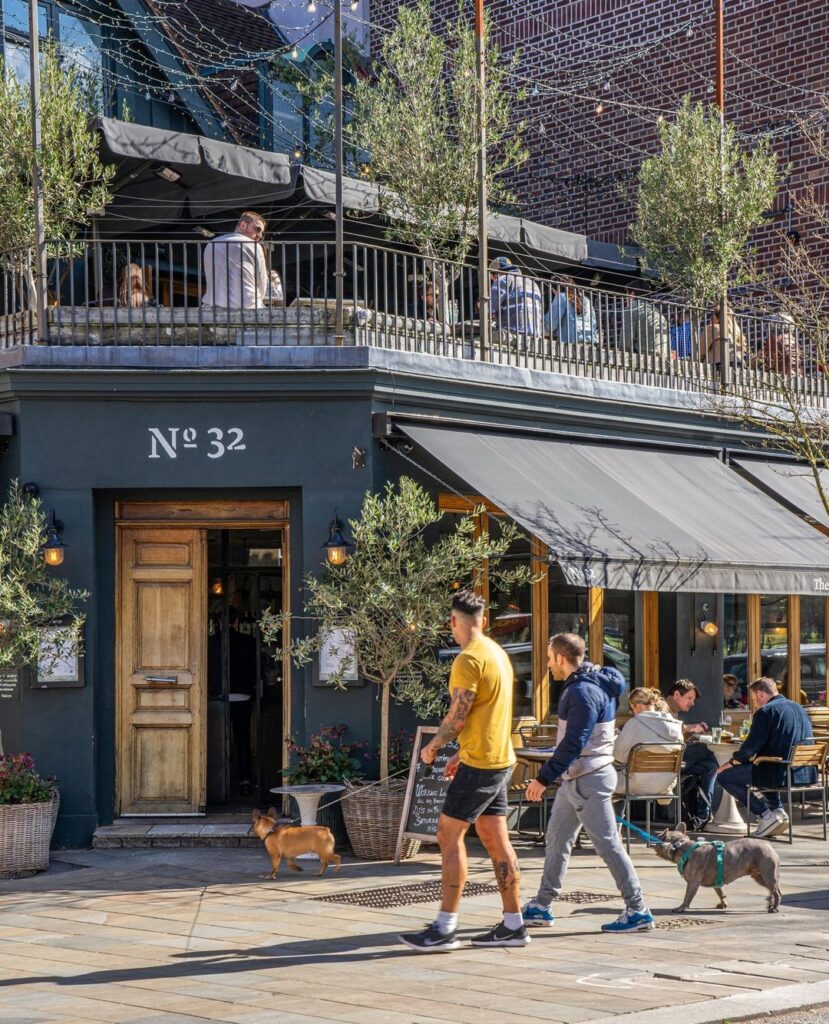 A spot you could easily spend the day at. Start with brunch, finish with dinner. All whilst sitting out on The Pavement. Want a change of scene? Head up to their idillic roof terrace.
---
ARCH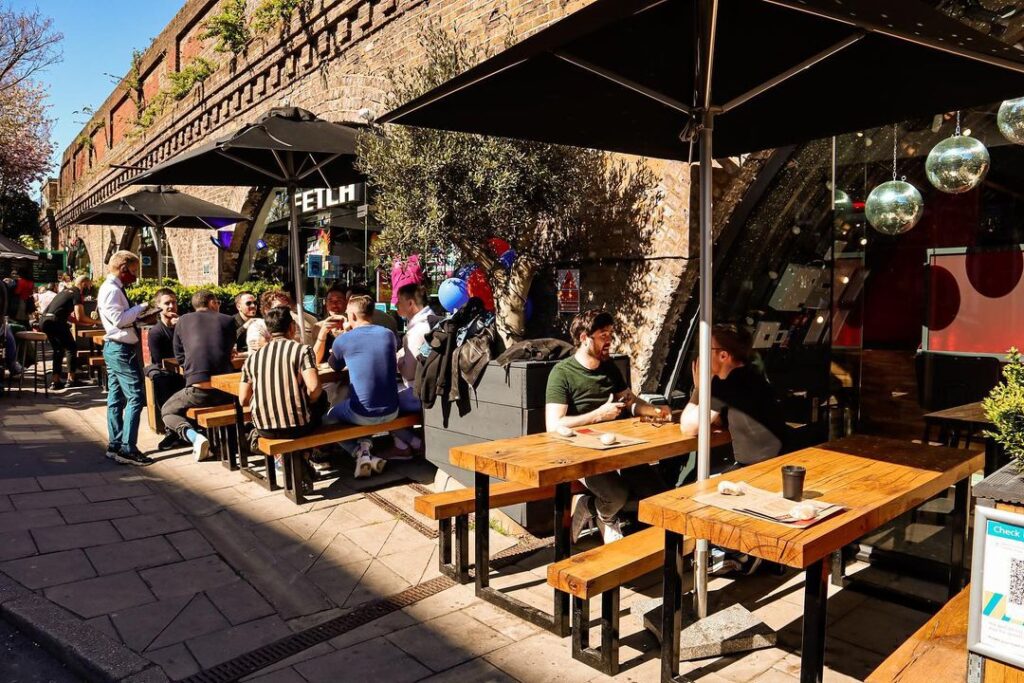 In the perfect little street-side sun-trap, ARCH is a cracking spot to get the sunnies on. And you're just a stones throw from all the other Clapham delights of an evening when the evening rolls in.
---
Mommi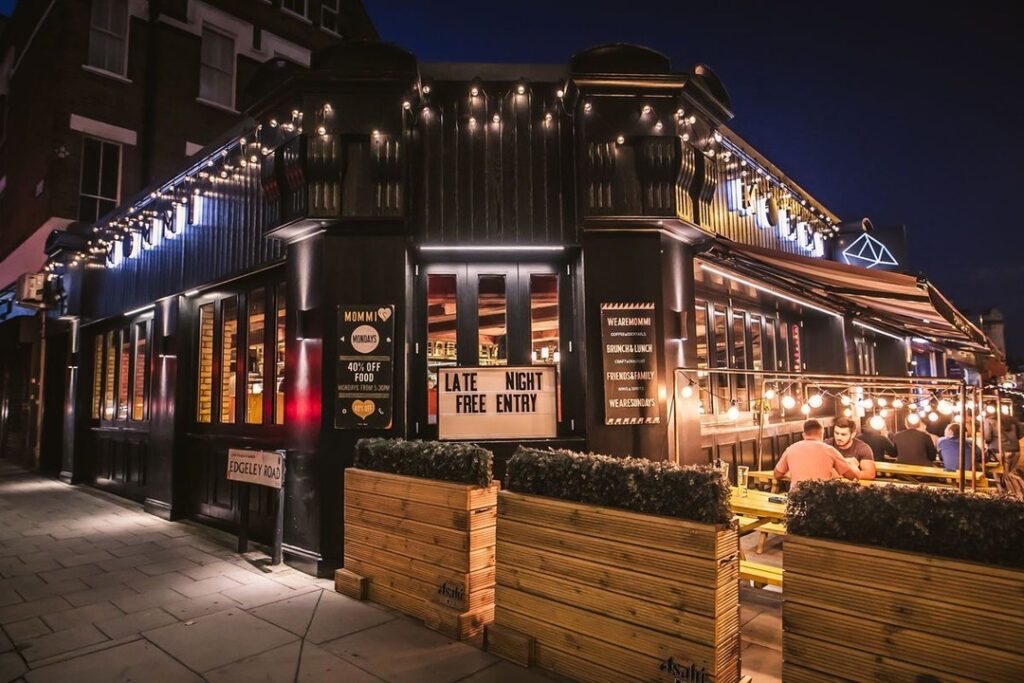 Especially fun as the sun goes down, the outdoor terrace at Mommi is heated and covered when it needs to be, so no stress if the weather takes a turn!
---
The Bridge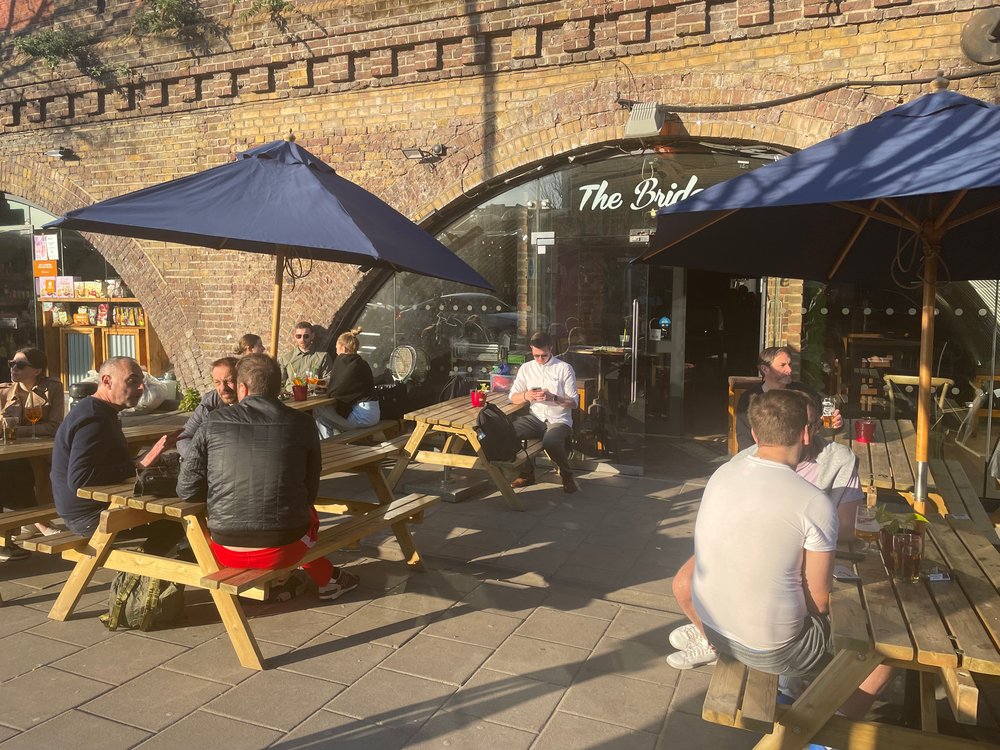 For a properly good, raucous time, The Bridge is your place. If you're in need of a bit of a Sunday hair of the dog then check out their all day happy hour. What a way to send out the weekend.
---