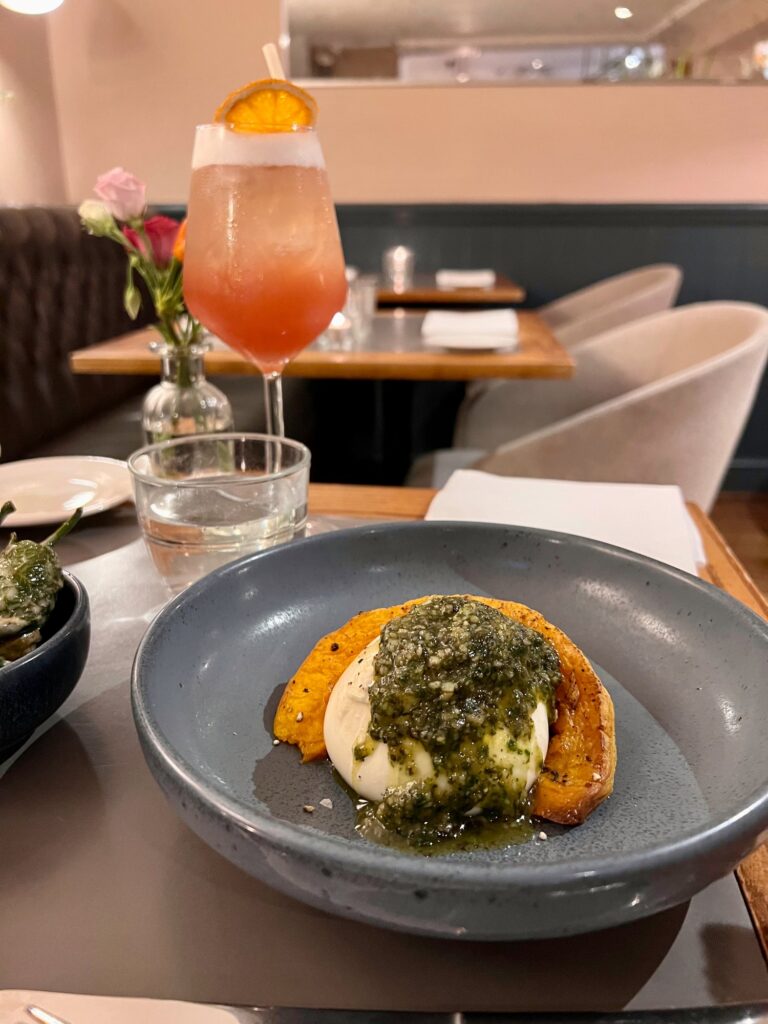 Bistro Union is a cosy British restaurant on Abbeville Road. Coming from the same family as Michelin starred Trinity means that it comes with big expectations. It really lives up to each one, as we discovered when we went down for a Wednesday night dinner. Which, by the way, they are now doing. Now open Wednesday- Sunday which means you can get even more BU action. Fine by us.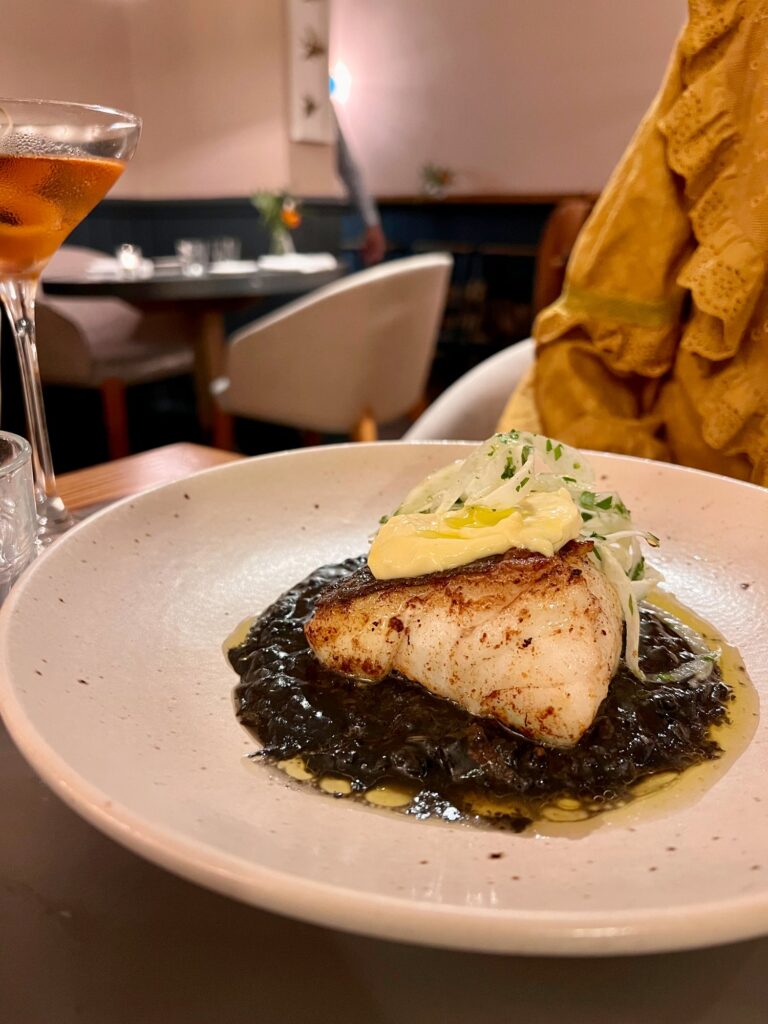 At Bistro Union even the bread is a big deal. The sourdough was carved from a huge loaf in the centre of the restaurant and the whipped butter scooped from a big bowl, dusted with sea salt and swiped straight onto the plate. It couldn't be nicer. And it immediately set the tone for the rest of the meal; unfussy but absolutely delicious. To go with the bread came some delightfully tangy padron peppers which had been marinated in a sherry vinaigrette to really get those taste buds waking up. To go with these pre-dinner snacks we tried out a couple of cocktails. The sloe gin and prosecco spritz was a festive take on its Aperol cousin and, may we dare to say, even nicer, and the earl grey sour was both charming and extremely easy to drink. We especially loved the Manhattan though- off menu but the skilled bartenders will happily make any classics on request- and this one was extra special. The cocktails are a whole experience at Bistro Union and you'd be daft not to give a couple a try when you go for dinner.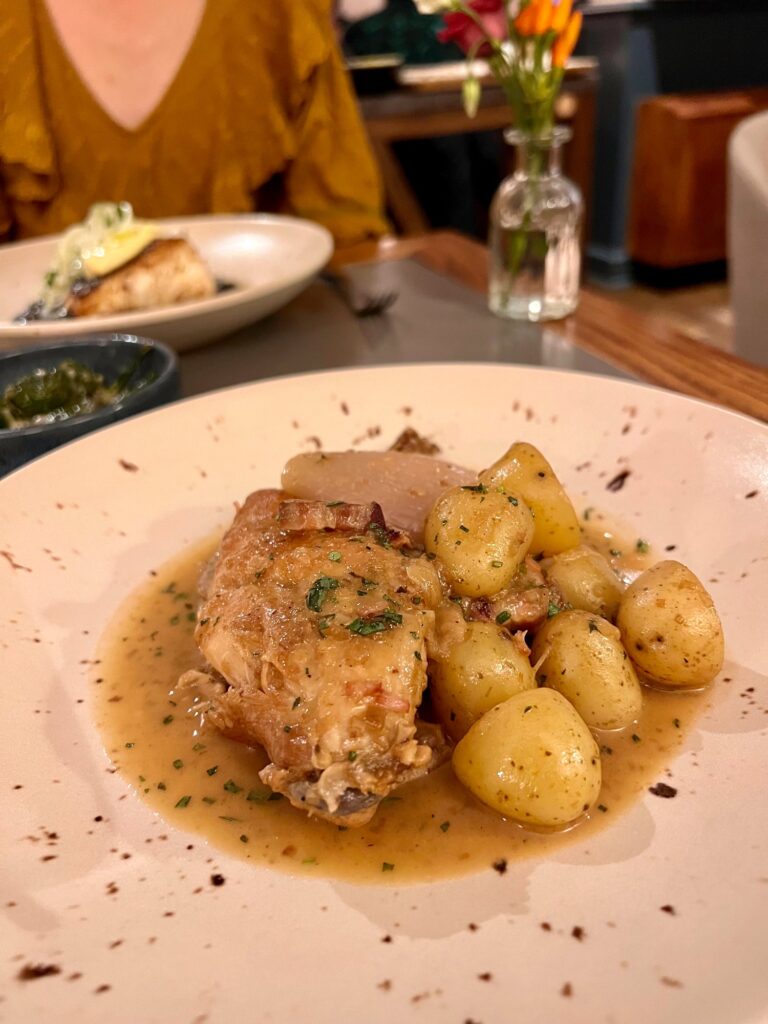 Something that Bistro Union really prides itself on is the seasonality of its dishes, and both of our starters were exactly that. The burrata came with a spiced squash and pesto. Some burratas can be disappointingly dry. Not this one- the ooze was volcanic, exactly how we like it. The light heritage tomato salad was a celebration of simple flavour. Dressed with a creamy mayo, salty capers and peppery rocket, it really hit all the high notes.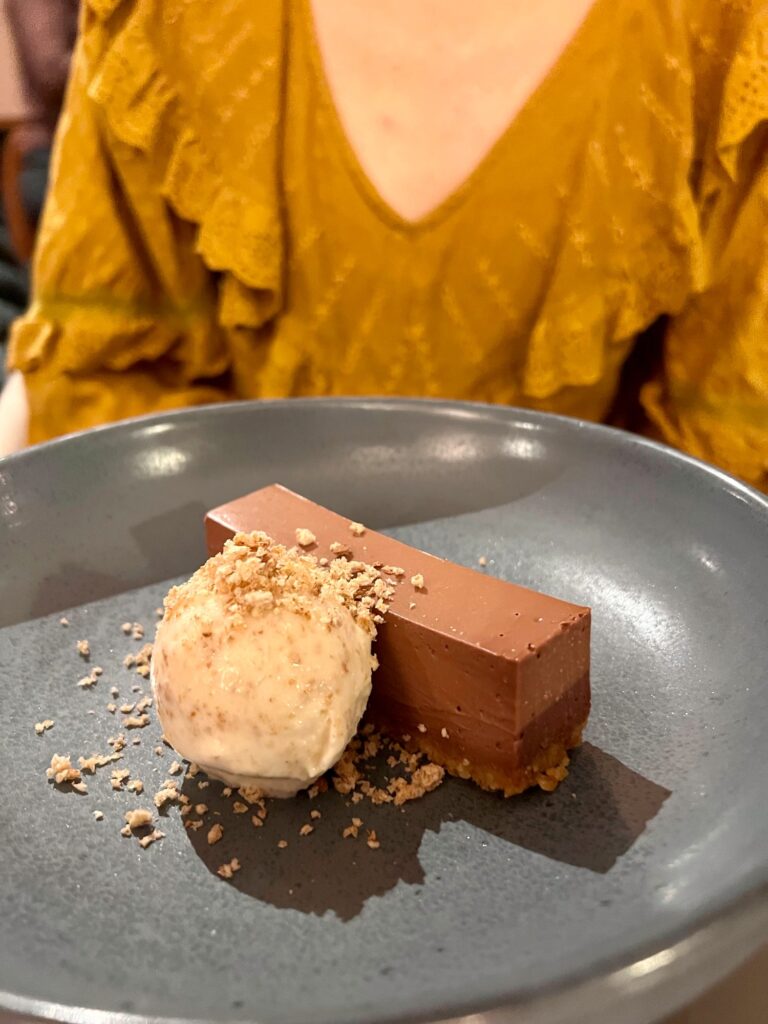 For the mains we were treated to a beautifully cooked hunk of cod on top of a squid ink risotto. Garnished with delicate fennel shavings and luxurious aioli, this dish was quite the picture to look at and quite the main course to eat. The fish was cooked so impressively and its delicate flavour was well complimented by its accompanying ingredients. An absolute triumph of a dish and one we'd happily eat again and again. The rabbit was hearty, autumnal goodness. With potatoes nestled in next to it to soak up the rich sauce it was like the food version of a hot water bottle. Comforting and just really, really yummy.
To finish were two perfect little rectangles of sweetness. The first was the extremely crisp berry millefeulle, with a delightfully wobbly vanilla crème fraiche, it was a shatteringly light way to finish off the evening. For something a little more indulgent, the chocolate and hazelnut delice is the answer. Creamy chocolate ganache on a crumbly, nutty base meant it was dangerously easy to eat the whole thing in just a couple of mouthfuls.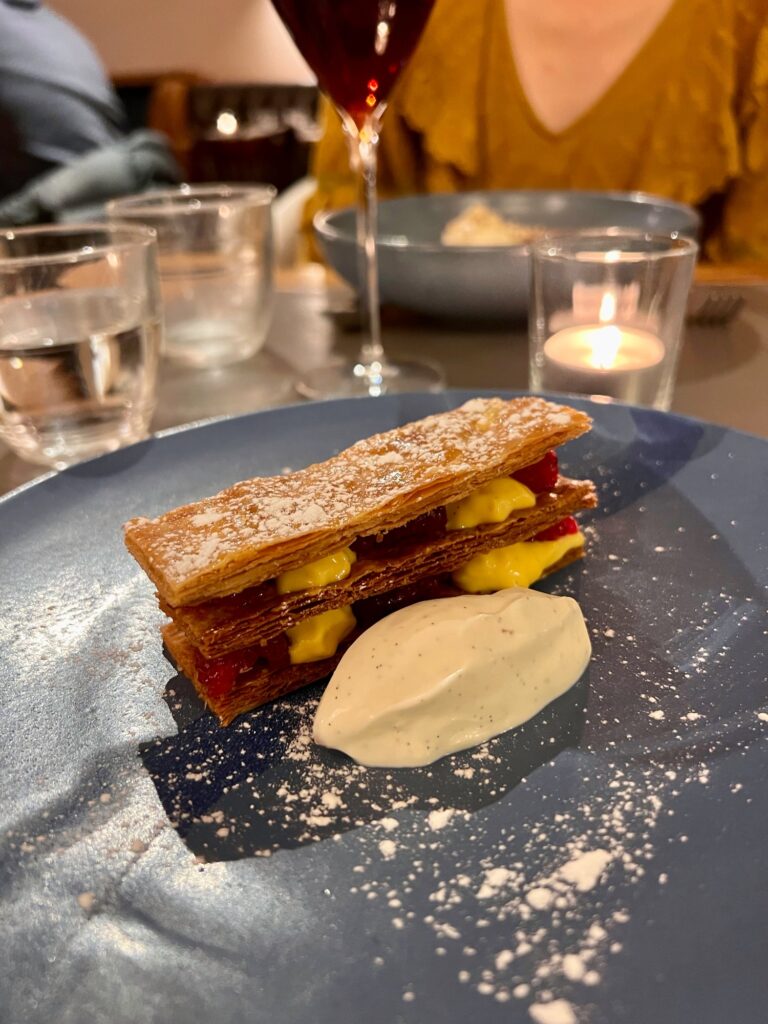 Very reasonably, you could expect a big price tag for food and drink of this quality. But that's really not the case. Only £30 for 2 courses, or £39 for 3 is a price as delicious as the food. Treat yourself, and why not do it on a Wednesday because, you know, you can.
---
Copyright - Unless otherwise stated all contents of this website are © 2022 - Octo Media Ltd - All Rights Reserved - Full details for the use of materials on this site can be found in the Terms & Conditions