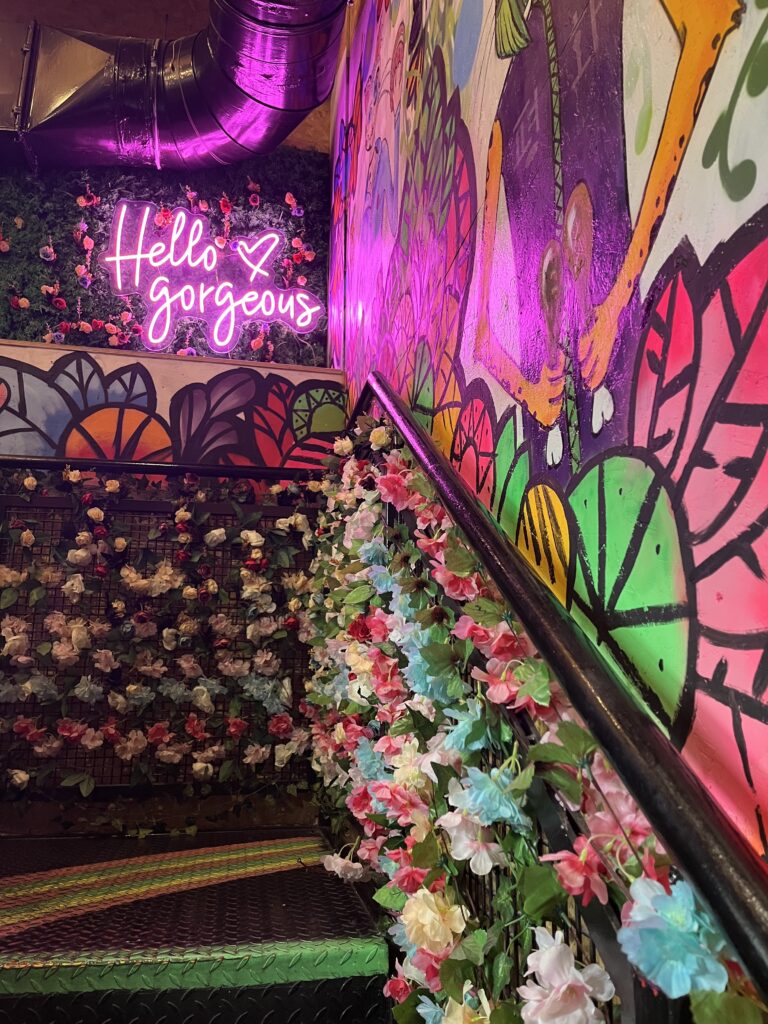 You can't miss Green Choy when you enter Tooting Market. It's one of the first eateries you'll come across, sure, but it's also elaborately decorated with some floral staircases and that bright neon sign that tells you 'Hello Gorgeous' to welcome you in. It's fun interior is just begging for a few snaps for the IG stories, and you bet we took advantage.
Phone away, we headed in to the restaurant to try out their food. Green Choy is a modern take on Korean street food. The menu is filled with laid back classics that never fail to make our stomachs rumble. They've got traditional dishes like bibimbap, spring rolls and bao buns as well as more contemporary interpretations; corn dogs, Korean Fried Chicken and waffles and even a fried sweet bao bun for dessert. The menu is small but varied enough that you've got good scope for choice depending on how traditional or adventurous you're feeling, and we loved that there were good options for vegetarians too.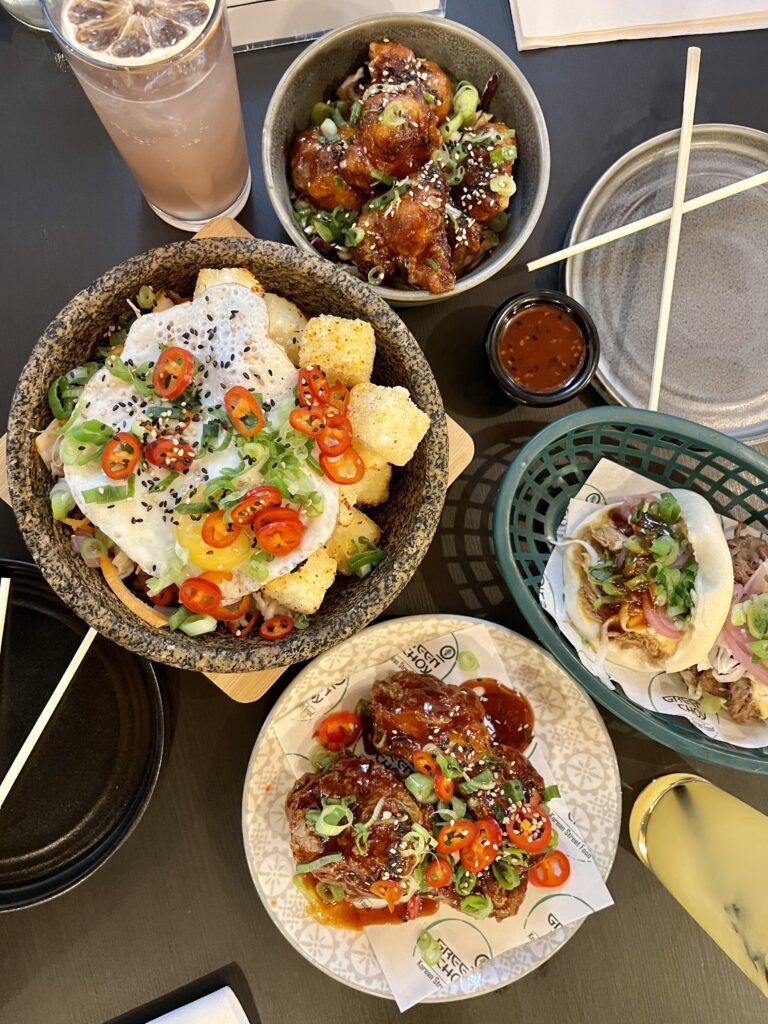 We started with a duo of cocktails. They have an extensive list of soju cocktails and we tried one of the five from that section of the menu. We really enjoyed the kick of a different spirit that added a twist to traditional cocktails- mojito with soju instead of rum? Delicious. Korean breeze instead of the usual Bacardi? We'll be coming back for it again. It was such a simple way to add their own take on cocktails and the one we tried worked a charm. The second cocktail we went for was named 'Tooting Vibes' and we couldn't possibly turn it down. Rum, pineapple juice and ginger beer meant that, yep, it certainly came with vibes.
On to the food. We tried two of their bao bun flavours; the BBQ pulled chicken and the Korean braised beef brisket. Ok, so the Green Choy team know what's what when it comes to a bao bun. Fluffy balls of delight, properly stuffed with filling and flavour. We couldn't call our favourite between the two, so we'd suggest getting both and sharing with your dining partner.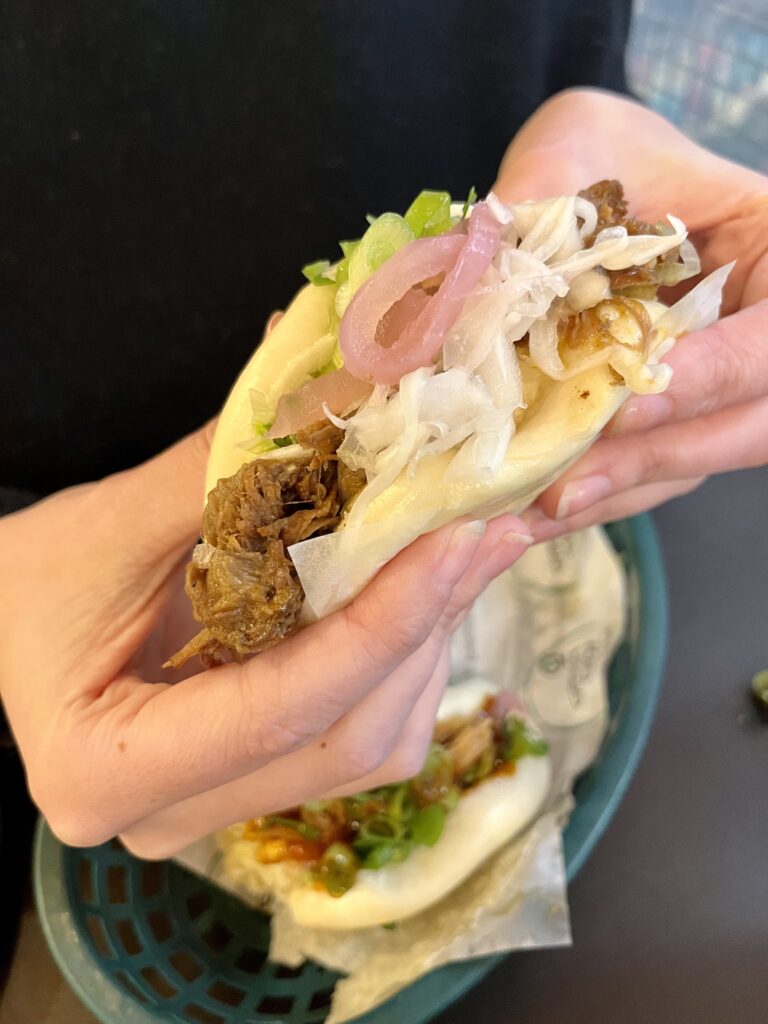 Following that we got a portion of the Korean Fried Chicken and its vegan counterpart; the bang bang Korean Fried Cauliflower. The chicken was, obviously, great. It's such a buzz dish at the moment and Green Choy hit the mark between tang, spice and crunch perfectly. It was incredibly moorish. But that cauliflower really stole the show for us. We don't know how they managed to turn a pretty bland vegetable into a texture and flavour explosion, but they did. This one blindsided us and was our dish of the day.
To wrap up the savoury menu we tried the crispy tofu bibimbap. We will come clean; we're not usually tofu lovers…but this was great. The size of the bibimbap was impressive, especially considering the price tag is £9. It was a layered bowl of rice, pickles, kimchi, gochujang, crispy tofu and a fried egg (if you want). A party in a bowl and everything in there was a very welcomed guest; each was fresh, cooked well and added their own bit of 'something'. Plus it was really filling too- we were satisfied without feeling sluggish.
Because we were just so intrigued we got some dessert too. The fried bao bun came with ice cream, fudge sauce and peanut piece. So indulgent, and the hot, fried bun made the ice cream melt dreamily over the peanut pieces. This was hard to stop going in for one more bite. If you're after something a little more refreshing then the mochi is a great shout. These frozen balls of ice cream wrapped in a chewy glutinous rice dough came in three flavours; green tea, chocolate ganache and mango. The mango was top for us, but luckily you don't have to choose because the portion comes with a ball of each.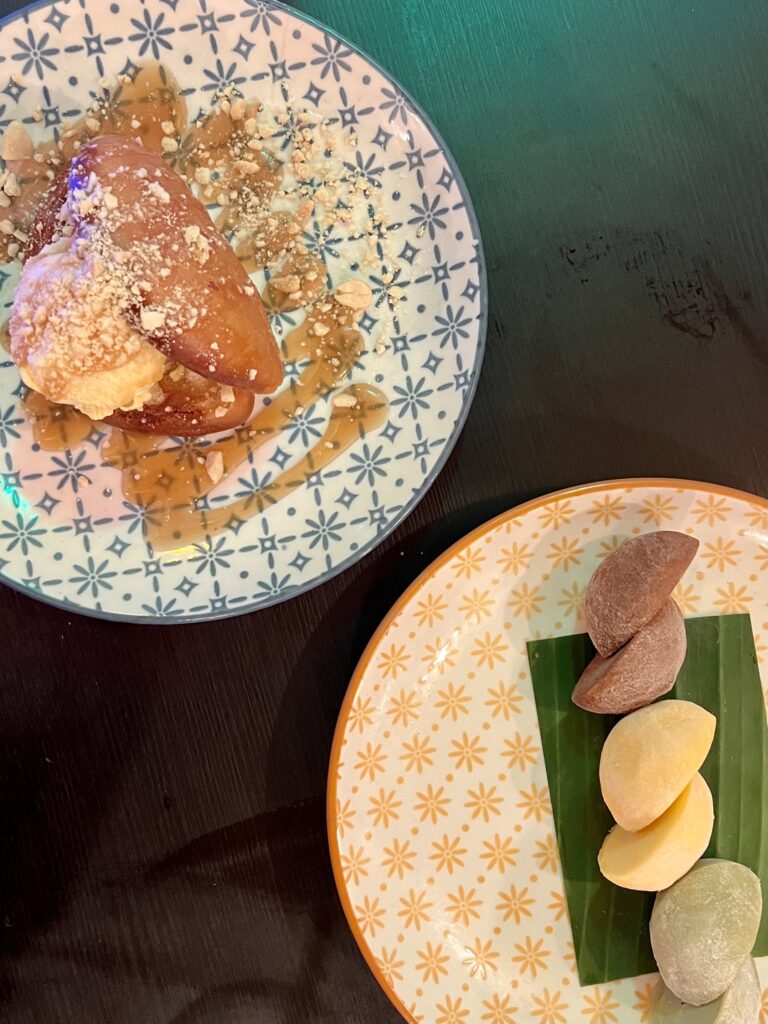 Though the menu is really great value for money, Green Choy are spoiling us further. On Tuesdays and Wednesdays they have a 2 courses for £12, or 3 courses for £15. It's well worth a visit and well worth going with a couple of people so you can try out a few dishes. And when you do go let us know your thoughts on those bao buns; chicken or beef? The jury is out.
---