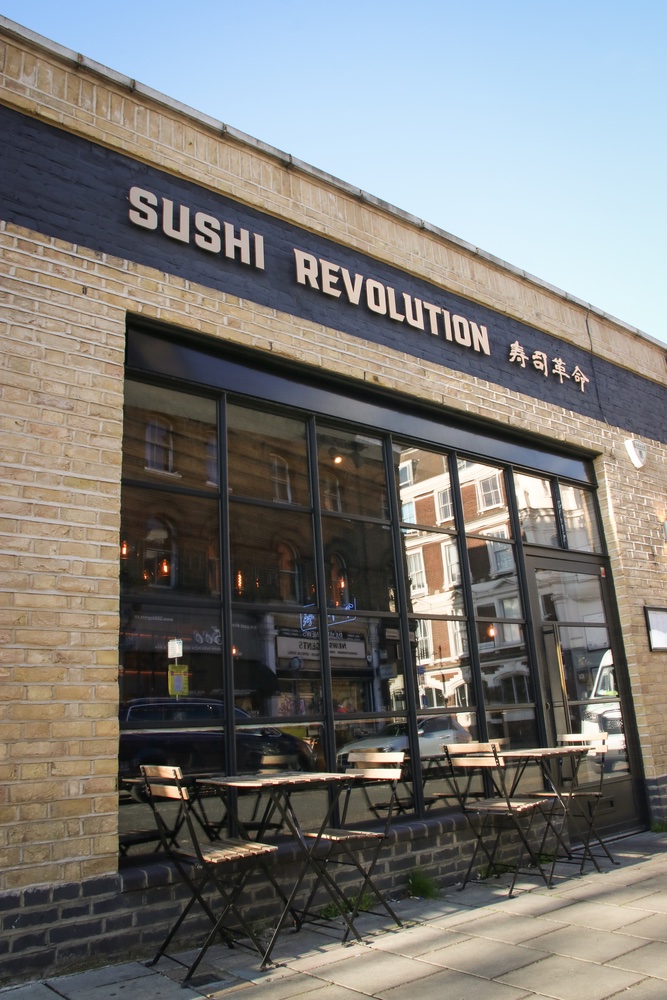 Tom and Aidan are the duo behind Sushi Revolution, the sushi restaurant on Ferndale Road that you should be getting your reservations in for. Though we are certainly not short of sushi places in London, we are short of good sushi places that aren't an exact template of that last sushi place you went to. Which is why a trip to this restaurant was so refreshing. It's doing its own thing; yes it's serving the classic dishes that you want when you get sushi, but they're also creative with their menu with a section for 'rebellious twists' on Japanese classics.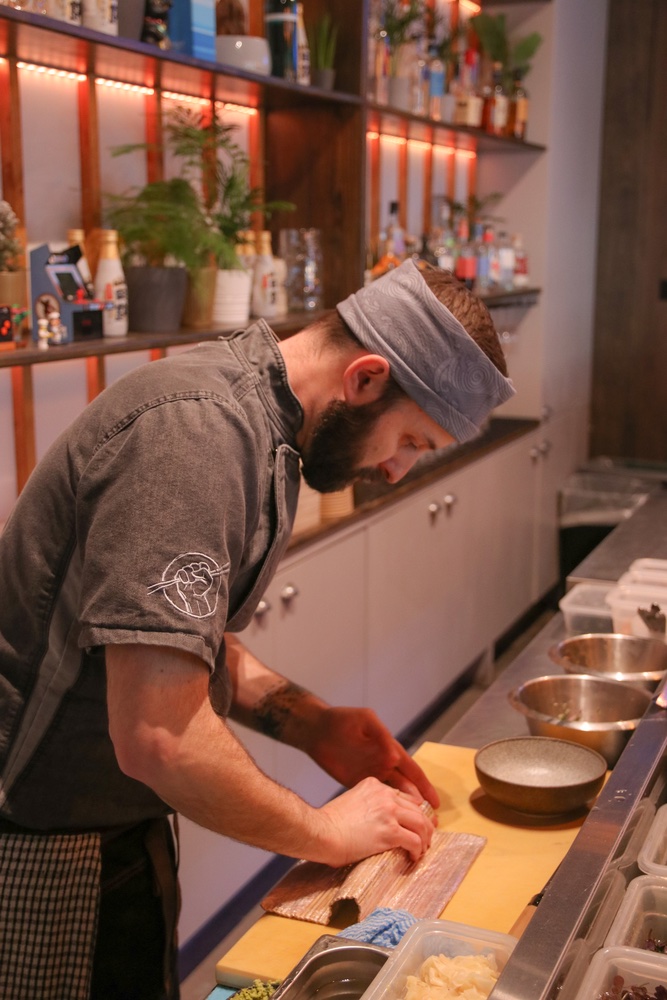 Having previously worked together at Sticks 'n' Sushi, Tom and Aidan were able to take all the good bits from working in a big corporate restaurants, remove all the bad bits, add in their own ideas and create their own place. They focus especially on good food and service, saying that "our main purpose is making our guest happy and we do that though good food and drinks, served quickly, in a good venue, by good people at a good price". Now that's a lovely sounding ethos. Does it practice what it preaches? We went down to find out.
We ordered a table-full of food: chicken karaage nanban, panko popcorn shrimp, salty edamame, spinach and toasted sesame with black goma truffle dressing, beetroot tartare with avocado, sweet potato and truffle onion miso, vegetable gyoza, fried Japanese aubergine with beetroot den miso, the dragon maki platter (sushi roll selection which came with ebi dragon, tuna revolution, salmon picante and a ceviche roll), 'nikkei' yellowtail tiratido (ceviche) and seabass ceviche.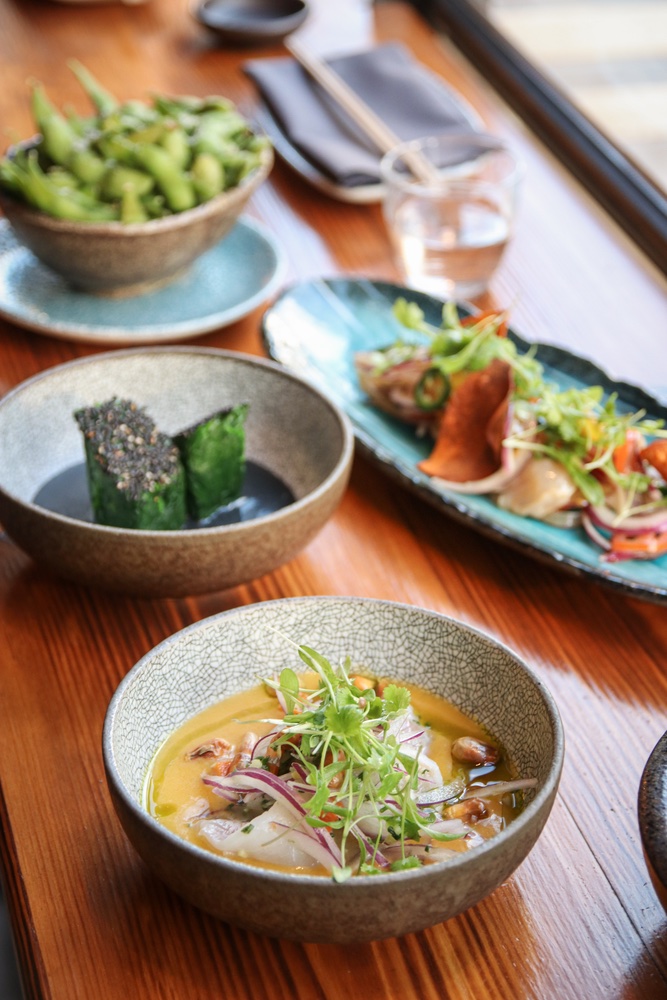 …Sushi Revolution practices what it preaches. It was all incredible, served swiftly and we felt well and truly spoilt (and full). The menu itself was really inventive with some great variety on there; the flavours, ingredients and textures were interesting and loads cropped up that we'd not seen before- the beetroot tartar was unusual but absolutely a standout for us, and the spinach with sesame was an absolute flavour bomb. On those vegetables; there are really good vegan options and you can see they've made a point to make sure the vegans dont just get lumped with a cucumber roll. Other shoutouts from our feast were the popcorn shrimp (the crunch of a panko crusted anything has us in a choke hold) and the vegetable gyoza had an enjoyable kick of spicy miso which we loved. According to the main men, the tuna tartare and the fried Japanese aubergine are the best sellers, and though we didn't have room for the tuna tartare (which comes with goats cheese!), we can certainly vouch for the aubergine which came with crispy onions for even more bite.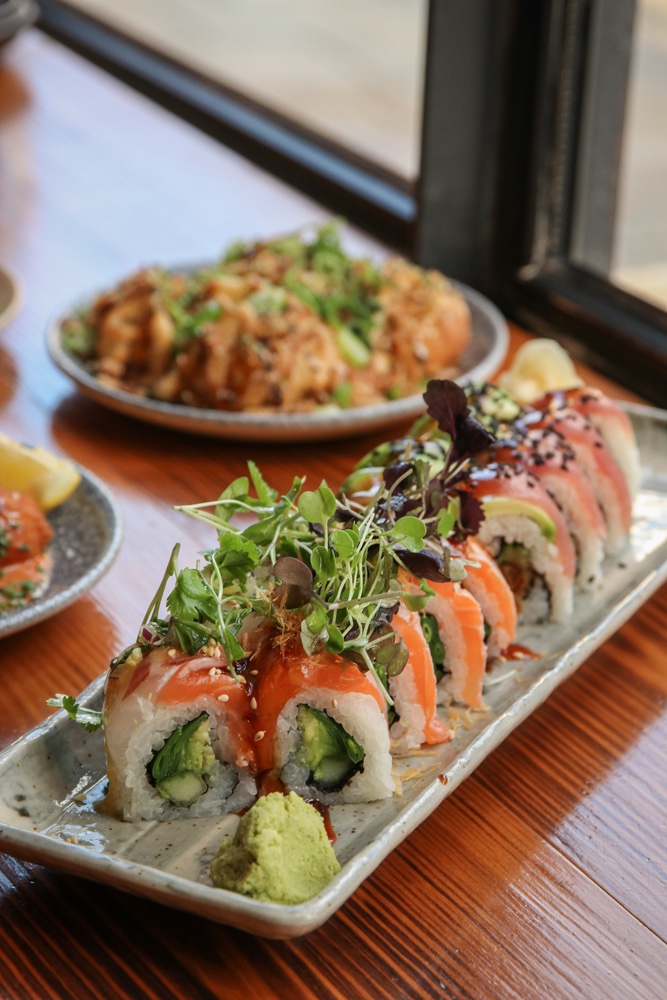 Another thing that co-owner Aidan said was that 'Sushi Revolution is a small neighbourhood restaurant that thinks it's a big central London restaurant'. It's something you really feel when you are eating there. There is clearly a smooth operation working behind the scenes and there is such a strong emphasis on using quality ingredients that make each dish shine so vibrantly, but you're not being churned in and out as you would be in the big corporate London spots. The attention to detail was astounding and we really enjoyed the playful atmosphere of the whole place too.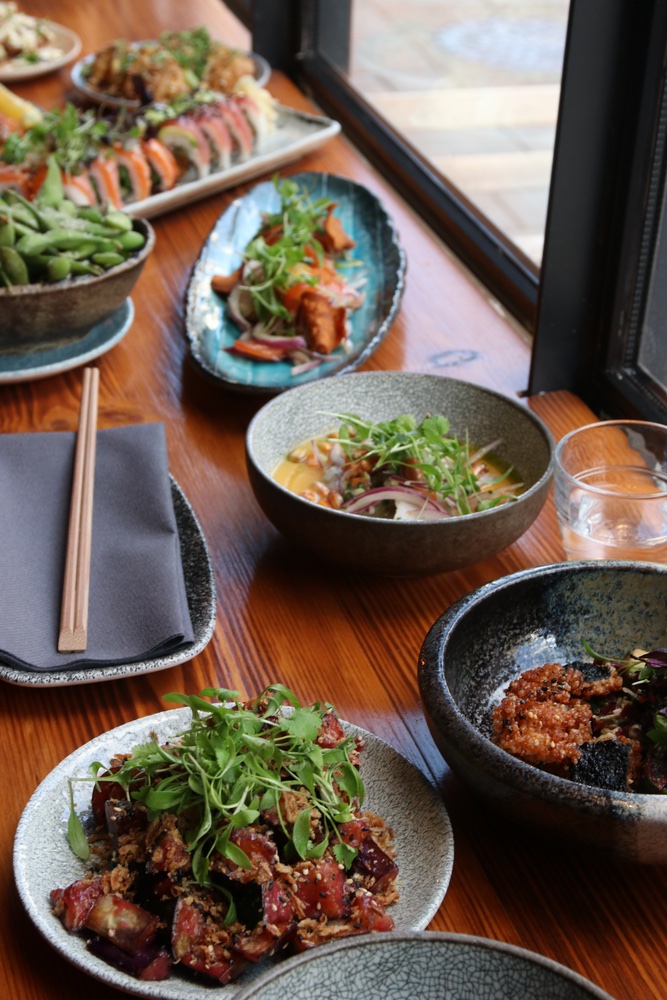 So yes, you should absolutely try out Sushi Revolution. Head down to Ferndale Road or, if you're a takeout kind of person, order delivery direct from the website you'll get 30% off your first order.
---