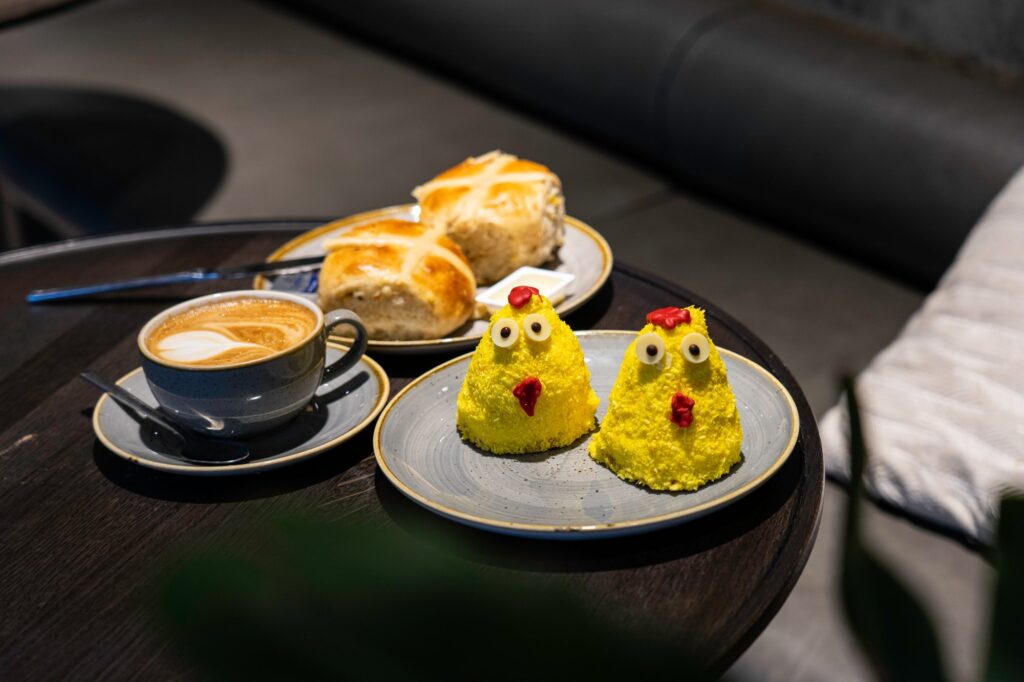 The Danish bakery Ole & Steen really knows how to do things well. Coffees (excellent), pastries (to die for), vibe (check). There's a reason this all-day cafe is always a busy hub on the Northcote Road . Since it opened last June, it's been filled with WFH-ers, dog walkers en route to the park for a take-out and post-school kiddies after a sweet treat. This Easter, Ole & Steen are getting in the Easter spirit in two ways…
---
New menu additions
Of course you can expect the bakers to get behind such a foodie moment in the calendar. This year they are putting out two treats especially for Easter. The first is the traditional hot cross bun. You can get these single or by the dozen. After trying one of their squidgy delights on a recent trip to Northcote Road, do yourself a favour and get the dozen. Candied peel, raisins, warming spices, they are the classic done best. Ole & Steen also have a campaign asking you to reimagine how you eat your HCBs… toasted with butter, added toppings, just as they come? If you're feeling adventurous, pick up one of their recipe cards in-store and make their 'bun' and butter pudding. Post Easter Sunday roast dessert, sorted. The second delicious addition is the cute 'chicken little marshmallow whip'.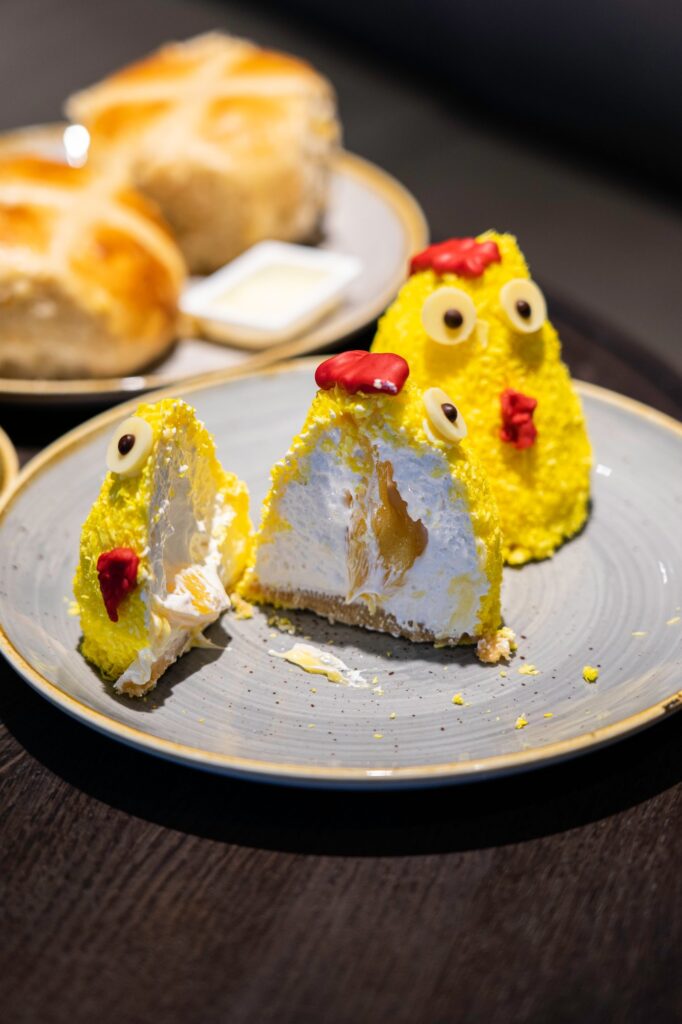 This fruity treat is made up of a marzipan base, filled with a light marshmallow and passionfruit ganache and then covered in some indulgent white chocolate. Of course, the decoration is everything, and this has been coated in yellow coconut to give the impression of young chick feathery fluff. It's Easter in a bake and we are obsessed. The kick of passionfruit zings through the creamy white chocolate and almond flavours and the weightless marshmallow means it's extremely easy to eat the whole thing in no time at all. It goes without saying that both of these go down even better with a hot chocolate on the side. It is Easter after all.
---
Play a game of 'hide and cheep'
Between the 3rd and 10th April, all of the Ole & Steen bakeries are launching their version of 'hide and seek'- perfect to keep the kids entertained this holiday. They'll be hiding two chick toys around their stores every day for children to find. And if they do? Bring the chicks back into store and they'll get a free chicken little whip and hot drink of their choice! Of course, you'll be able to take the chick home with you too. What an Easter treat.
---
So what will it be, hot cross bun and a cuppa or a chicken little marshmallow whip? Whichever you go for, you'll come out feeling in the Easter spirit. Make the most of these two menu additions whilst they're on the menu, you've got until 17th April when they'll fly off the shelves for another year.
---