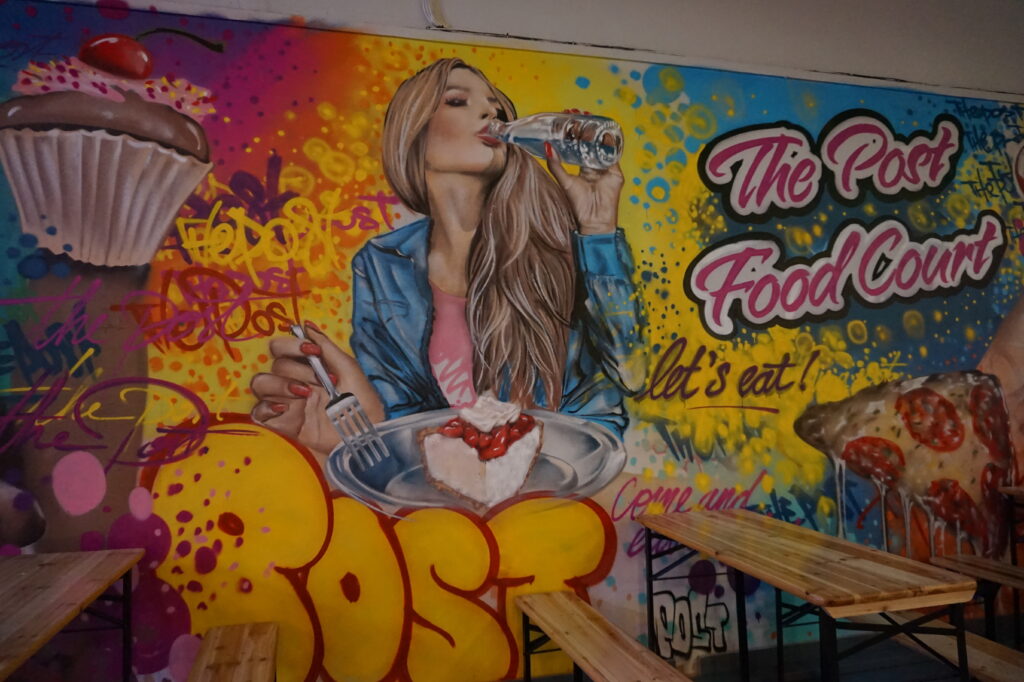 The Post Food Court opens on Tuesday 4th October, and we would highly recommend you going. It's a labyrinth of (heated and covered!) outside space, an indoor classic food market space with big tables and a huge graffiti mural, and a back yard that gives a more late night vibe. On each corner there is a bar perched ready to serve you some drinks to go with the food you'll undoubtedly be enjoying with your friends from one of the many vendors.
But don't worry, it's got a big enough personality to fill its lofty space. In fact, it was the personality of the spot that really charmed us. It was certainly still in its 'getting ready' mode when we went to visit, so we suspect we only got a hint of what it will mature into when its doors are open. But the happy conversation between traders, owners and organisers felt really special. There was wine being past around, food being tried out between the stalls and a huge sense of excitement pre-opening on the 4th.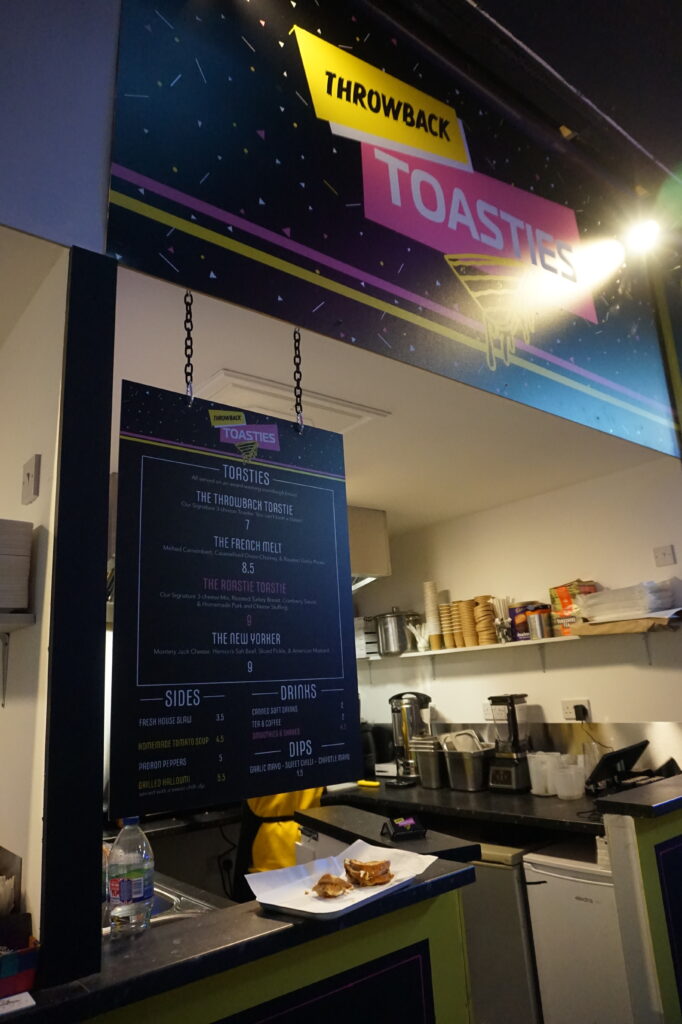 As we said, the market wasn't quite ready to open when we went down, but there were some keen vendors who were warming up the ovens and sharpening the knives. We were generously given a couple of bites to try out. Here's what we munched:
The French Melt toastie from Throwback Toasties. Melted Camembert, caramelised onion chutney, garlic puree. It sort of speaks for itself doesn't it. We loved what owners Stevo and Dan have done to the humble toastie. They've made something nostalgically simple into something gourmet and special, without loosing the humbling cheesiness of a toastie we crave when reaching for one.
The chicken yakitori and pork belly from Nativo. It was hard fighting other vendors off our pork belly portion; juicy and full of flavour, it was insanely good. The chicken yakitori was also a skewer of perfection and we can see that these snacks would very easily fit into an evening of eating and drinking when we just want 'one more bite'. Run by Rafael, Nativo serves Peruvian Japanese fusion food; think tacos, ceviche and keep an eye out for the weekend special of Argentinian steak cooked in a wok with chimichurri fries. Yes please Rafael!
The ibérico ham from Street Tapas. Which was expertly carved. It really is quite the show and we were mesmerised by watching the preparation of the wafer thin slivers of ham that were served to us by the incredibly skilled chefs at Street Tapas. Apparently one of these legs takes 4 years to prepare; including a 3 year curing process. It's all free range and top quality, and believe us- you can taste it in the meat.
We've written about how much we love Bordelaise before. They are the resident French cuisine experts and we are excited to hear about their rebranding which will be happening next month. For their market-based location in Balham, they'll be introducing a more casual fair; steak on a tray, steaks in a bun, confit duck burgers… we have a feeling this new look Bordelaise is going to go down very nicely in it's new home.
This was just a flavour of what's to come- there will also be pizza, Ethiopian, Caribbean, Mediterranean and much, much more opening up very shorty. With its big footprint, delicious vendors, bars and DJ spots, The Post Food Court has so much capacity to be your new favourite hangout in Balham all week long. See you there.
---