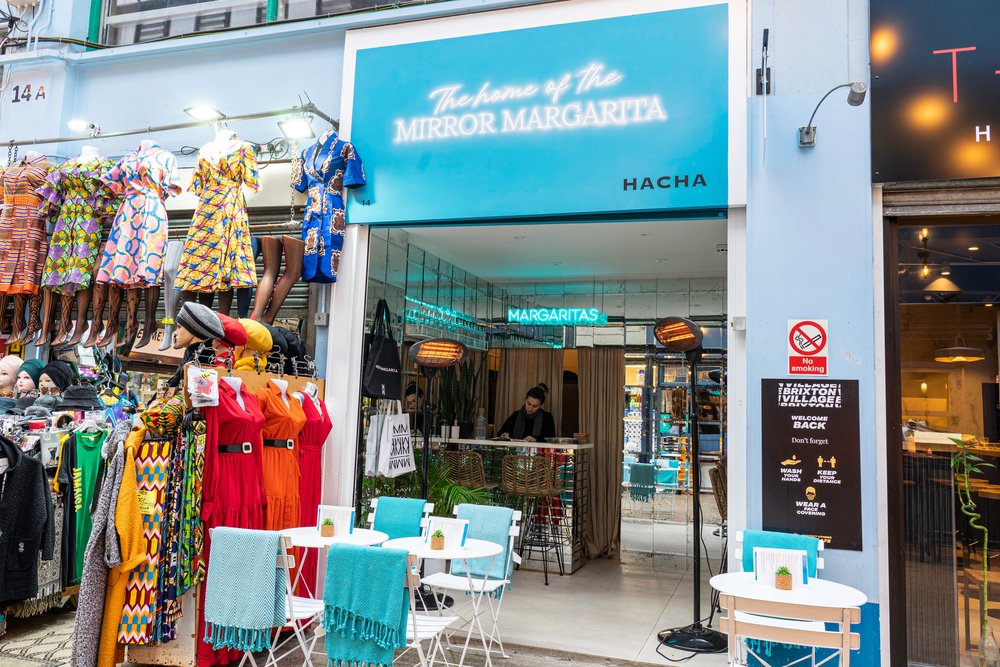 News to cheer up a Tuesday! Today is National Margarita day and if you are looking for an excuse to drink tequila then look no further than Hacha, London's finest bar. (We're not even exaggerating, in 2020 TimeOut voted their famous Mirror Margarita the best in town).
The site opened last year and is split into Hacha, the classic bar that also has a home in Dalston, and the Mirror Margarita bottle shop & bar. To celebrate the day the bar is putting on a special menu- 'The Evolution of the Margarita'. The menu comes with three courses that takes you through the life of the marg. 1st you'll head to the 30's where you'll be served a classic Margarita, alongside a tasty quesadilla.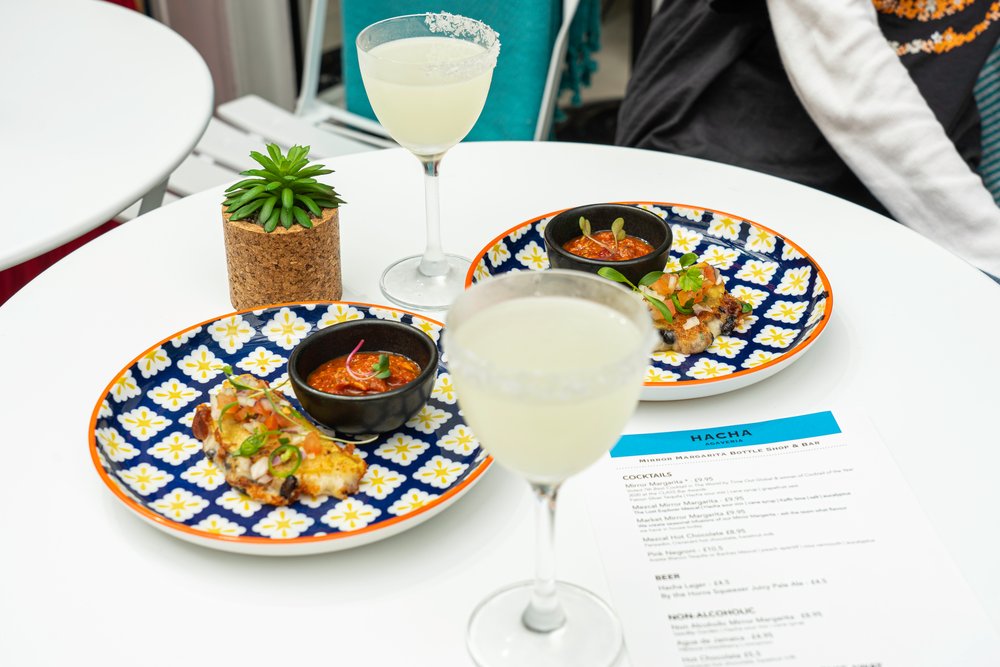 Then you'll move to the 70's for a frozen number which they've made deliciously pink with hibiscus and nothing like the sugary drinks you got from that cheap all-inclusive hotel you stayed at. This comes with the vintage classic beef chilli and tortilla chip to dunk.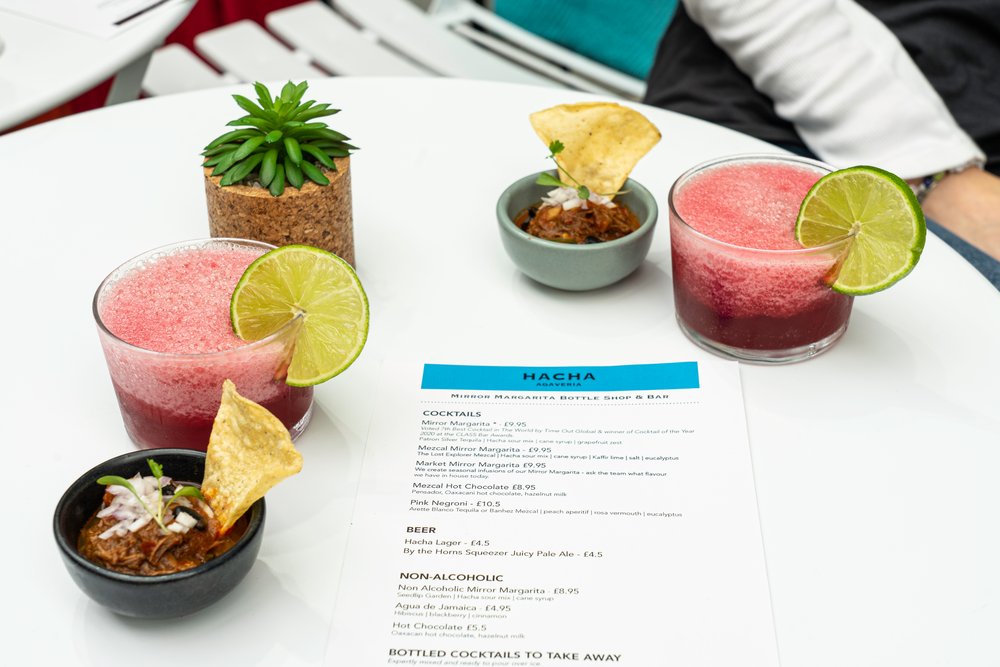 The final course is the future of the Margarita and it's, of course, the famous Mirror Margarita. It's hard to find words to describe just how… yummy(?), scrumptious(?), mind-blowing(?) the Mirror is. As its name suggests it is completely clear, simply served over ice. The taste is moorish and semi-sweet that has had us ordering 'just one more' ten times over. We get the hype. Paired with a creamy Mexican flan it is an iconic way to end the tasting.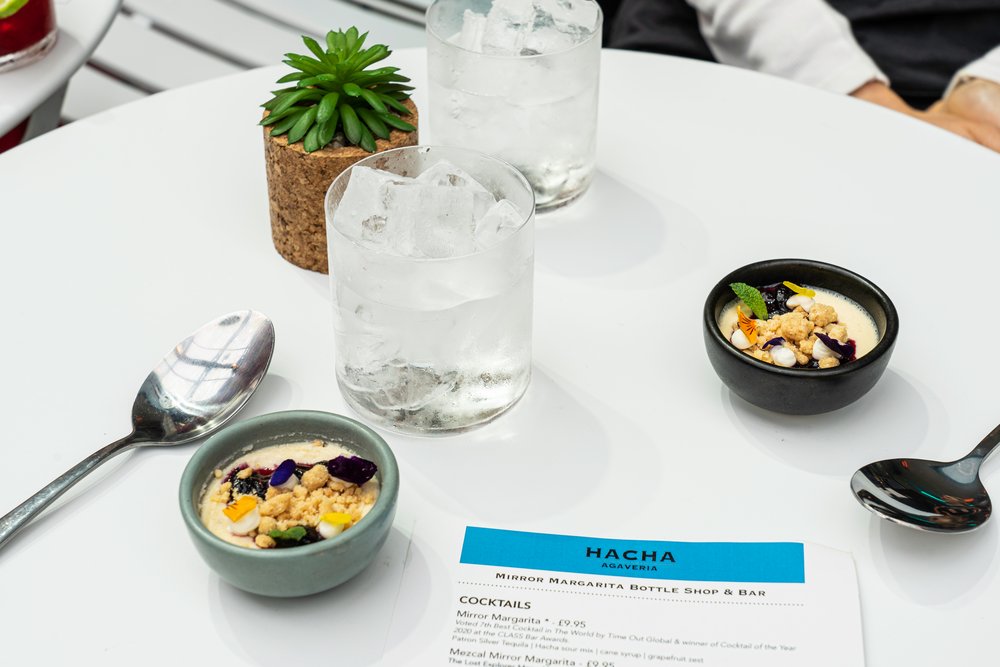 As tequila lovers, maybe we are biased, but this menu was so interesting that we really want to give it the credit it deserves. The drinks are what Hacha does best, so we weren't surprised how delicious each one was. But the food that come with every course, supplied by partners Maize Azul, is equally inventive- gooey cheese quesadilla is obviously what you want to eat with a salty drink and the chilli is nothing like the kind of batch school stuff that haunts your childhood. Each small bite compliments it's drink perfectly, it's seriously clever.
The menu is available from today until Saturday (26th Feb), and we'd seriously recommend you book this one. It's really quite special. If you can't get to Hacha (our hearts break for you) you can buy bottles of the Mirror on their online shop, or their limited edition Margarita Day at Home box which comes with a pair of their glasses and coasters to give you the full experience.

OPENING TIMES:
Tuesday – Thursday 6pm-10pm
Friday 6pm-11pm
Saturday 12pm-3pm & 6pm-11pm
---